The Borrowers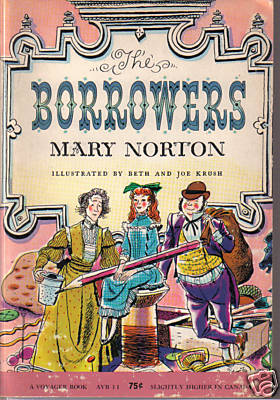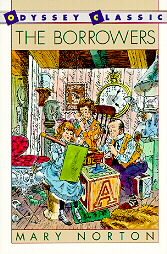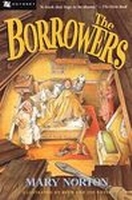 by Mary Norton
illustrated by Diana Stanley
This discussion will begin on Monday, May 25th, 2009, on hittygirls at yahoogroups.
You must be a member of this group to participate.

Read her bio here.
Read about the Borrowers here.
Our Borrowers
Hitty can be a stand-in!
Or--make your own Borrower Family
Start your Borrowers Home!
It could be as simple as a cardboard roombox, or as fancy as you want.
Arriety had books called Tom Thumb books. Make one, or make a diary, for her.
Free Printies for Arriety's books
Tea was served in Acorn Cups. Make a Tea-set
Chapter Four
Synopsis
Photo time! Pod has been 'seen' with his teacup.
OR
How about a Candle for the Borrowers?
Chapter Five
Synopsis
Make a bed for Arriety--and then make her a quilt!
Chapter Six
Synopsis
Chapter Seven
Synopsis
Homily needs a new scrubbrush. Let's make her one!
Chapter Eight
Synopsis
Photo time! Arrietty plays among the flowers.
Chapter Nine
Synopsis
How about making the "satin bedcovers and embroidered sheets" from "Her" handkerchiefs
- Arrietty says that the family still has those items!
Make a world gazetteer or sheets from hankies.
Or make a little fairy ...
Chapter Ten
Synopsis
Make or find a watch for the wall!
Draw a family tree... to show how you imagine the borrower families were all related
OR
make a family tree for your Hitty dolls possibly including the actual trees they came from
Chapter Eleven
Synopsis
Photo time! Afternoon Tea--with your previously made acorn cups?
Chapter Twelve
Synopsis
Make a hair brush from a tooth brush OR Turkish bloomers from glove fingers,
OR a matchbox set of drawers.
OR--spring cleaning....!
find some little odds and ends around the house and think of a new use for them.
OR
Arriety writes a letter!
Chapter Thirteen
Synopsis
Arriety needs her knitting bag. Let's make her one.
Chapter Fourteen
Synopsis
Chapter Fifteen
Synopsis
Pod and Homily have a clothespin bed--let's make it!
Chapter Sixteen
Synopsis
Photo time! What treasures did the Boy bring?
Chapter Seventeen
Synopsis
Photo time! Discovered by the wrong folks--show the panic!
Chapter Eighteen
Synopsis
Photo time! This time, show the Borrowers in the clothespin bag.
OR
Make a clothespin bag for the Borrowers.
Chapter Nineteen
Synopsis
Photo time! Where did they go?
Chapter Twenty
Synopsis
Photo Time! Let's see Arriety, Pod and/or Homily in their new life.