The Borrowers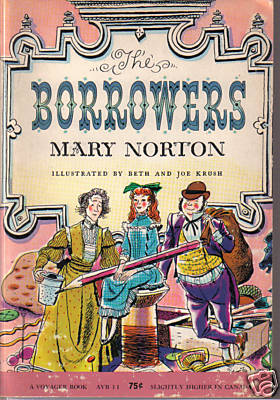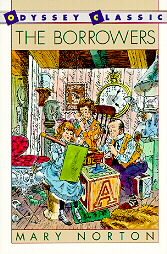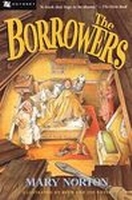 by Mary Norton
illustrated by Diana Stanley
The Borrowers
Week of July 19, 2009
Chapter 5:
Arrietty is awake in bed and staring up at the ceiling. Pod had built Arrietty a bedroom from two cigar boxes and on the ceiling was a scene of painted ladies dressed in swirls of chiffon, and blowing long trumpets against a background of blue sky; below were palm trees and small white houses set about a square. However, tonight she was not seeing it; she was listening instead to the rise and fall of the worried voices of her parents. She heard her name mentioned, heard Homily exclaim "Nuts and berries, that's what they eat!" and she heard, after a while, the cry of "What shall we do?" So, when Homily appeared by her bed, she followed her mother off to the warmth of the kitchen.
Arrietty knew about the two giants upstairs, Great-Aunt Sophy and Mrs. Driver, and then Crampful in the garden. Homily asked if she knew about Uncle Hendreary. Arrietty thought he was abroad. Homily corrected her. He emigrated to the other side of the world, with Aunt Lupy and all the children, to a badger's set—a hole in a bank under a hawthorn hedge. She asked Arrietty why she thought he would do this.
Arrietty thought, face alight, "to be out of doors . . . to lie in the sun . . . to run in the grass . . . to swing on twigs like the birds do . . . to suck honey . . ." "Nonsense, Arrietty," exclaimed Homily sharply. He emigrated "because he was 'seen'". He was seen on April 23, 1892 by Rosa Pickhatchet on the drawing-room mantelpiece. No one ever goes up on the mantelpiece, but he had heard there were liver pills there and he wanted one for Aunt Lupy. Rosa Pickhatchet was dusting, Uncle Hendreary sneezed and moved; and Rosa screamed.
Homily explains to Arrietty that the Clocks were the only borrower family left in the house and that is because Pod is the best borrower of all of the families who have lived there and gives her a brief history of all the families who had formerly lived there: the Harpsichords from the drawing room(they used to be called Linen-Press and changed their name to Harpsichord (Aunt Lupy was a Harpsichold by marriage before she married Uncle Hendreary); the Overmantels from the morning room (a stuck-up lot they were); and the Rain-Pipes from the stables.
But, Pod and Homily did not get Arrietty up to discuss family history. Well, they did in a way - they got her up to talk about Aunt Lupy, Uncle Hendreary, and – Eggletina.
DISCUSSION:
This one sure tells us a LOT about the Borrowers as a whole. I noticed that Pod explains a Borrower's code to Arrietty (where they don't break anything, when she suggests breaking a bit of glass). There is apparently a fine line between borrowing and stealing, lol.
And we get to hear what has become of all the Borrowers who used to live in the house--or at least most of them. Poor Homily. She pretends to disdain the Overmantels, etc., but she is so jealous of them! I think she has 'aspirations' that will never be fulfilled. Of course, she used to have the Walnut furniture, and wine glasses. And she does tell Arrietty that they were 'rich' then. so I think she feels she has come down in the world.
_______________________
I love the interplay between Homily, who wants stuff and security, and Arrietty, who wants freedom and adventure. It's so much like my outlook only I have both Homily and Arrietty in me. There are deep philosophical things stirring under this story.
_______________________
It's so like any family I know! The older generation (me included) just wants the younger ones to do what they did, and not do anything out of the way of things!
_______________________
And especially to avoid climbing the curtains!
_______________________
Having the history laid out along with the "code" takes into their life, so we can understand the upcoming events. Although, I think there are a few things that in subsequent books seem to be different than laid out here.
Poor Homily! She is so timid, and does feel that she had been planned for a better life, and she clings to Pod and Arrietty. Like many of us mothers, she just doesn't understand how her daughter is growing up to so daring.
_______________________
Homily is very clingy and fearful! Pod manages her quite well, I think. They offset one another. Poor Arrietty. To be the only child!
_______________________
I wonder how Pod got the cigar boxes he used to build Arrietty's bedroom with into their living quarters under the floor boards?
_______________________
Hmm - an excellent question. Maybe he dismantled them and reassembled them once below deck.
_______________________
This sounds like it's from someone who's moved recently!
Maybe it was grandfathered in...from the old days?
_______________________
hahahaha!!! I never even thought of that! Not through the narrow passages.....! Too funny. An air vent? Did they have registers then?
_______________________
All the other borrowers were still there and they removed the grating and brought the cigar boxes in that way.
_______________________
I like to think the passage ways were just wide enough for the box.
_______________________
Hey--maybe so, because they would have been the spaces between the floor joists!
_______________________
Which, in older houses at least, are perfect for cigar boxes, as many a person who has stashed valuables or secrets knows!