The Borrowers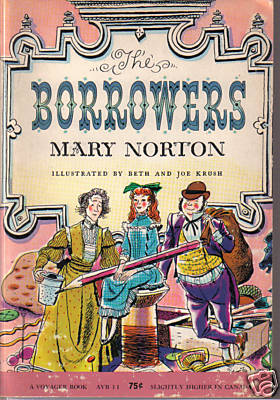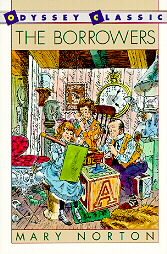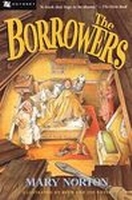 by Mary Norton
illustrated by Diana Stanley
Chapter 1 Synopsis
The Borrowers
Week of May 25, 2009
Chapter 1:
Mrs. May lives in two rooms in Kate's parents house in London. Every day, Kate and Mrs. May meet in the breakfast room. Mrs. May is teaching Kate how to crochet. One day, Kate showed up without her crochet hook. She explained to Mrs. May exactly where she left it, "on the bottom shelf of the bookcase just beside my bed." "Oh dear," exclaimed Mrs. May, "don't say they're in this house too!" Kate asks her what she means and Mrs. May says she believes there may be "Borrowers" in the house. Kate is fascinated and a bit afraid but urges Mrs. May to tell her the story of the Borrowers.
When asked by Mrs. May if Kate thought there could be Borrowers living in houses, Kate is not sure. There can't be. And yet – and yet sometimes I think there must be" because of all the things that keep disappearing -- safety pins, her crochet hook, needles, pencils, matchboxes, hairpins.
Mrs. May told Kate how her younger brother actually saw a Borrower. At first she wasn't sure he was telling the truth as he told such impossible stories, such strange imaginings. She thought perhaps he was trying to impress her and yet "there was something about him—perhaps because we were brought up in India among mystery and magic and legend—something that made us think that he saw strange things that other people could not see; sometimes we'd know he was teasing, but other times—well, we were not so sure . . ."
Upon the family's return home from India, her brother became ill with rheumatic fever and was sent to the country to the house of his Great Aunt Sophy to get well. There he met the Borrowers, and it seems he didn't just see them but got to know them very well and became part of their lives. He told his sister about the Clock family, Homily Pod and little Arrietty. The Borrowers, in general, thought human beings were invented to do the dirty work—great slaves put there for the Borrowers to use. But Mrs. May's brother really felt that they were just frightened and that is why they had grown so small. Each generation had become smaller and smaller and more hidden. Nowadays one would probably only find them in houses which are old and quiet and deep in the country where human beings live to a routine. Routine is their safeguard. They must know which rooms are to be used and when. The house her brother stayed in was ideal. Besides Great Aunt Sophy, who was bedridden, the only other humans were Mrs. Driver the cook; Crampful the gardener; and, at rare intervals, an odd housemaid or such. Mrs. May's brother spent long hours in bed in the old night nursery. From his bed he had a good view through the schoolroom and out into the lighted passageway at the head of the stairs. It would comfort him each evening at dusk when Mrs. Driver lowered the gas jet in the passageway to a dim, blue flame. Under the passageway, in the hall below, there was a very old grandfather clock and through the night he could hear it strike the hours. The clock was rewound regularly and had not stopped in over eighty years. It stood against the wainscot, and the stone flags around it had been washed so often that a little platform, according to her brother, rose up inside.
"And, under this clock, below the wainscot, there was a hole . . ."

DISCUSSION:
I like how this begins with the human beans, and not with the Borrowers. Sort of leads us into it. Aunt May sounds as if she really wants to believe in them and really wants to believe her brother, but she just isn't sure. And Kate really, really wants to believe! And the house sounds like one I want to build for my Hittys, with a butler and a cook, and so Victorian.
_______________________
Aunt May seems to be a born story teller. She captures the children's attention.
_______________________
I think so, too. She sure did know what to say to pique Kate's interest!
_______________________
I really liked the first chapter - Aunt May's hesitation in sharing her brother's story of the Borrowers and in saying she wasn't sure whether to believe it or not make us even more curious. Aunt May's own uncertainty seems to make it more likely that Kate (and readers of the book) will believe in what seems, at first, impossibly true. Now we want it to be true.
_______________________
Yes--I want it to be true. I can't wait to see Pod, Homily and Arrietty appear!
_______________________
I am like Kate. I really want to believe as well. I choose to hope that Borrowers really exist!
_______________________
Me too! I know they live here, anyways. Either that, or time elves.
_______________________
The introduction is very good...just enough information to hook you, but not enough that you can predict anything. I haven't read the book before, so it's all new and exciting to me.
_______________________

I find it interesting that Kate, when "The Borrowers" were first mentioned, would assume they were "people, other people, living in a house who . . . borrow things". Would one even think of tiny little people? If she thought this, did she ever tell anyone, did she ever look for these people?
_______________________
I too have always envisioned them as smaller, even when I was a child and lived in an oversized (antebellum) house. The funny thing is I think I pictured them at about 5" which is not so much smaller than the 6" Mary Norton said they were. But in my current, modern house, it seems more appropriate that they be about 4"
It was very easy to imagine Borrowers living among us then. It's harder now and I don't think it's age - it's that we had the ideal space to accommodate them then, and we don't now.
_______________________
The way those houses were built, compared to houses today, was ideal for Borrowers. Antebellum houses did not have nooks and crannies like Victorian houses have, but had square rooms and flat walls. However, there were plenty of fireplaces (10) to scale down, and this house would have provided them with a secure and spacious home under the floorboards - um, except for the enormous snake skin that turned up one morning, looking like a great fat lady had visited and forgotten her under things. Apparently we shared the house with a large king snake which emerged to shed and disappeared again, never to be seen hence. There were also triple hung windows that came down to the floor ( high ceilings and low windows were a beautiful and highly affective way to air condition houses then - I don't know why people don't do it now). It was convenient to be able to walk out a window onto the porch just as if it was a door. Borrowers would enjoy that too. (Screens had to be custom made so nobody ever bothered.)
However, an antebellum would have tremendous obstacles too. Our house had 23' ceilings, and high door handles, etc. We ourselves lived in a house that was scaled too large for us, so imagine if the poor Borrowers had to deal with an even greater difference. The doors were so heavy we had to be careful not to have one slam shut on us - that hurt! Built in shelves were so wide apart and deep that we kids had to climb them to get to things - Borrowers would wear themselves out. I suspect Borrowers would have been happier in the charming and cozy slave quarters above the kitchen. Yes, I know, I said "charming and cozy" in conjunction with slave quarters - and they were. The field quarters were more typical, but this was a generous two bedroom apartment with windows at either end that caught any breeze, and a living room that was dominated by a beautiful fireplace. It had a secret passage way onto the top shelf of the pantry in the main house. I've often wondered if the owner of the house knew about this, since the house itself was likely built by the slaves who would live there. In everything I've read, pantry access was closely guarded, but here they could climb down the shelves right inside the two pantries on either side of the back door. The Borrowers could belay down the shelves into the main house too, and get supplies in much the same way the original tenants of that apartment must have. Or, they might have preferred the attic, which had a door out onto a widow's walk. Or, any of the glass paned conservatory rooms along the back garden would have been nice. Or, they could have lived inside the 20" high boxwood bushes in the front yard - we used to slip inside to hide from each other. It was a fantasy house, for sure, for Borrower, child or adult. I pine for it still. ~sniff~
_______________________
Guess what I found today? An old hardback copy of The Complete Adventures of the Borrowers in its original dust jacket! I was stuck at the Humane Society Thrift Shop waiting for my latest foster kittens to get back from surgery, so I really dug through their books. Each member of my family got gifted with a book they were really excited about, and this was mine :-).
_______________________
When I read the Borrowers now, I really enjoy the intro chapter, but when I was a kid I'd always skip it, and get right into the story.

And I found out an interesting fact about the Borrowers movie - the one with Eddie Albert. The music for it was written by Rod McKuen. (He also did the music for the animated version of the Hobbit.)
_______________________
Okay, I went and looked – Poor Stainless is a short story - not by Mary Norton but by the original illustrators, is that correct? That would be a find indeed, because I bet there aren't as many of them out in the world!
My 'complete' book does not include the Borrowers Avenged, which must have been written later. Apparently there is a boxed set that includes that book and Poor Stainless in separate volumes from the 'Complete' volume.
_______________________
I bought Poor Stainless from Amazon Marketplace. It was cute but not as satisfying as the full length books.
_______________________
Poor Stainless is a Borrowers' story. Stainless was Homily's cousin who "disappeared while on a simple parsley borrow." The book I found is only 31 pages long. Check your Borrowers' collection. I think someone said Poor Stainless was published in the collection. I haven't read this story yet, so don't know how it ends!
_______________________
Poor Stainless was written by Mary Norton. I have it as a hardback, but I got a boxed set of paperbacks from the 70s that includes Avenged, and has Poor Stainless at the end of Afloat. Avenged was written in the 70s, I believe, while the others are 1960s.