Hittygirls Official Shoulderhead Hitty
The super-secret-happy-fun-time-wow-adventure-project!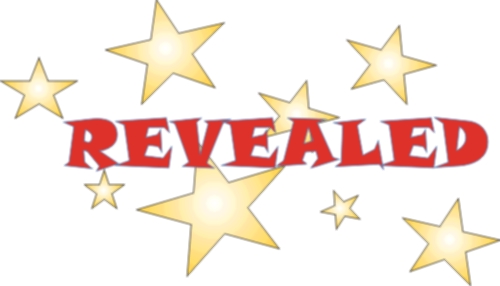 Click here to see our February 2011 Mold Donations
Click Here to see our current and last Mold Donations for 2011
Click Here to see our First Pictures
Click Here to ask Julie Old Crow to be added to the List
OPEN for Orders
until Feb. 15th, 2013
How to order your Official Shoulderhead
Cost: $12.00 (covers your shipping and packaging fee)
We will need more molds for this order.



1. Email julieoldcrow@gmail.com and ask to be added to the list.
2. She will tell you how/where to send her the money. (PayPal or check)
3. Wait for our order to be made, and then the heads to be cast.
As soon as the heads are cast and mailed to Julie, she will send you your head!
Finish off and share your amazing one-of-a-kind Sara Cole Shoulderhead Hittys!

No limit on number ordered. We can order as long as the mold holds up. When the mold fails--no worries! We'll hold a fund raiser and get another mold and cast more!

NOTE
The heads have to be
ordered first
and
then cast
,
and
then mailed
. This takes
several weeks
.
You may pay by PayPal or by check. Address and PP addy coming when you email me to order.

PLEASE send me your complete address with your order. I learned the hard way last time that PayPal doesn't always add it!! ;(
The chart below can help you figure out your total.
1 shoulderhead: $12.00
2 shoulderheads: $23.00
3 shoulderheads: $34.00
4 shoulderheads: $45.00
5 or more, contact me.
Cast from Sara Cole's Hitty Hailey Model.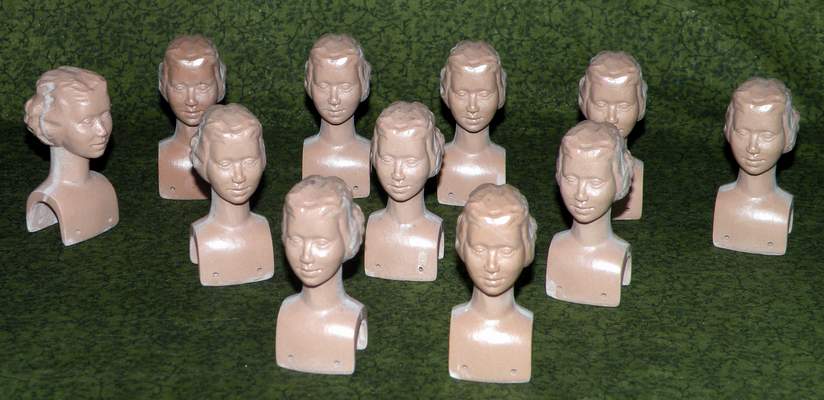 This is our first batch of heads, sent out to the moderators for quality control.
The heads are cast in resin with pecan dust inside, which creates a tan color that takes paint like a dream!
The tan is slightly darker than shown, but we hope to get a lighter batch next time.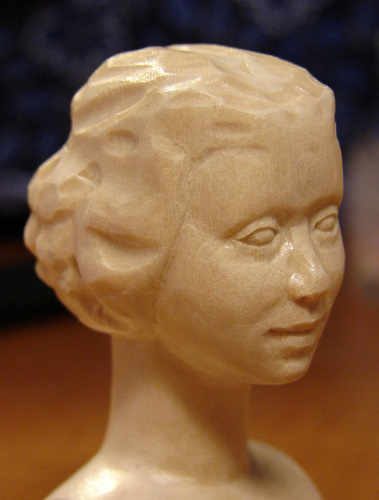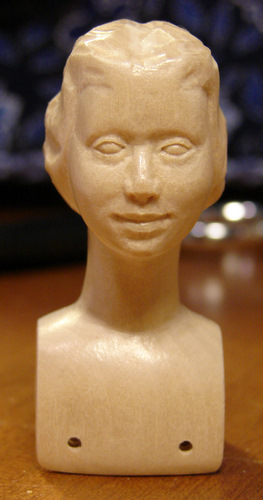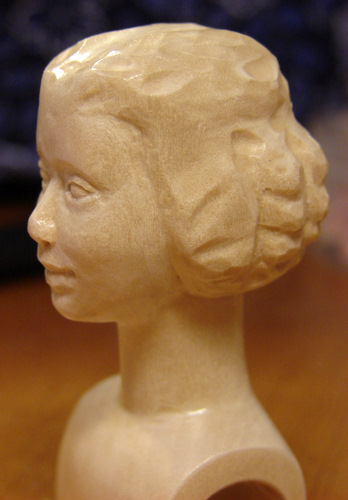 The original head, carved by Sara Cole of Sara Cole Studios.
Carved from basswood, and coated in Liquetex varnish.
Sara carved and donated this beautiful shoulderhead to be cast in resin and to be used for this project.
This is her Hitty Hailey Model.
In the meantime...click for
Sara Cole's Free Cloth Shoulderhead Body.
Click Here to see our First Pictures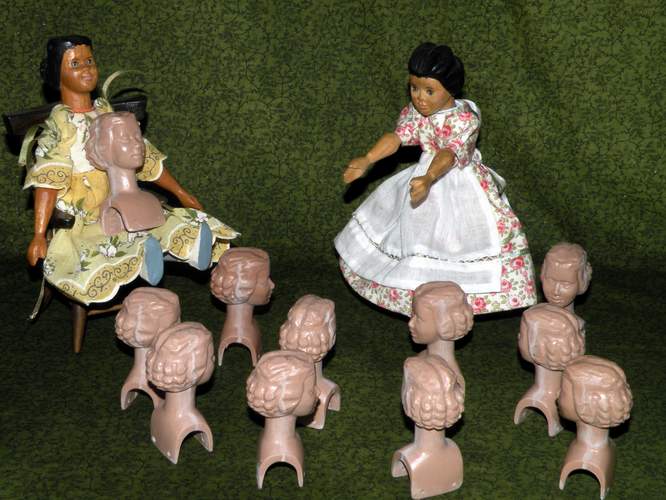 Seated in the chair is one of Sara's wooden shoulderheads, with a cloth body, and carved arms and legs.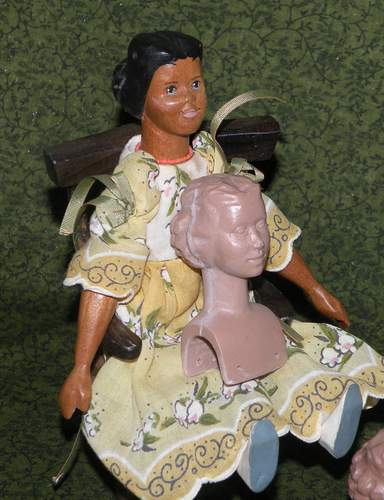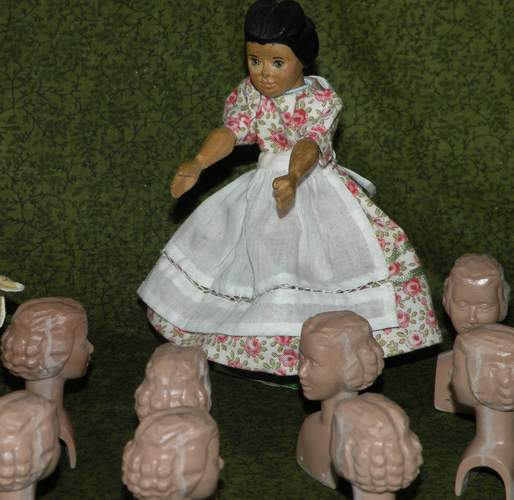 Hitty Petal greets the shoulderheads.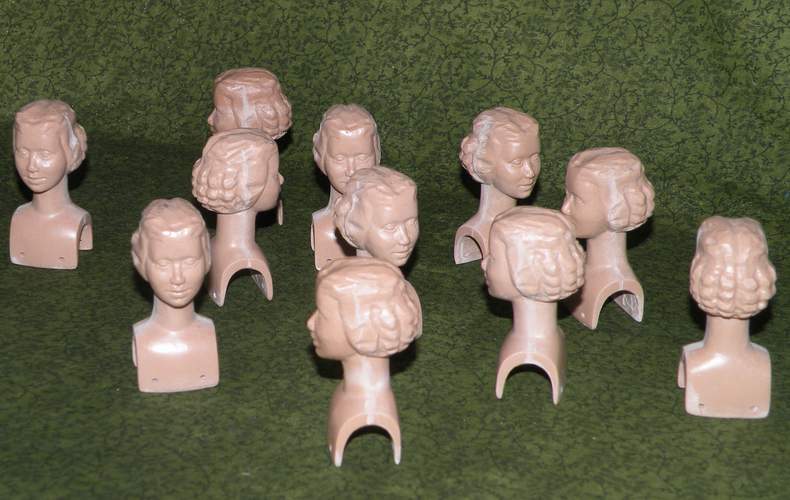 They are all very friendly!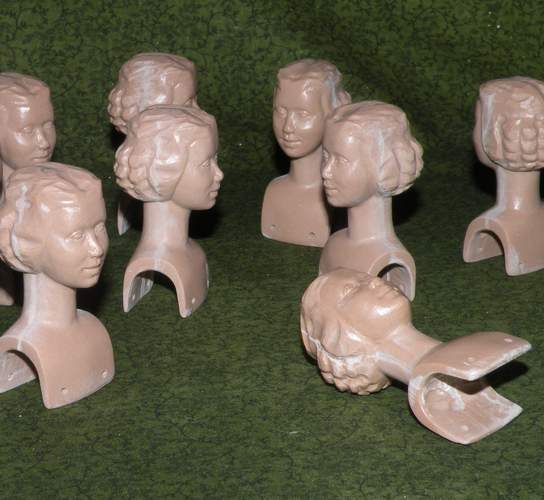 As you can see, the shoulderhead has holes for sewing to a cloth body.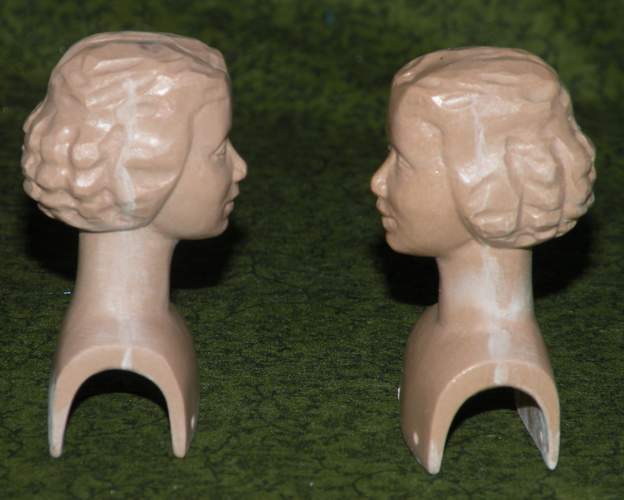 Or, carve a wooden body for her!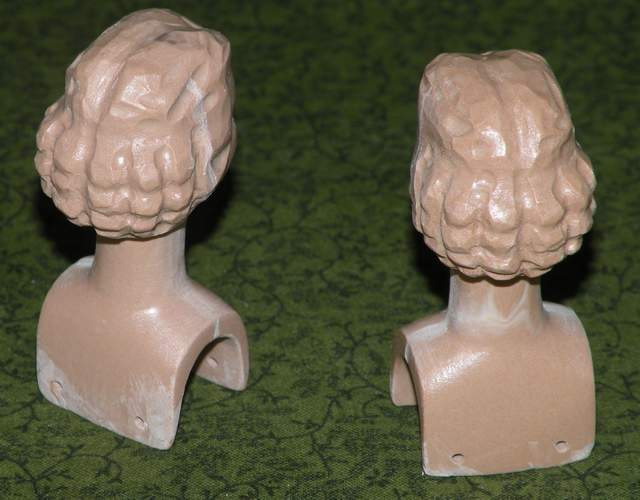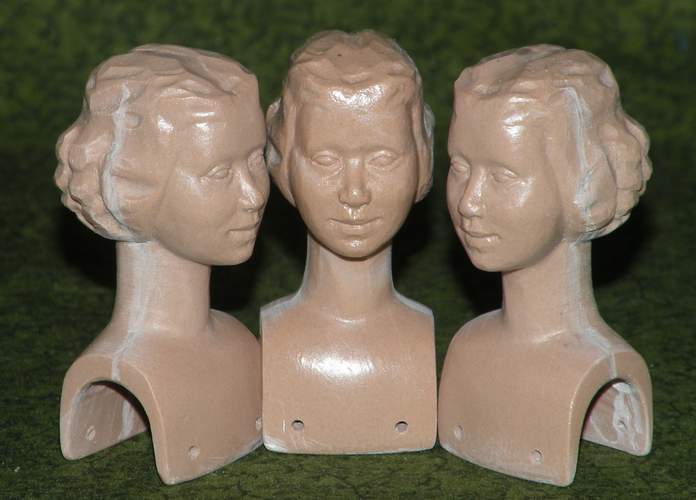 These are so finely detailed they practically paint themselves!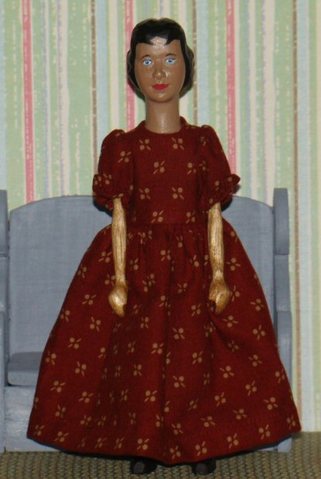 Sara Cole Resin Shoulderhead on butternut body.
Finished by Maria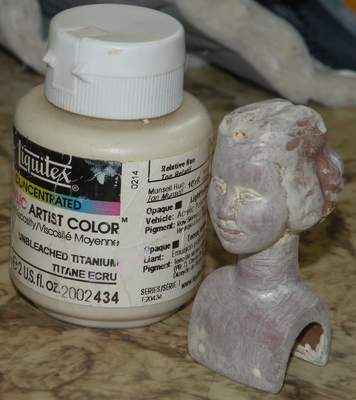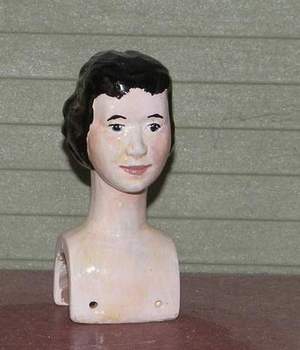 Painted all over with Pale Portrait Pink by Liquitex, and then a light coat of Natural Stain applied.
Finished by Julie Old Crow.