Hittygirls Christmas Eve/Winter Warmth Nighty Swap
Open to Hittygirls Members only.
OPEN TO SIGN-UPS TO NOVEMBER 1ST
NOW CLOSED
Swap begins November 1st. All swaps MUST BE COMPLETED by the deadline of December 15.
Click Here to sign up with your Name and Address or sign up on the hittygirls@yahoogroups list.

Let me know which size nighty you want to receive: larger or smaller.
1. Make a Night Gown from the provided free pattern OR use one of your own. It should be Holiday-themed. There is a nighty and night-cap pattern provided below, but feel free to use any pattern you want to use.
2. Send it to your swap person.
3. You will receive the name and address of your swap person when the sign-ups are finished.
4. Send a picture of your Hitty's nightie to the hittygirls list, so we can post it on this page.
All Swaps must be sent in the mail by/on the 15th of December. You may begin sewing any time, to be ready.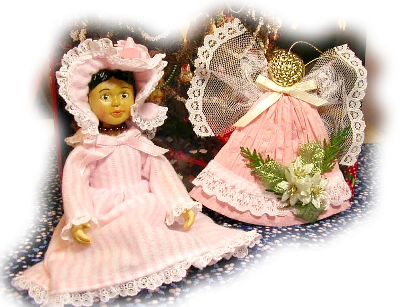 HOME
Back to the Hittygirls Swap Index