January 2019 Quilt for Hitty Swap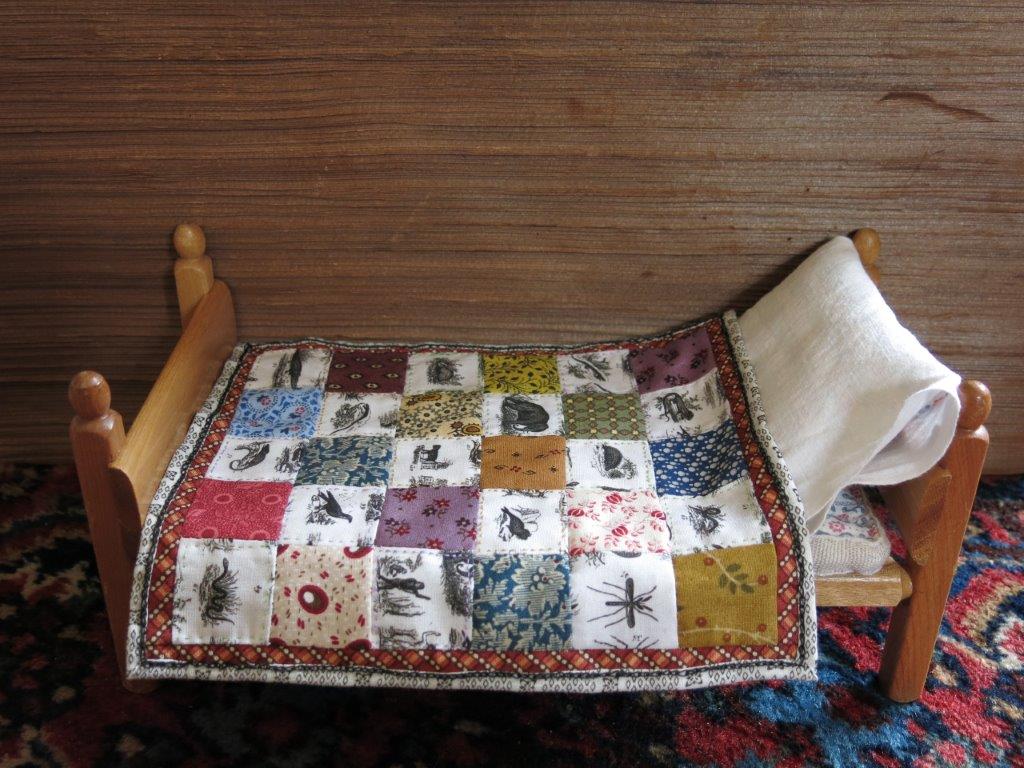 January is cold! My Hittys love to snuggle under their favourite quilts at this time of year,
and there is nothing more delightful than a brand new favourite quilt!

Will you join some Hitty friends in making a cosy quilt for a swap?
The way this swap will work is: everyone who wants to participate makes a Hitty quilt;
The swap hostess collects the names of the people who are ready to swap;
a random number generator mixes up and pairs the names;
and you exchange Hitty quilts with your swap partner.
The swap deadline is January 31, 5 pm Pacific Time.
Your Swap hostess is me!
As with all swaps, you are responsible for being sure that your name and address
is in the Swap and Challenge database at Groups.io.
Expectations for this quilt swap:
You will use 1 1/2 inch squares of fabric and piece them together.
You will make a quilt for Hitty that is at least 5 inches across X 6 inches down.
You will use a backing fabric but no padding, unless you use something very light, like cheesecloth.
All correspondence about the swap should be addressed to hg.swaphostess so I don't miss any messages.
You will receive your swap partner's name by Friday February 1st.
You will mail your quilt to your Swap partner by Monday February 4th.
When you receive your quilt, you will post a picture of it in the Swaps and Challenges folder, acknowledging the name of the person who made the quilt...
We want people to have fun with their swap, so here are a few Swap Etiquette Reminders:
We always ask everyone participating in a swap do their very best.
Please do not enter a swap if you have not produced something that you would be very happy to receive.
Please assume that a swap item you have received is the very best your partner could produce.
If you are in a swap or a challenge, it is polite to comment on other every other swap or challenge offering, not just yours and your swap partner's.
Please remember to thank your swap partner.
Please photograph your swap item before you send it in case your partner is unable to post a photo.
Let's have fun, be creative and make warm quilts for our Hittys!
Must be a member of Hittygirls at Groups.io to play.

This is a 'complete the swap and get a partner on the due date' swap.
You are expected to tell your swap hostess when you are finished.
You can use the above link to notify your swap hostess.

If you forget to let the swap hostess know, then you

may not

receive a partner.

Swap hostesses have a lot of swap responsibilities, so please include all required information.
The swap hostess will post updates on the Hittygirls at Groups.io site before the swap deadline.
Always check it to see if your name is there and the info is correct!
After you receive your swap item, please publicly thank your swap partner on the list,
(and privately if you wish) and please post a picture of the item you receive...
we all want to admire all the swaps, and it is impressive to see all the swaps in a group!
It is also inspiring and fun to see everyone's interpretation of the swap requirements!