February 2019 Notecard for Hitty Swap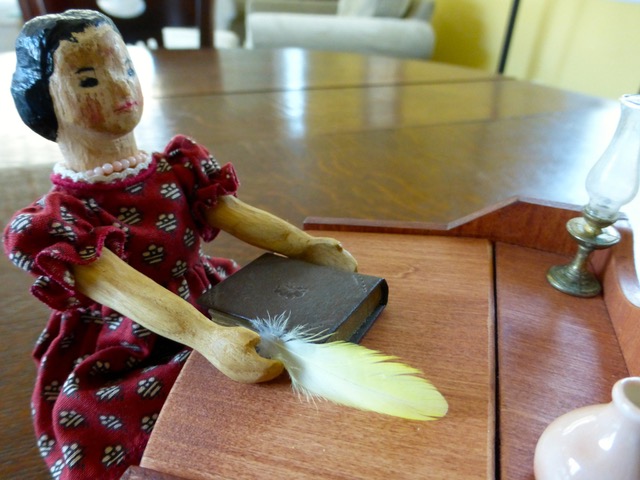 Hello Hitty Friends,
Does your Hitty long to receive mail?

February 7th is National Send A Card To A Friend Day
and Hitty is hoping you will join in a swap to celebrate!

To participate, create a Hitty-sized card with an envelope to match,
write a message inside your card,
and put that into a "real" envelope that you will send in the mail to an assigned partner.
The card should measure a maximum of 1 3 /4 inches by 2 1/4 inches in an envelope to fit the card.

You can decide to swap one, two or three cards with different Hitty friends, your choice!


Sign up deadline is Wednesday, February 6th.

Sign up for the swap at:
hg.swaphostess@gmail.com
Please indicate the number of cards you want to swap, either one, two or three.
Swap partner's name(s) will be assigned by Friday February 8th.

What you are sending should include:

Hitty-sized card placed in a HItty-sized envelope with message/note written inside card.
Card size should be no larger than 1 3/4" x 2 1/4".
Please mail in a standard letter-sized envelope.

Please mail your card(s) to your swap partner(s) by Saturday February 9th.
When your Hitty receives a card, post a picture of it with her in the Swaps and Challenges folder,
acknowledging the name of the person who sent it to your Hitty.
Send a Hitty-sized card to a Hitty and let them know you are thinking about them!

I am the swap hostess for this event. 😊 Paula C

We want people to have fun with their swap, so here are a few Swap Etiquette Reminders:
We always ask everyone participating in a swap do their very best.
Please do not enter a swap if you have not produced something that you would be very happy to receive.
Please assume that a swap item you have received is the very best your partner could produce.
Please ensure that your mailing address is in the Swap and Challenge Database.
If you are in a swap or a challenge, it is polite to comment on other every other swap or challenge offering,
not just yours and your swap partner's.
Please remember to thank your swap partner.
Please photograph your swap item before you send it in case your partner is unable to post a photo.
Let's have fun, be creative and make lovely notecards for Hitty!
Must be a member of Hittygirls at Groups.io to play.

This is a 'complete the swap and get a partner on the due date' swap.
You are expected to tell your swap hostess when you are finished.
You can use the above link to notify your swap hostess.

If you forget to let the swap hostess know, then you

may not

receive a partner.

Swap hostesses have a lot of swap responsibilities, so please include all required information.
The swap hostess will post updates on the Hittygirls at Groups.io site before the swap deadline.
Always check it to see if your name is there and the info is correct!
After you receive your swap item, please publicly thank your swap partner on the list,
(and privately if you wish) and please post a picture of the item you receive...
we all want to admire all the swaps, and it is impressive to see all the swaps in a group!
It is also inspiring and fun to see everyone's interpretation of the swap requirements!