Hitty's Travel Trunk Swap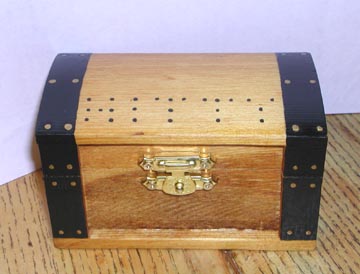 Open to Hittygirls Members only.
Must have completed all previous swaps to play.

~Let's decorate a trunk and swap it with a partner~
'Trunk' is defined for the purpose of this swap to mean either wooden or the unfiinished 'pasteboard' kind.
Sign-ups open until April 1st. Trunks must be swapped by April 20th.
Sign up by clicking here. PLEASE add your name and address.
Buy a small or medium-sized, inexpensive trunk (available from .99--$2.99 at Wal-Mart, Michaels, and other craft stores)
(Tip--if your Hitty can fit into it, it's too big!)

Decorate it in any way with any materials. (You can check the Practical Hitty Newsletter Trunks issue for some ideas!)
Send it to your swap partner.
TRUNK FAQ
Does the trunk have to be wood?---No, there are many 'cardboard' trunks and boxes that can be covered with decoupage that are just lovely!
If I use a cardboard trunk, does it have to be rectangle?---No, there are also heart-shaped, oval, and round trunks available in the cardboard shapes.