I Spy With My Little Eye!
Quilt Strips Swap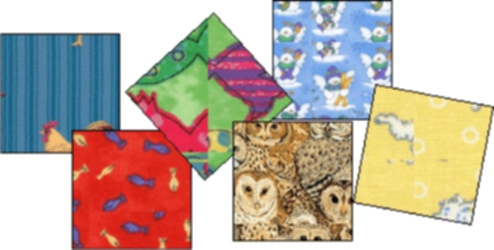 CLOSED
Must be a member of Yahoo Hittygirls group
and have met all previous 'finished' swap commitments to play.
(Ongoing or current swaps of course not applicable.)
#### You must put your full name, address, and email
into the Swapper's Database at Hittygirls at Yahoogroups to be included in the swap. ####
If you sign up
without
this info, sorry, but you

will not

be added to the swap list until you do.

This is a 'complete the swap and get a partner on the due date' swap.

You are expected to tell your swap leader when you are finished.
If you forget to let the swap leader know, then you
may not
receive a partner.
Swap leaders have a lot of swap responsibilities, so please include all required information.
The swap leader will make several updates on the Hittygirls at yahoogroups club list until the swap deadline.
Always check it to see if your name is there!
We love to see your photos--so please make sure to add your pictures to the proper swap album at yahoogroups after you get your swap. MAKE SURE to add the too and from, so we can put that under your picture.
It's always a good idea to try to take some photos before you send
your swap, just in case your partner doesn't have camera capabilities!
And remember--when you get your swap, let your partner know
with a big Hitty Hug and a Heartfelt Thanks!
Deadline:December 1st, 2013
Your Swap Leader is Julie Old Crow
click the link with any questions, or to sign up.
Can't use this link? Send an email with all of your info to:
julie old crow at gmail dot com and PUT: "I want to sign up for the I Spy Quilt Strip Swap" in the subject line.
I must have your strips HERE on/before November 30th
I will cut them up and mail them back asap after that date.
Please read the requirements below carefully!
What is an "I Spy" Quilt/Fabric?
An I Spy quilt is made from novelty fabrics, such as children's prints, and fabrics with motifs rather than patterns. For instance, many of the 1930's quilt fabrics featured children playing, cats, bunnies, dogs, etc. So, for this swap, you will be sending in strips that feature small-print novelties of any kind.
(Holiday themes are permitted, as long as they are small scale.)
NO FLOWER FABRICS in this swap. Flowers are permitted on fabrics where they are not the only thing shown. For instance, if you were sending in a strip with dogs on it, it would be ok if there were also flowers. Just--no strips that are ONLY flowers.
Please keep these strips to small scale. There are plenty out there, if you look hard enough!
FIRST
You cut 4 strips of different novelty fabrics, measuring 18 1/2"" x 1 1/2".
These fabrics should be 100% cotton, and not too thin.
Please do not use coarse, stiff, or large-weave fabrics.
Do not send silks, rayon, suede, corduroy, or other unsuitable fabrics.
For this swap, you need to send small print novelty fabrics.

DO NOT RIP OR TEAR YOUR STRIPS AT ALL.
All strips must be cut with scissors or rotary cutter.
If you must cut with scissors, you may cut them at 2" wide,
and I will trim them down to the correct size for you.
You mail them here:
Julie DeGroat
42300 new Connecticut Rd
Theresa, NY 13691
by November 30th.
SECOND
I take each of the strips, and cut them into 1 1/2" x 1 1/2" squares.

I will swap out the squares so you have a generous amount to play with.
And if all goes right--no two will be the same!
(If all does not go right, there may be some repeats.)
THIRD
Make a Quilt from your I Spy squares in any pattern you choose, and add it to the appropriate
Hittygirls Yahoogroups folder. There will be voting and a People's Choice Prize!
The remainder of the squares are for
you to make more quilts,
pillows, or whatever you want for your Hittys!
Even better...practice your PIf-ing!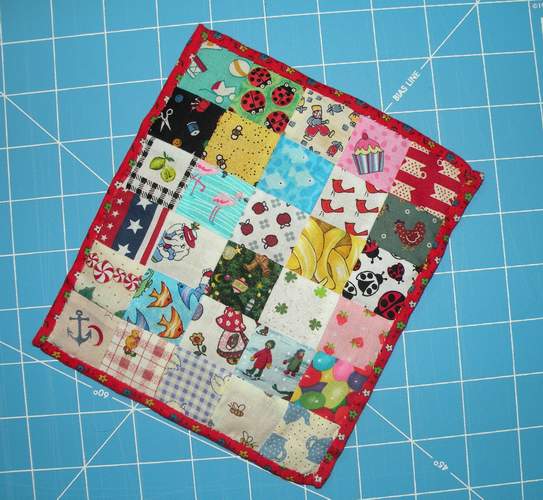 JOC
#1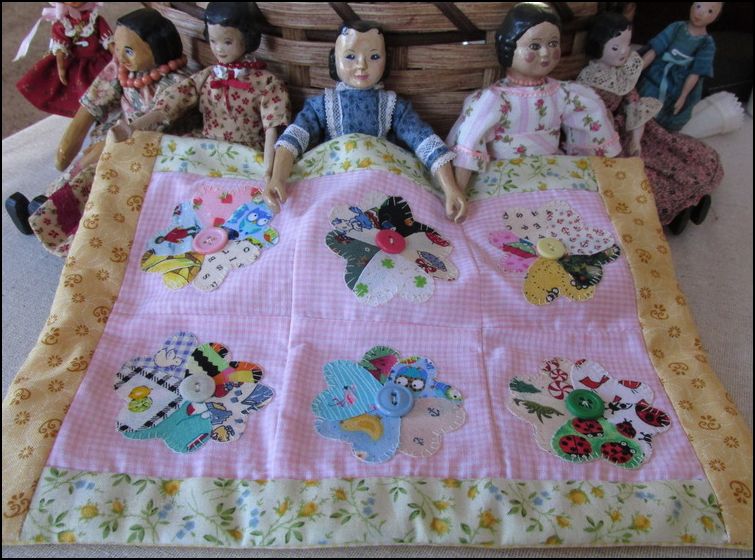 Denise M.
#2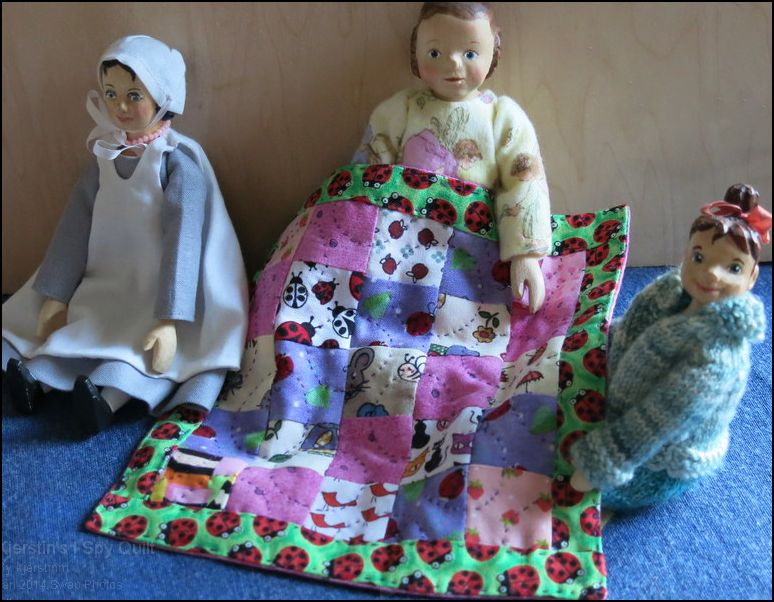 Kjerstin M.
#3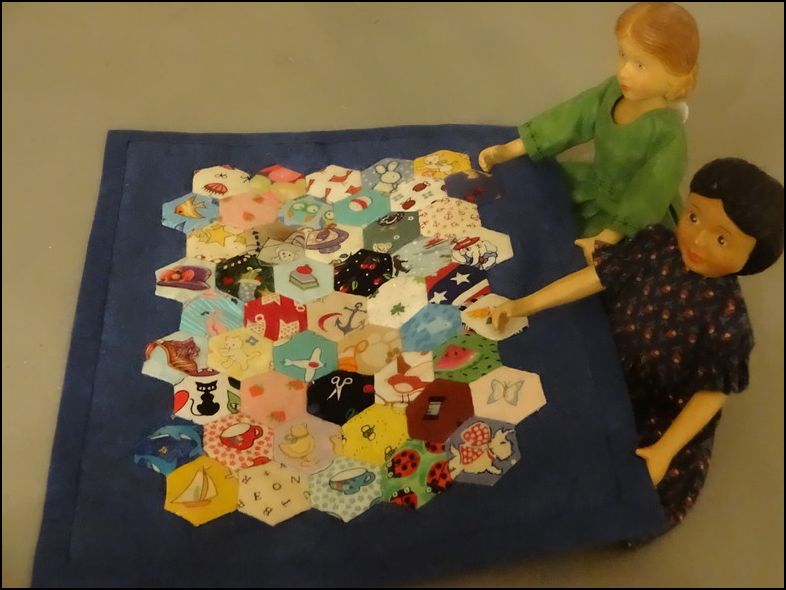 Michelle G.
#4
Winner of the People's Choice Prize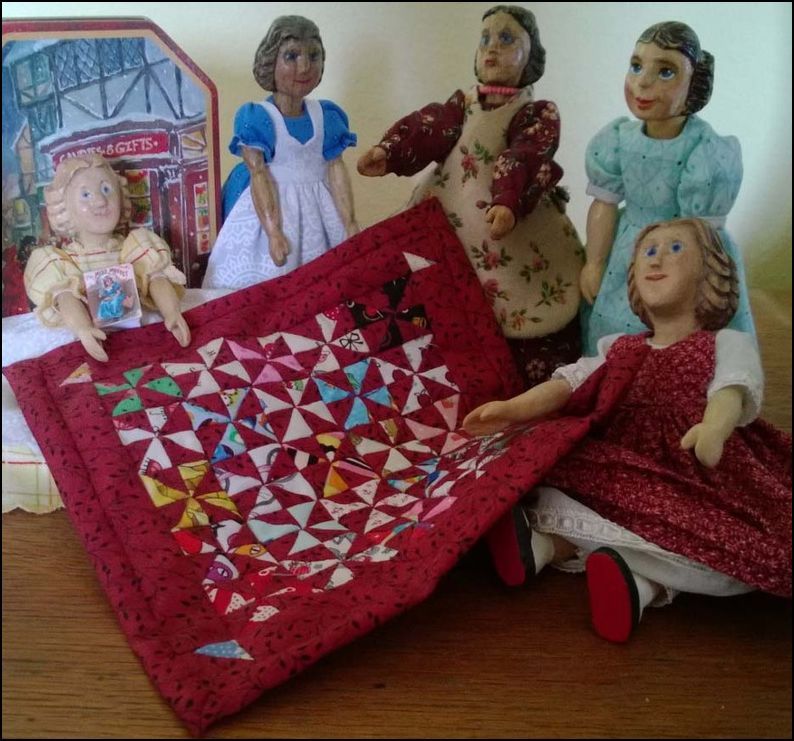 Susan S.
#5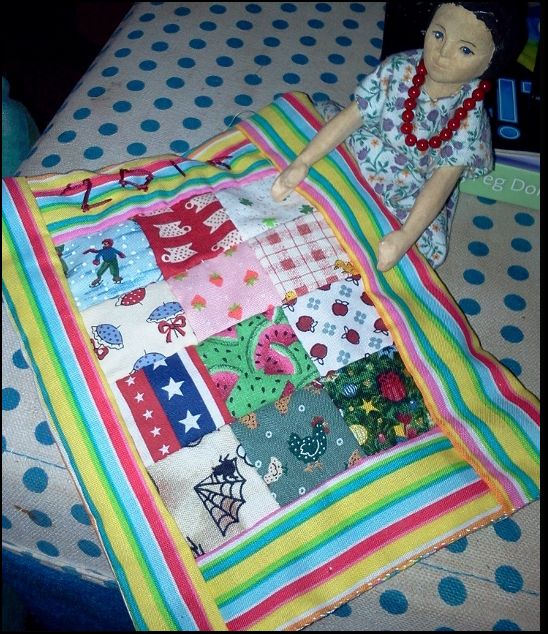 Kristen
#6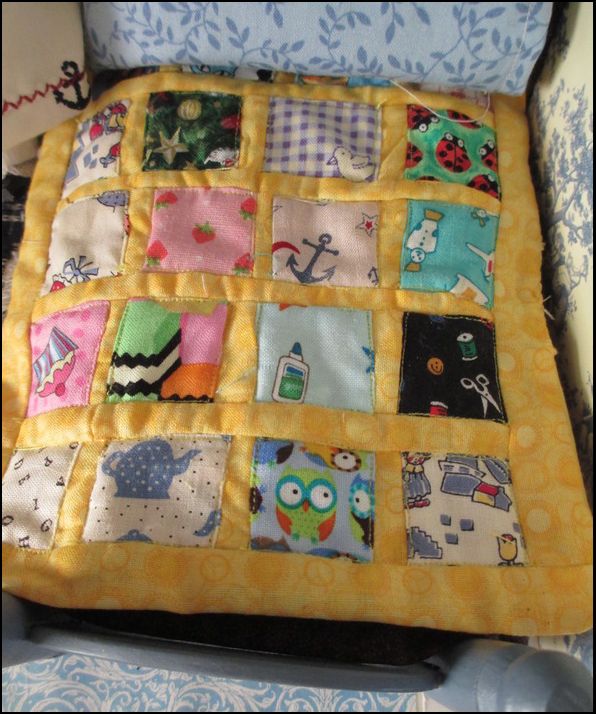 Pauline
#7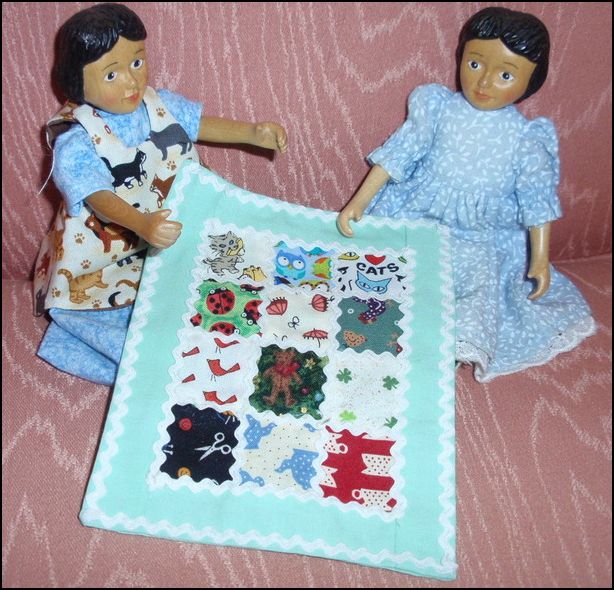 Hildi
#8