First Day of School Dress Swap



Must be a member of Yahoo Hittygirls group
and have met all previous 'finished' swap commitments to play.
(Ongoing or current swaps of course not applicable.)
#### You must put your full name, address, and email
into the Swapper's Database at Hittygirls at Yahoogroups to be included in the swap. ####
If you sign up
without
this info, sorry, but you

will not

be added to the swap list until you do.

This is a 'complete the swap and get a partner on the due date' swap.

You are expected to tell your swap leader when you are finished.


If you forget to let the swap leader know, then you

may not

receive a partner.

Swap leaders have a lot of swap responsibilities, so please include all required information.
The swap leader will make several updates on the Hittygirls at yahoogroups club list until the swap deadline.
Always check it to see if your name is there!
We love to see your photos--so please make sure to add your pictures to the proper swap album at yahoogroups after you get your swap. MAKE SURE to add the too and from, so we can put that under your picture.

It's always a good idea to try to take some photos before you send
your swap, just in case your partner doesn't have camera capabilities!


And remember--when you get your swap, let your partner know
with a big Hitty Hug and a Heartfelt Thanks!
CLOSED
Please let your swap leader know you are done by August 30th.
Partners assigned within three days of this date.
Your Swap Leader is JOC
click the link with any questions, or to sign up.
Can't use this link? Send an email with all of your info to:
julieoldcrow at gmail dot com
This swap is for all swappers.

Summer is almost over, and Hitty is starting to think of fall! And Fall means back to school.
In this swap we are looking for Top-Quality Back-to-School Frocks. These frocks must be made by the swapper, not purchased, not a PIF, and not from a previous swap. Be creative, and have fun with this swap.
You can use Hitty-scaled fabric or regular fabric, as long as the print is suitable for a small doll's School Frock. Your best work is expected in this swap. Frocks must contain buttons, hooks, or snaps for fasteners, be properly hemmed, and every care taken to make them something you'd want to get in return. You may include two (2) school-related extras in this swap, but it is not required. An extra should also be crafted by the swapper, and not purchased.
The frocks can be made to fit any Hitty, so don't stress on the size...but remember not to make it too small or too big to fit the average Hitty.(Clear as mud??) Some swappers choose to sew on one side of a snap, and leave the other part of the snap snapped together, so the recipient can sew the snap on to custom fit her Hitty. This is not required, just a suggestion!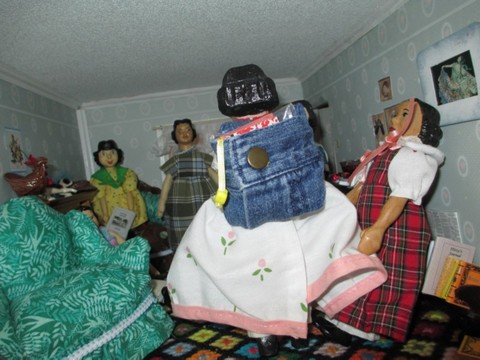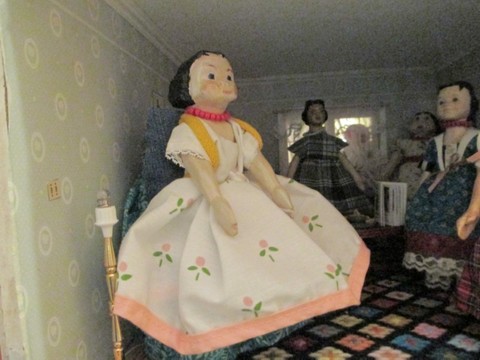 Helen to Pauline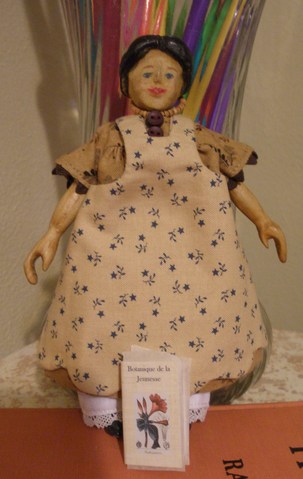 Susan to Tree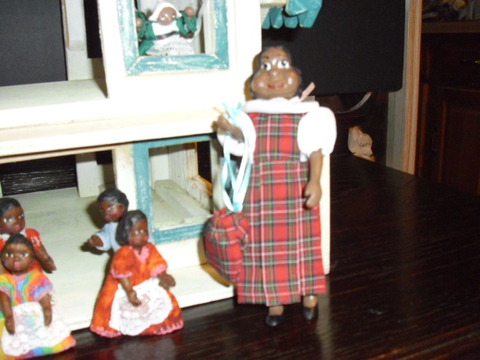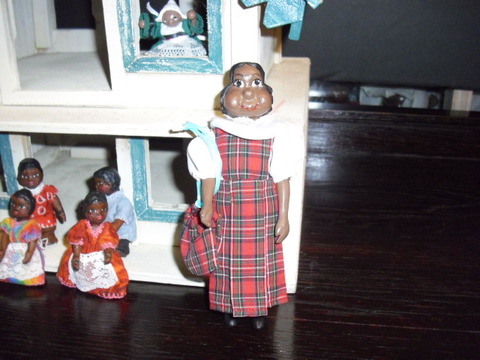 Pauline to Helen