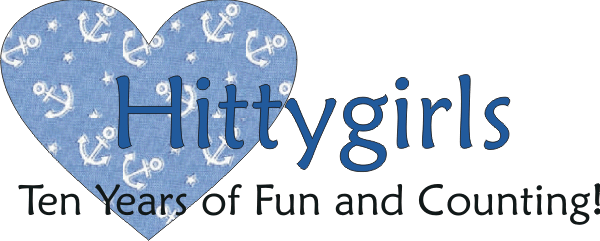 Kitty Kat Kwilt Swap


Must be a member of Yahoo Hittygirls group
and have met all previous 'finished' swap commitments to play.
(Ongoing or current swaps of course not applicable.)
You must include your full name, address, telephone number, and email.
If you sign up without this info, sorry, but you will not be added to the swap list until you do.
Please Note: We do not collect or distribute your personal information,
except to the Swap Leader and your Swap Partner(s).

This is a centralized Swap.
You are expected to tell your swap leader when you are finished.


If you forget to let the swap leader know, then you

may not

receive a partner.

Swap leaders have a lot of swap responsibilities, so please include all required information.
The swap leader will make several updates on the Hittygirls at yahoogroups club list until the swap deadline.
Always check it to see if your name is there!
We love to see your photos--so please make sure to add your pictures to the proper swap album at yahoogroups.

It's always a good idea to try to take some photos before you send
your swap, just in case your partner doesn't have camera capabilities.


And remember--when you get your swap, let your partner know
with a big Hitty Hug and a Heartfelt Thanks!



CLOSED



Mail date: June 25th
Your Swap Leader is Julie Old Crow
This is a centralized Swap. Mailing address:
Julie DeGroat
42300 New Connecticut Rd
Theresa, NY 13691
RETURN POSTAGE is required. Include $1.00 with the blocks.
click the link with any questions, or to sign up.
Can't use this link? Send an email with all of your info to:
julie old crow at gmail dot com
Soooo--a Kitty Kat Kwilt! What would the theme be? CATS!! Cats of all sizes, shapes, colors, and methods! Sleeping Cats, Pouncing Cats, Cute Cats....your imagination is the only limit.
No Extras, Please!
1. In this swap you will make 9 squares. ANY colors, ANY background, and any Cat-themed.
2. The finished in-your-hand blocks need to measure 2" x 2" each (so when they are sewn together by your swap partner they will measure 1 1/2").
3. MAKE SURE you have left a 1/4" seam allowance or more around your design!
4. The blocks must feature cats only--nothing else unless it pertains to the cat in the block. (For instance, if you embroidered a cat maybe you'd want to put a fish with it.)
5. You may applique, embroider, or piece your cat block.
6. Once done, let your swap leader know, and mail to the address above. RETURN POSTAGE is required. Include $1.00 with the blocks.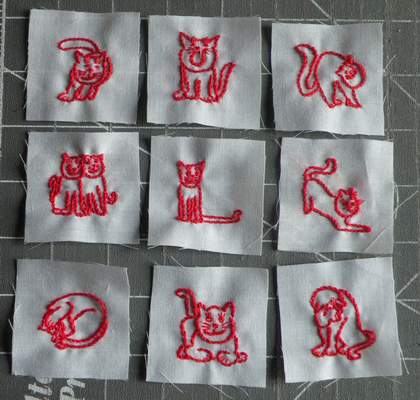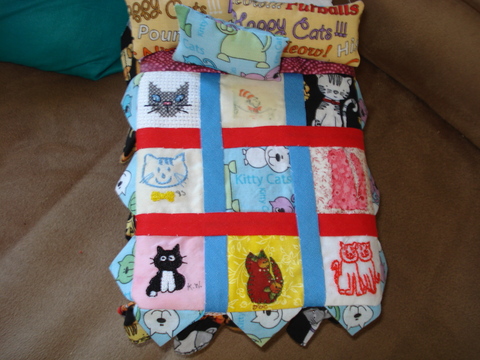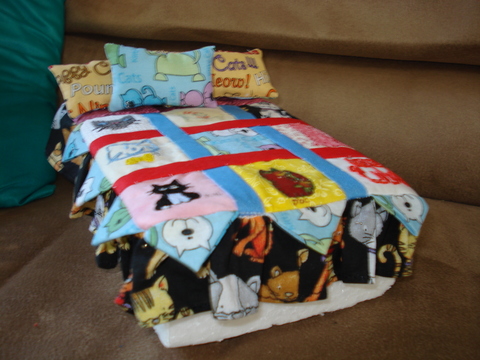 Ashley T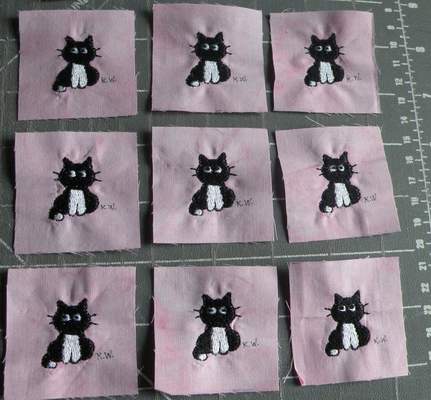 Kathleen W.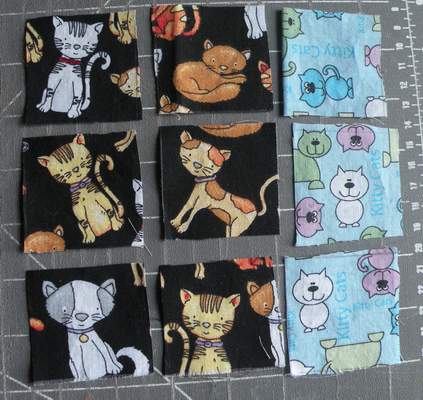 Robin C.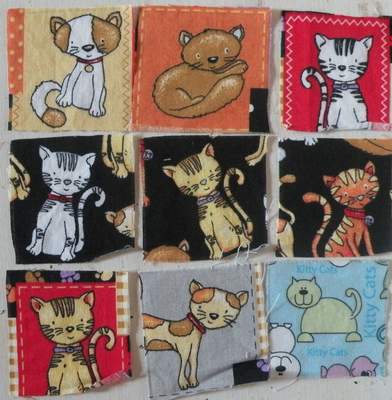 Helen G.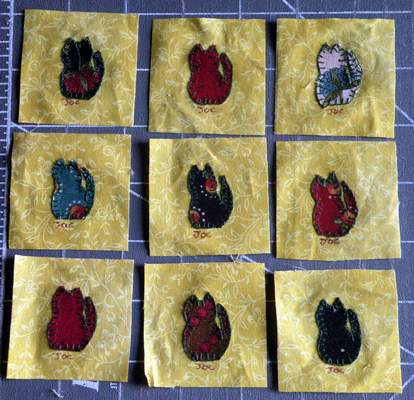 JOC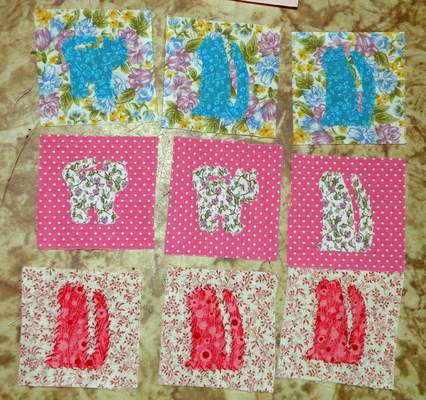 Denise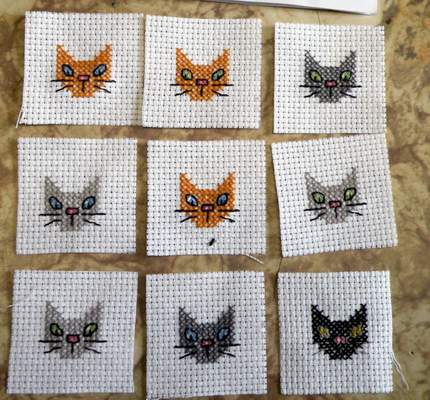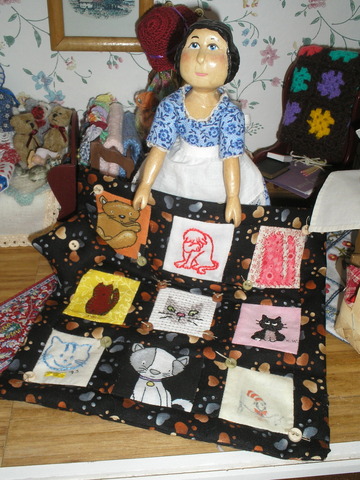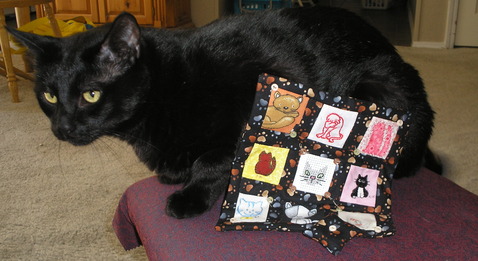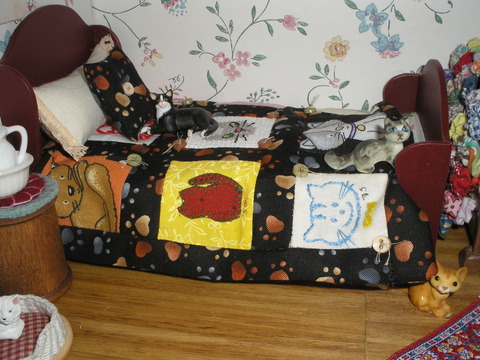 Kathleen B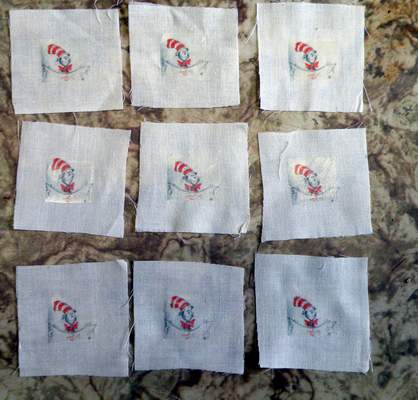 Linda B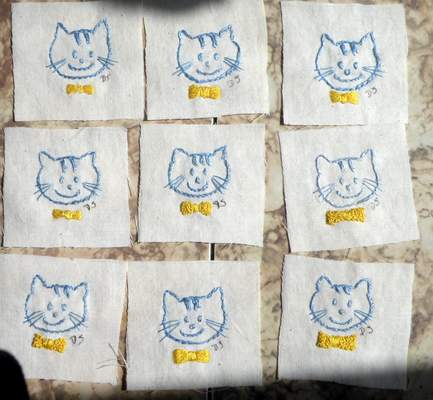 Dawn S.