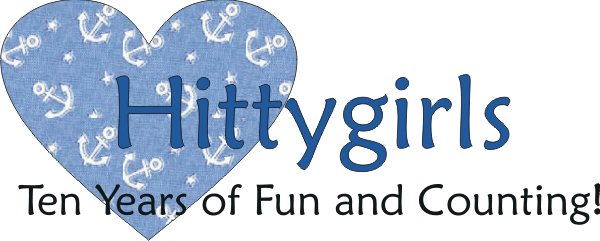 Hitty's Embroidered Remembrance Quilt Block Swap
Must be a member of Yahoo Hittygirls group
and have met all previous 'finished' swap commitments to play.
(Ongoing or current swaps of course not applicable.)
You must include your full name, address, telephone number, and email.
If you sign up without this info, sorry, but you will not be added to the swap list until you do.
Please Note: We do not collect or distribute your personal information,
except to the Swap Leader and your Swap Partner(s).

This is a 'centralized, complete the swap and get a partner on the due date' swap.

You are expected to tell your swap leader when you are finished.


If you forget to let the swap leader know, then you

may not

receive a partner.

Swap leaders have a lot of swap responsibilities, so please include all required information.
The swap leader will make several updates on the Hittygirls at yahoogroups club list until the swap deadline.
Always check it to see if your name is there!
We love to see your photos--so please make sure to add your pictures to the proper swap album at yahoogroups.

It's always a good idea to try to take some photos before you send
your swap, just in case your partner doesn't have camera capabilities!


And remember--when you get your swap, let your partner know
with a big Hitty Hug and a Heartfelt Thanks!


CLOSED
I MUST have your completed blocks by May 20th in order to swap them out.
Your Swap Leader is Julie Old Crow
click the link with any questions, or to sign up.
Can't use this link? Send an email with all of your info to:
Ask for the mailing address when you finish your blocks.
This is a centralized swap, so you will mail to me, and I will exchange your blocks out with others, so you get back 9 different blocks.

In this swap you will create Nine (9) 2 1/2" x 2 1/2" (actual size) quilt blocks. They must be themed in anything from Hitty's books. Perhaps flowers? Blueberries? Crows? A ship? A monkey? Be as creative as you wish! ALL of the blocks must be embroidered. Please read the rules for this swap below.
1. The blocks must measure 2 1/2" x 2 1/2" when you mail them to me.
2. They may be hand or machine embroidered.
3. They must pertain in some way to the book.
4. You must send nine. They may be all the same OR all different, your choice.
5. They must be done on 100% cotton Muslin Fabric. NO OTHER FABRICS accepted.
6. Have fun!

Never embroidered by hand? Here are a few tips.


Don't cut your blocks out ahead of time. Instead, draw a 9 block grid lightly with pencil onto your muslin, with spaces between the blocks. Then draw your picture to embroider within the grid blocks. You don't have to draw them, you can freehand if you want!

Put your fabric into a small embroidery hoop to hold it taut while you work.

Try not to 'carry' thread across the back of the block, as it will show from the front. Sometimes you have too, so don't stress on it. Making the back as clean as possible with no dangling threads and knots means a better block!

When you use your embroidery thread, remember that it is actually 6 strands all together. You will cut your thread to the length you want (usually one arm length) and then separate it into 2 strands each. 2-strand embroidery is nice and delicate. Or, if you prefer, 1-strand can be used. And don't forget the fancy stitches--look them up online to make your blocks unique. (Fancy stitches not a requirement, just a suggestion.)

Need some help? Try these links. I just went online and looked for links, so these may be useful, or not, lol!

http://www.needlework-tips-and-techniques.com/how-to-embroider.html

http://www.sublimestitching.com/howto.html

have fun!


Blocks that are in: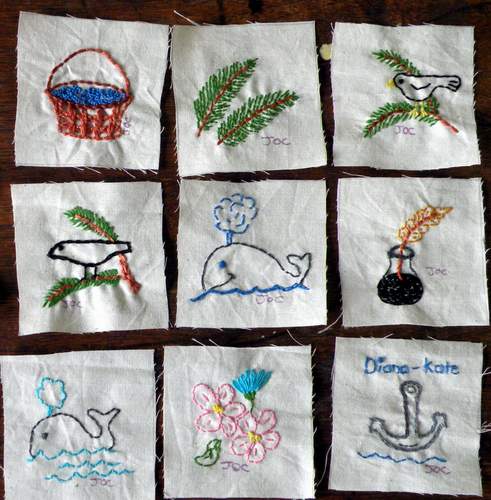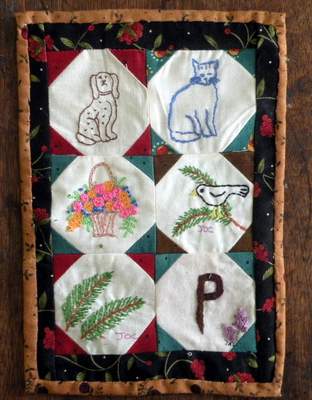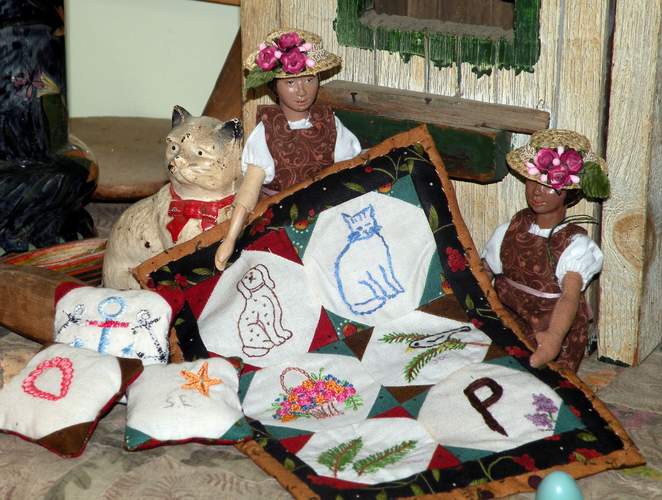 From: JOC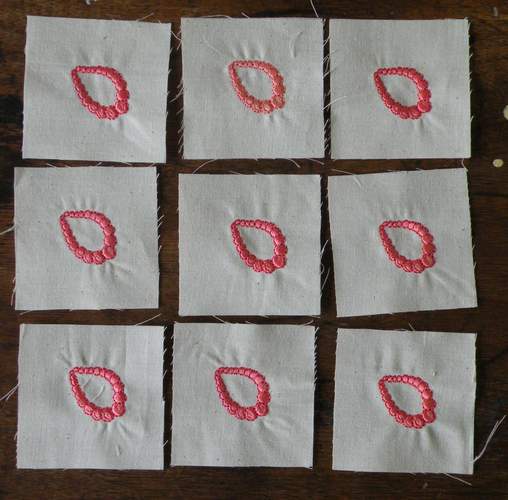 From: Kathleen W.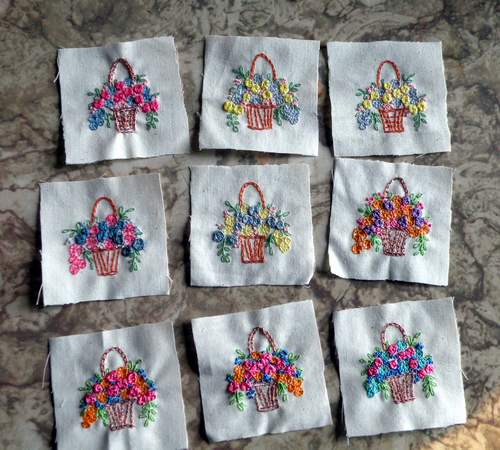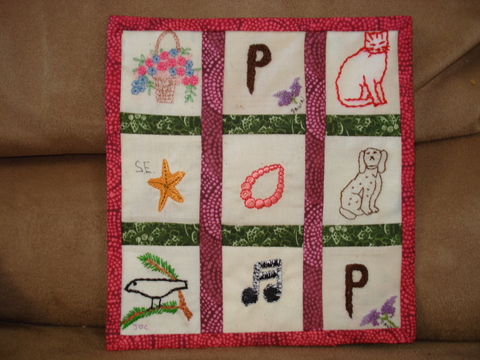 From: Ashley T.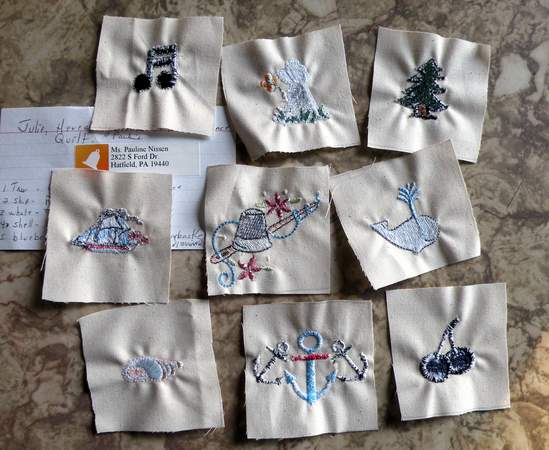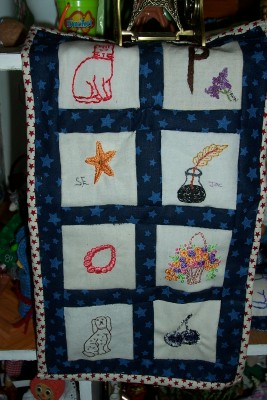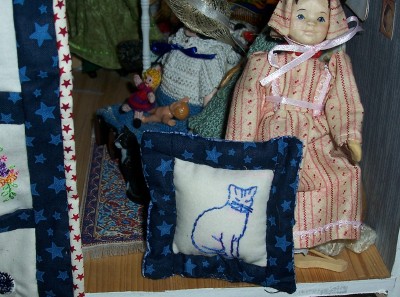 From: Pauline N.