Hittygirls 2nd Annual Yard Sale Swap

Must be a member of Yahoo Hittygirls group
and have met all previous swap commitments to play.
You must include your full name, address, telephone number, and email.
If you sign up without this info, you will not be able to play.
Please Note: We do not collect or distribute your personal information,
except to the Swap Leader and your Swap Partner.
There is a longer time period for this year's swap. Deadlines are as follows:
Signups are now through the swap end date of June 13.
Swap officially starts: Friday, May 14
Swap ends: Sunday, June 13
CLOSED
Notify me when you are done: Monday, June 14 (at the latest - you can notify me at any time that you are done - you don't need to wait until June 14 to tell me)
Partners will be assigned: Tuesday, June 15
Mail out date: No later than Saturday, June 19

Your Swap Leader is Dawn
click the link with any questions, or to sign up.
Can't use this link? Send an email with all of your info to:
dmarie44 at @ aol dot com
If you have any questions, feel free to email me at any time.
2nd Annual Yard Sale Swap
Spring is finally here and it's time to take Hitty and go yard saling for goodies. For this swap, you are to spend no more than $5.00, and you don't even have to spend $5.00. If you come up with some great buys for $1.00 or even $2.00, then that is perfect. You just should not spend more than $5.00. All item(s) must be purchased at a yard sale, flea market, rummage sale, Church fair, thrift shop, Salvation Army store, etc. The trick is to get as many, or as little, interesting items that a Hitty would enjoy. It can be anything from articles of clothing, little toys, a piece of furniture, little books, little figurines, and maybe an interesting pencil or two that could be used for a project. (Last year's yard sale occurred while we were reading The Borrowers, and some were looking specifically for items a Borrower could use.) Also interesting for Hittys would be any small pieces of fabric, lace, old handkerchiefs (in good condition), maybe clay, sculpy, anything in the way of tools used for Hitty dolls, whatever you think.
This is strictly a "purchase only" swap and not a "make something" swap, so all you ladies and gentlemen who don't craft, this is a perfect swap for you. It will be a lot of fun getting out to the yard sales, thrift shops, or wherever, and will be doubly fun to see what others have come up with for this swap. Just remember - $5.00 limit!!!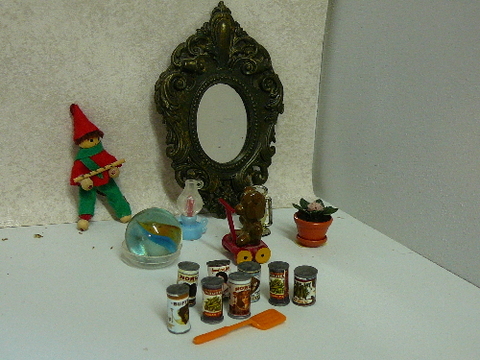 Becky to Wanda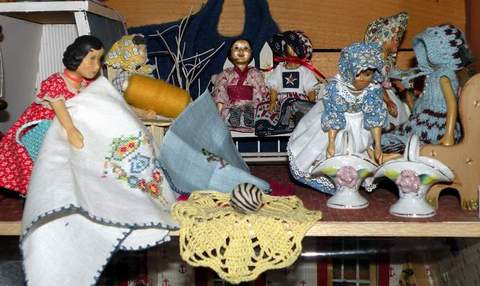 Rochelle to Julie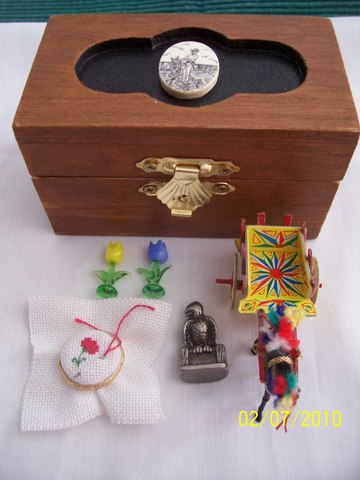 Christina to Kathleen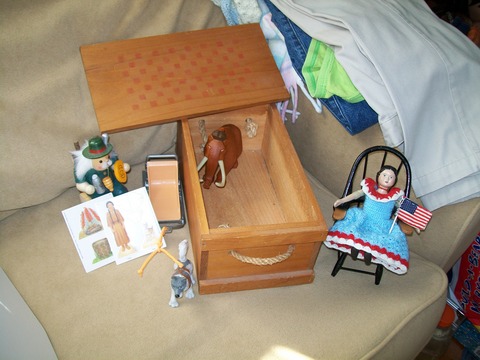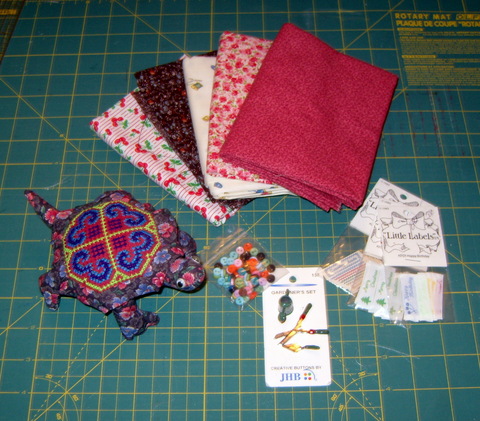 Kathleen to Christina