Hittygirls Hitty Dress Swap
Making the Rounds

~A new round-robin Swap~
Must be a member of Yahoo Hittygirls group
and have met all previous swap commitments to play.
You must include your full name, address, telephone number, and email.
If you sign up without this info, you will not be able to play.
Please Note: We do not collect or distribute your personal information,
except to the Swap Leader and your Swap Partner.
Your Swap Leader is Sandy E.
click the link with any questions, or to sign up.
Can't use this link? Send an email with all of your info to:
corasande @ gmail .com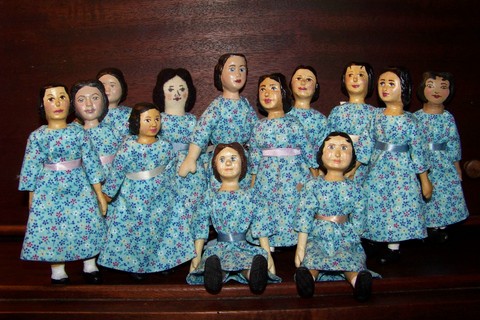 Dresses at the start
Since no one will have an original photo, the Hittyanna's stood in.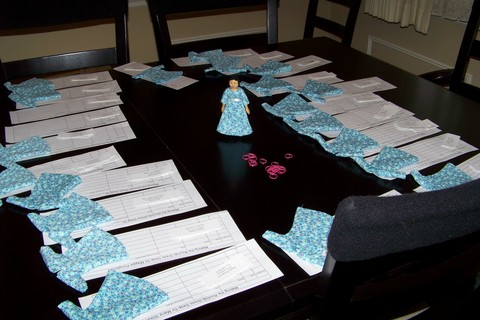 Sorting the Dresses and labels
To start off this swap you will receive a dress made by me which is a light blue floral made in a wrap style. When you get the first dress you can then see what colors/styles you have to work with. You will then add something and send it to the next person. What you add is up to you but you can be creative. If you want you may make the same item and add it to all the dresses you get, unless someone before you has already added that item.

For example all the dresses will need a belt or apron to hold them at the waist. You may take your chances and make enough aprons ahead of time and send one with each of the dresses unless the person before you has already made an apron, then you will need to figure out something else to do. You can always add the original apron since you made them anyway but you need to come up with a new idea also.

Another example: Suppose you have found the perfect lace to add and had planned to do this to all the dresses but someone else has added something that won't go with the lace, oops, back to square one. Since the way I'm planning the sending order, different people will handle each dress and your idea may be already used, I don't think any two dresses will end up identical. Oh and one more rule. No asking the people ahead or behind you what they are going to do, it won't be fun if it isn't a surprise.
The number of swapers will be limited to the number of dresses I have sewn. So far I have 10 but can make more until I run out of the fabric. If there are too many people we will draw names. (I have a lot of fabric though.) We have to decide on the number of stops that the dress will make. I'm thinking 6 stops myself. To do this the way I'm thinking we will need a minimum of 7 people. We also have to decide on how long to keep each dress, Last time some people kept them for ages. (Yes I realize that life can be uncooperative but try to keep them moving) I suggest 1 week for the first round since no one will have seen the dress yet, and 3-4 days for each other round.
This dress since it is belted should fit most all Hittys. But if you want you may send me two measurements from your Hitty. These would be the chest measurement just under the arms, and the measurement from wrist up to shoulder, across shoulders and back down the arm to the other wrist. (So the sleeves are not too long) If you don't have a small tape measure then use a string and measure the string. If you don't send these measurements I'll just make a dress and I will let everyone know how to take it in if needed, it is easy.
You will need to put a snap on the dress that you end up with because that way you can fit it to your Hitty. Don't forget that you will be required to ship each dress to the next person on your list for each round and that will require postage. I'm just going to put them into an envelop, but they may require a bigger one or a box later on.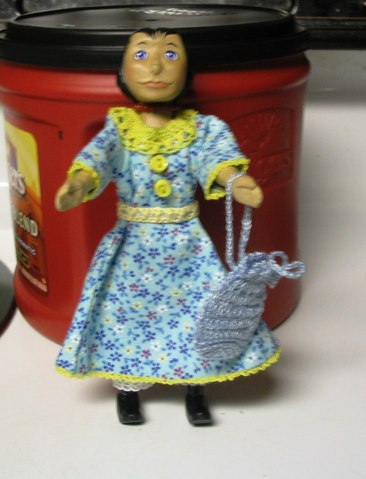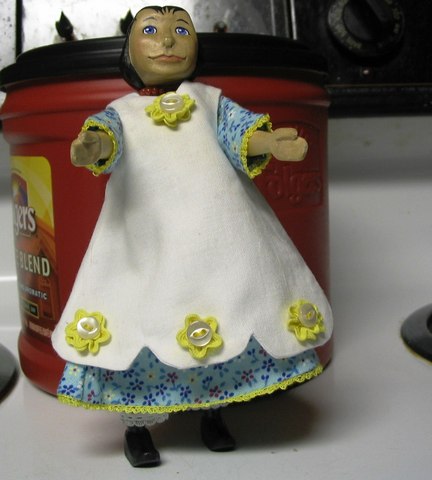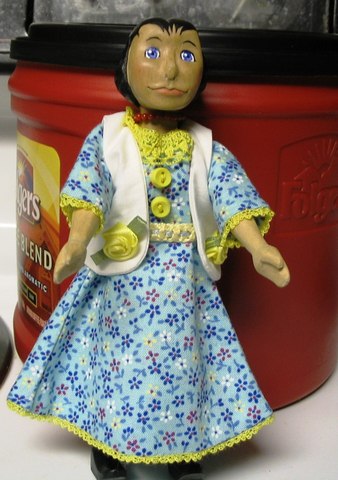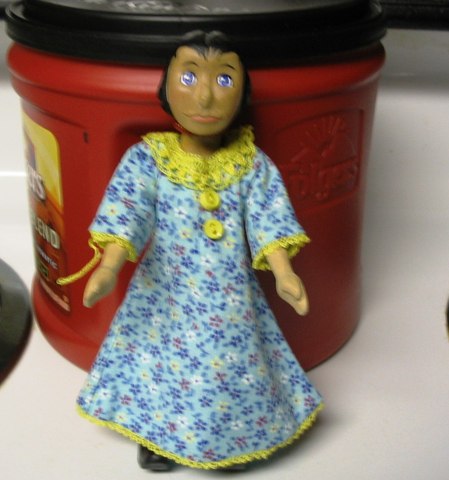 Linda B.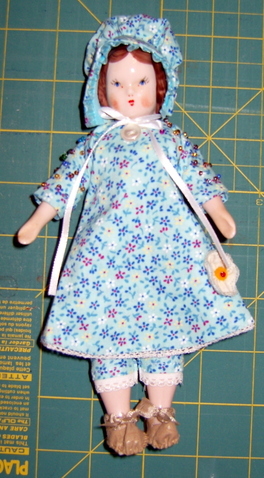 Christina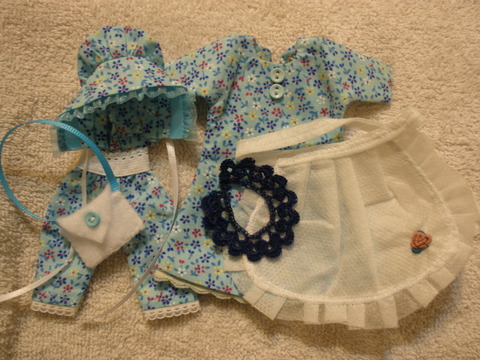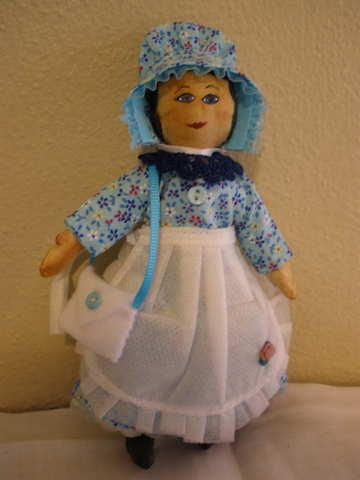 Tree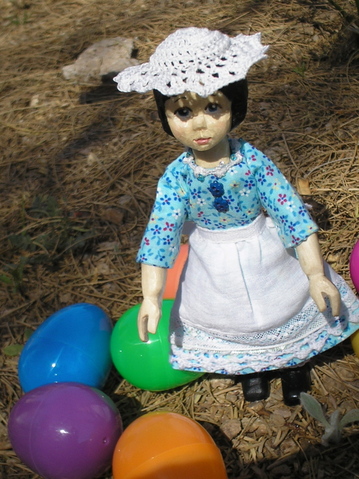 Kathleen B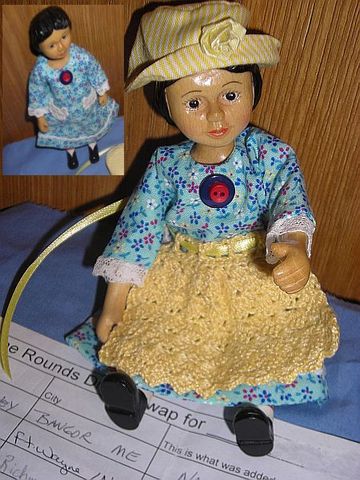 Annie H.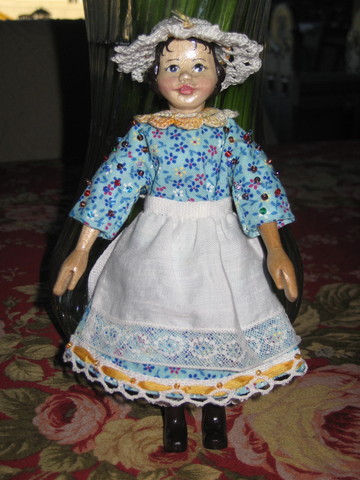 Kari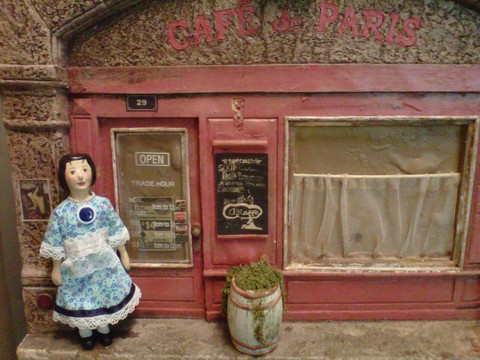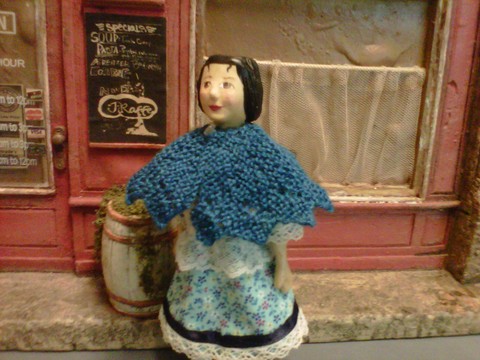 Sandy E.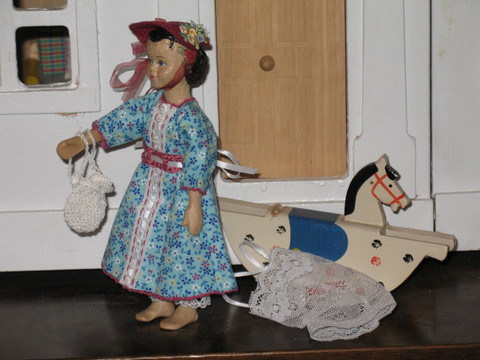 Happy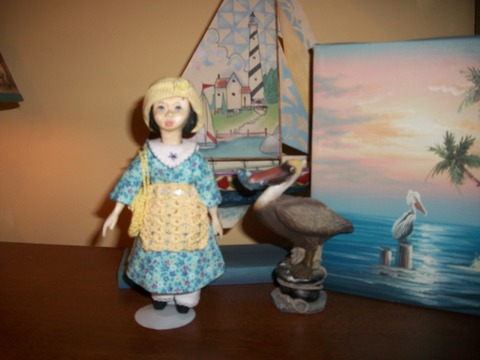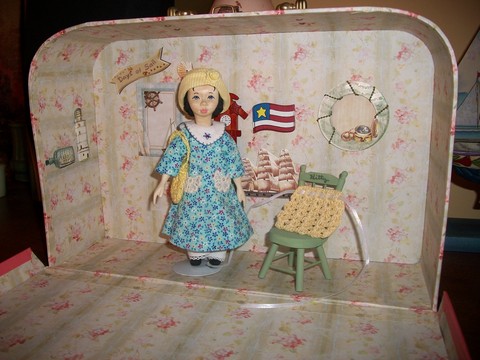 Caroyln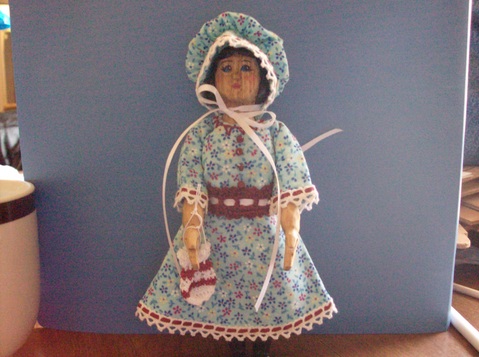 Tina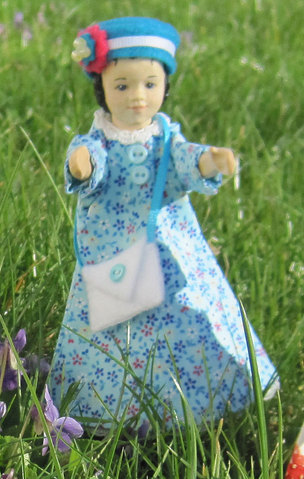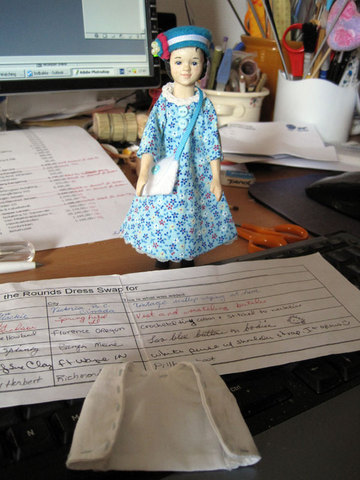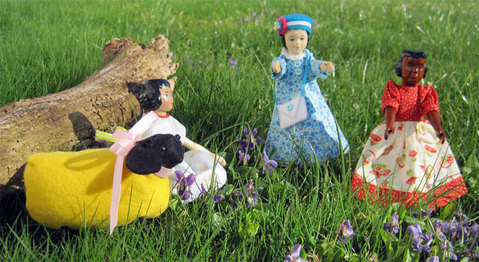 Anita