Nature Swap

Must be a member of Yahoo Hittygirls group
and have met all previous swap commitments to play.
You must include your full name, address, telephone number, and email.
If you sign up without this info, you will not be able to play.
Please Note: We do not collect or distribute your personal information,
except to the Swap Leader and your Swap Partner.
Your Swap Leader is Maria
click the link with any questions, or to sign up.
Can't use this link? Send an email with all of your info to:
CLOSED
This is a 'complete the swap and get a partner on the due date' swap.
When you receive your swap, please place a picture in the monthly swap folder at hittygirls at yahoogroups.
It will be grabbed from there and added to this page!
Sign up starts on Monday May 24, 2010
Must be completed by June 21, 2010
Partners assigned on June 22, 2010
Mail by June 25, 2010
This is a simple swap to participate in. Simply send your swap partner a Hitty sized animal that is usually found in nature. This means wild animals like birds, panthers, snakes etc and not pets like dogs or cats, or livestock like chickens and cows. The animals may be plastic, ceramic, wooden etc. Just be sure that they are painted to look as realistic as possible. For example, some plastic animals are not painted at all, so please be sure to send something that's not just a simple toy, and be sure it's of the proper size for Hitty.
You may also send up to 2 extras that have something to do with nature, a tiny flower, a mini-tree, a pretty rock or even something that can be used in nature like camping equipment, an outdoor chair, a bird feeder or a feather one would find on a nature trail.
To increase the fun, when you receive your swap, please post a photo of your Hitty or Hittys petting or watching the new animal in a nature setting, and if extras are sent, please put them in the scenery to show your Hitty or Hittys enjoying them!
Pauline to Christina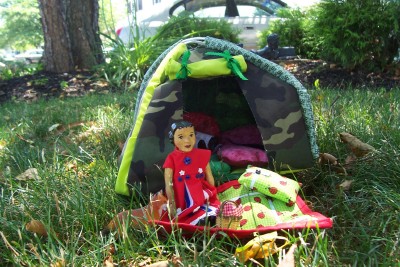 Christina to Pauline