Hittygirls 2006 Christmas Stocking Swap


Our Third Annual Stocking Swap
Must be a member of Yahoo Hittygirls group or the Hittygirls Message Board
and have met all previous swap commitments to play.
You must include your full name, Street Address, Telephone Number, and email.
If You sign up without this info, you will not be able to play.
Please Note: We do not collect or distribute your personal information,
except to the Swap Leader and your Swap Partner.
CLOSED
Mail out by December 15th
If you have not completed a previous round of any Hittygirls swaps, you may not participate in this swap.
Your Swap Leaders are Laurel, Sophia and the Calder Ridge Hittys .
Contact them with questions.
2006 Christmas Stocking Swap for Hitty
Once again Santa is thinking of Hitty as he prepares stockings for
Christmas. Won't you help him out?
Roy K will swap with Satchel P
Donna Marie E. will swap with Fung H
Sue P will swap with Trudy G
Sue G will swap with Teddie N
Marren H will swap with Merryn K
Celia C will swap with Sophia P
Pipah B will swap with Laurel P
Debbie C will swap with Pauline N
Barb N will swap with Michelle K
Carol Mo will swap with Dawn S
Carol Ma will swap with Jill Hunter
Becky V will swap with Erin K
Barb P will swap with Laurie W

Stockings must be mailed by December 15 to ensure arrival for Christmas.
After signups are all in, I will send you your swap partner's name
and address so you can send Hitty her
stocking. Feel free to communicate with her to find out what sorts of things
her Hitty likes - getting to know swap partners often makes swaps twice as
much fun and you'll get some good ideas that way too.
I will be out of town for Thanksgiving so you may not receive immediate
confirmation when you sign up, but don't worry, no one who wants to join
will be left behind!
What to send:
#1) Hitty will need a stocking. They can be knitted, sewn, patchwork,
felted, or purchased. Look for ones designed to hold money gifts, or use a
wooden shoe. Ebay is a good source for inexpensive vintage ones ;-).It can
also even be a novelty stocking such as the one I made Erin last year, which
is a doll whose skirt holds the goodies (see 2005 swaps). So long as it says
"Santa came!" to Hitty, it will be 'just right'.
Size should be for Hitty, not her person, but like people stockings, that
can mean tiny or as tall as her, like the prizes sometimes given by stores
to children.
#2) Fill your stocking with what Hitty likes, and Hitty likes everything,
as we all know! An orange and some nuts or candy are always lovely and
traditional, as are small toys, or mittens.
Look back at the photos of swaps from 2004 and 2005 at www.hittygirls.com to
see what sorts of things Santas have thought of in the past, or simply use
your imagination.
#3) Be sure to get your stocking in the mail on time for Christmas!
#4) Have fun
Laurel and Sophia and the Calder Ridge Hittys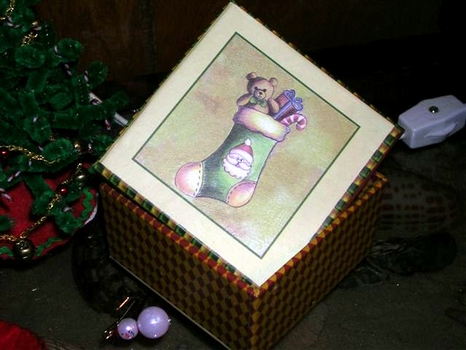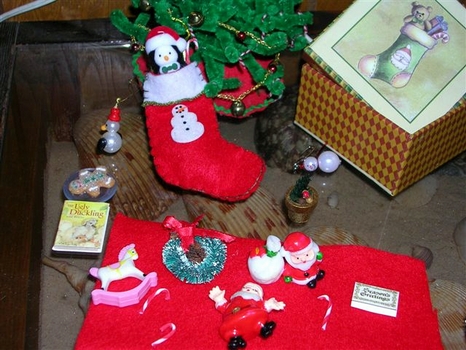 From Trudy to Sue P.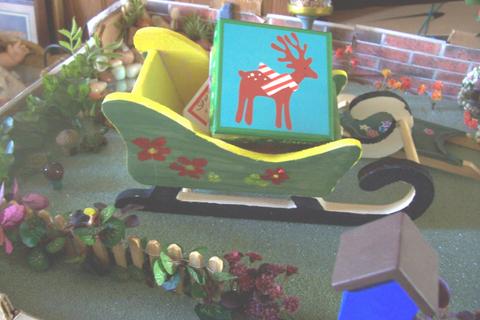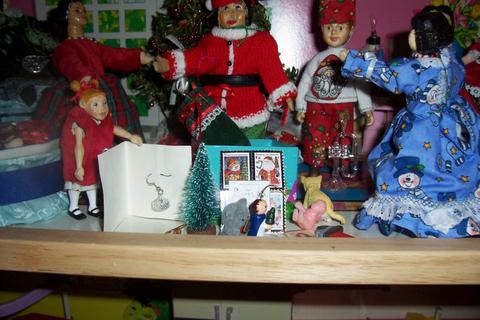 From Debbie to Pauline.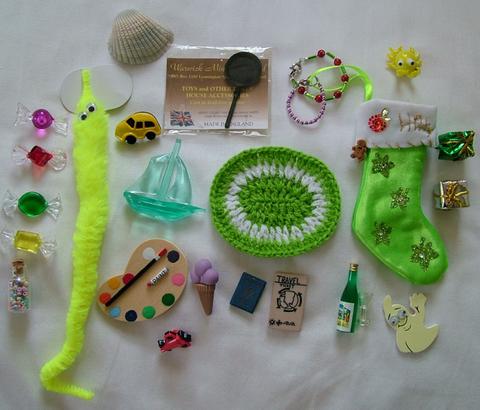 From Becky to Erin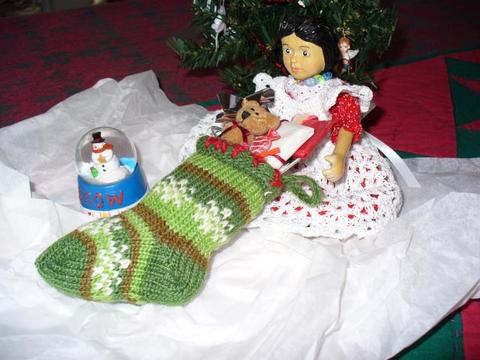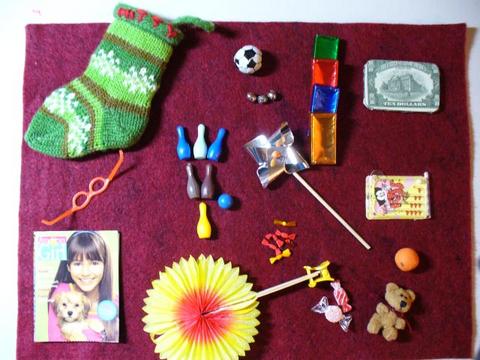 From Sophia to Celia.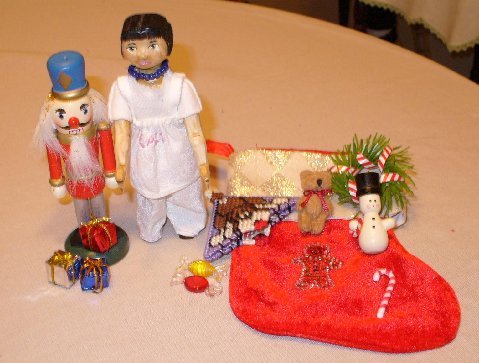 From Teddie to Sue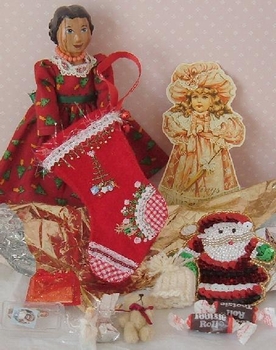 From D'Marie to Fung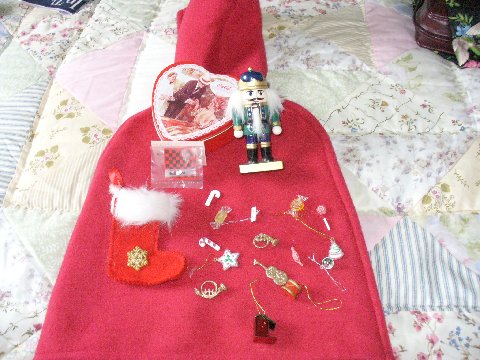 From Sue to Trudy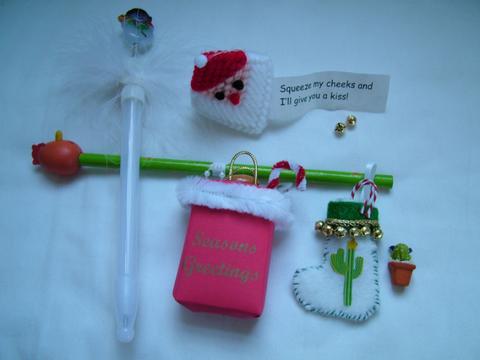 From Marren to Merryn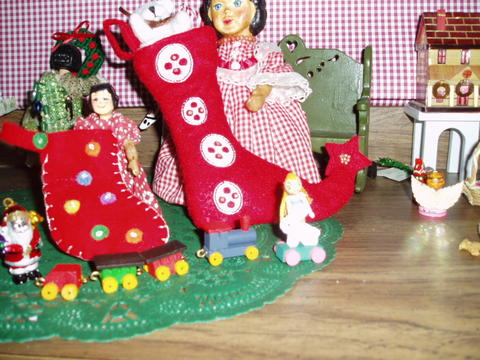 From Merryn to Marren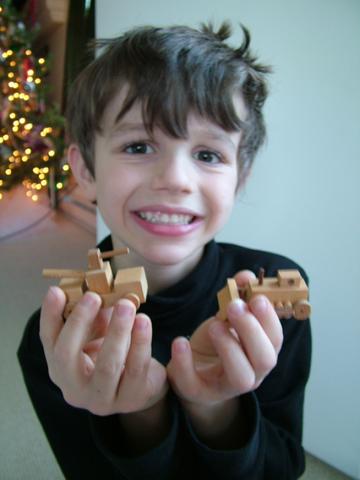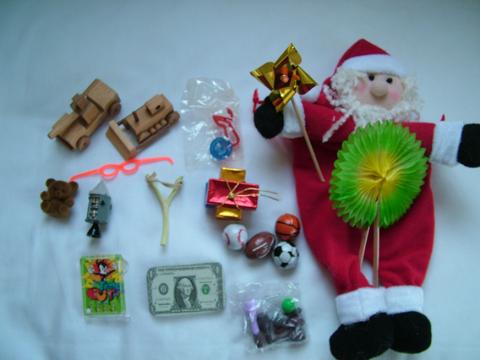 From Satchel to Roy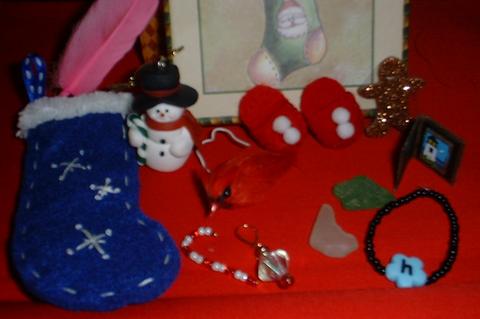 From Dawn to Carol Mos.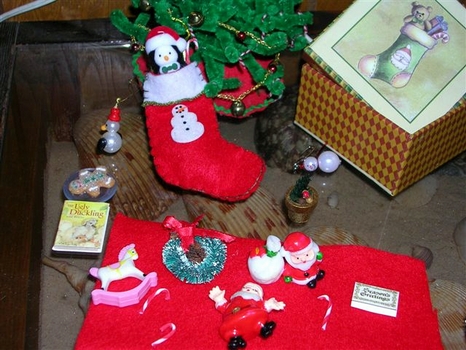 From Trudy to Sue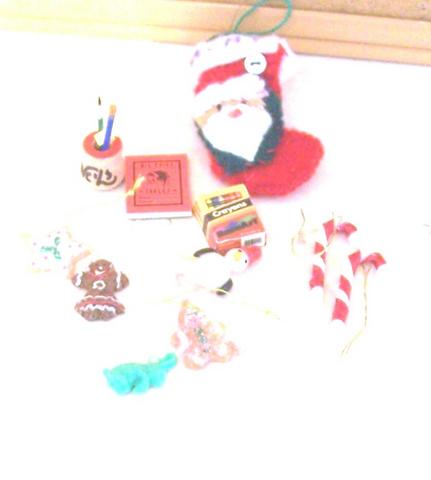 From Pauline to Debbie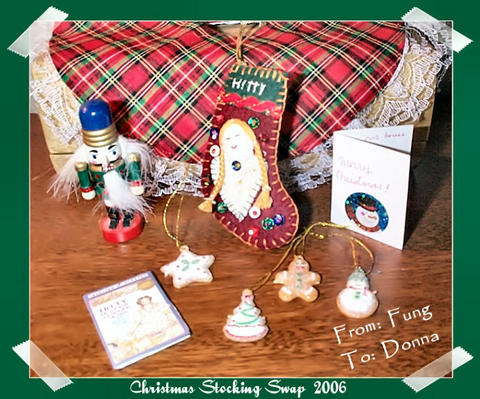 from Fung to Donna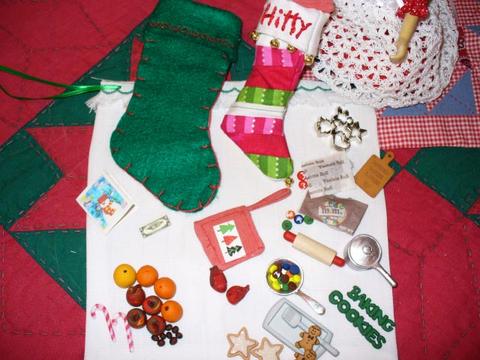 From Celia to Sophia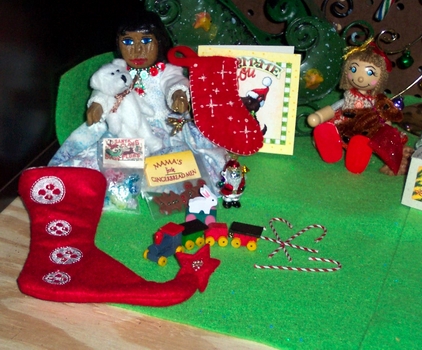 From Erin to Becky