Hittygirls 4th Annual Quilt Swap

From Hitty, Her First Hundred Years by Rachel Field, illustrated by Dorothy Lathrop
Must be a member of Yahoo Hittygirls group
and have met all previous swap commitments to play.
You must include your full name, address, telephone number, and email.
If you sign up without this info, you will not be able to play.
Please Note: We do not collect or distribute your personal information,
except to the Swap Leader and your Swap Partner.
CLOSED
Mail Out and Partner Assignment Date: March 19th
Pauline sends to Sue P.
Sue P. sends to Celia.
Celia sends to Carol Mos.
Carol Mos. sends to Julie
Julie sends to Pauline
We're trying something new with this swap!
In this swap, you will sign up and make your item, but you will not get a partner until the due date.
If you are not finished making your swap, you will not get a partner.
If you are, you will get a partner, and mail out immediately.
Pat says this type of swap is really good, because if you don't have your item done,
you don't have to worry about being late as you just won't swap!
Your Swap Leader is Julie Old Crow click the link with any questions, or to sign up.
Welcome to our 4th Annual Quilt swap! In this swap, we will be making a patchwork quilt like the one made for Hitty when she was with the Preble's. This quilt can be seen in the book in the illustration shown above.
Need some help?
There is a Hitty Book Quilt Tutorial on Julie Old Crow's Site.
The quilt should measure 5 squares across, and 6 squares down, with a border as shown. The squares should be about 1" or perhaps 1 1/2" each. Try to replicate the book quilt as much as possible as to fabrics, but don't stress on it too much! We are all willing to substitute fabrics as needed. Filler is optional--you might consider leaving it out to make the quilt more flexible. Backing is your choice of fabrics. Quilt can be hand-quilted, machine-quilted, tied off, or left plain.
What to Send:
1 Quilt and No Extras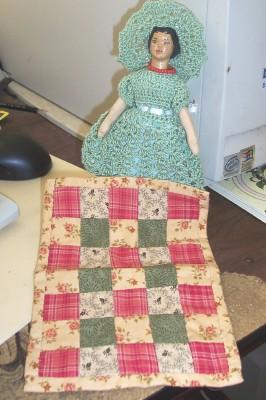 Julie to Pauline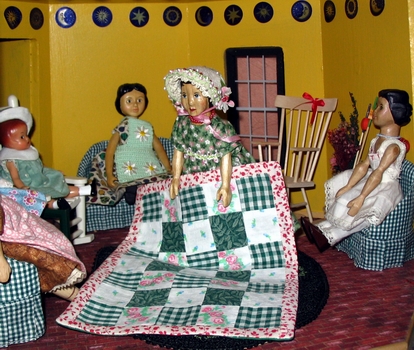 Carol Mos. to Julie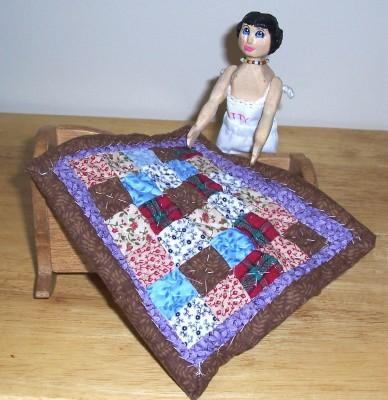 Pauline to Sue P.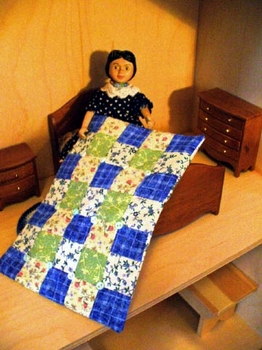 Sue P. to Celia C.