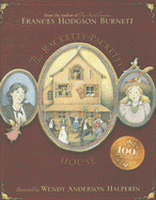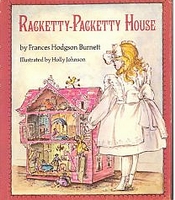 The Racketty-Packetty House
Week of July 14, 2008
Block 8:
The arrival of Lady Patsy was the beginning of a great many things. The Racketty-Packetty family forgot about all their troubles with the house burning scare and began to enjoy themselves as usual. Peter Piper would say, "They never sat up all night with Trouble." Queen Crosspatch told him they were quite right. "If you make a fuss over trouble and put it to bed and nurse it and give it beef tea and gruel, you can never get rid of it."
Lady Patsy became the Racketty-Packettys very favorite of the Tidy Castle dolls. She was not haughty, and her eyes were bright and full of laughs. They watched her recuperation with great interest, and they all came to adore her.
Peter Piper admits to Ridiklis that he fell in love with Lady Patsy the minute Cynthia took her from her box. He declares he is going to marry her. He tells Ridiklis that since she is a "lady of high degree", she will marry him as "Ladies of high degree always marry the good-looking ones in rags and tatters." He winked at Ridiklis in such a delightful and saucy way that she suddenly realized he was very good looking.
Peter Piper decided to attract Lady Patsy's attention. He has discovered that she has been watching the Racketty-Packetty family with much interest and joy. He will make a rope ladder out of a ball of string, hang the ladder out the window and go down it and begin to do things to make her notice him.
DISCUSSION:
Lady Patsy is such a sweet addition to the cast of characters. I'm going to like her character a lot. Peter really believes she will marry him. I wonder how that will work out with Cynthia involved. She doesn't allow the Racketty-Packetty folks near the Castle residents.
I like Queen Crosspatch's words of wisdom about going to bed with trouble. Sometimes, however, it is hard looking on the bright side when troubles are looming. My mother used to always say that things would work out for the best, and she was almost always right, even though I didn't quite believe her at the time.
_______________________
Wouldn't Cynthia be furious if she knew Lady Patsy was visiting the RP's? I love it that she is so sweet.