In Which We Discuss Miss Hickory
Written by Carolyn Sherwin Bailey, illustrated by Ruth Gannett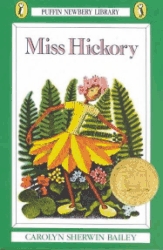 Check out our Chapter Miss Hickorys

Page Two of our Miss Hickorys
Page Three of our Miss Hickorys
Page Four of our Miss Hickorys

Can't make a Miss Hickory?
Surely one of your Hittys would love to stand in for her!
This doll book discussion will include the book itself, and also how it pertains to Hitty.
Check out this full-sized version of Sara Cole's Miss Hickory paperdolls.
Check out this miniature version of Sara Cole's Miss Hickory paperdolls.

Miss Hickory Projects from Wonderwizzy
If Miss Hickory had a dog, what breed would it be?
Guessed yet?
A "Pecan-nese"!
(Joke Courtesy Jane!!)
#1 Crow Makes a Call
Activity: Make a pine needle broom
#2 Moon before Snowfall
Activity: Collect or make a basket of berries.
#3 Up McIntosh Lane
Activity: Get a picture of Miss Hickory in a bird's nest
#4 Squirrel Finds a Live Nut
Activity: Make Miss Hickory a green cap.
#5 Miss Hickory's Good Deed
Activity: Make a Ladies' Aid Quilt of any pattern.
#6 Barn News
Activity: Frame a picture of a cow for Miss Hickory
#7 Runaway Fawn
Activity: Find a deer or squirrel friend for Miss Hickory
#8 Wild-Heifer's Supper Party
Activity: Fashion a pair of skates for Miss Hickory
#9 Now Christmas Comes
Activity: Miss Hickory wants a nice, new gingham apron!
#10 Ground Hog Sees His Shadow
Activity: Make a book of groundhog facts for Miss Hickory
#11 Miss Hickory Takes to the Air
Activity: Take a picture of Miss Hickory with a crow.
#12 Bullfrog Loses His Clothes
Activity: Miss Hickory is going to play an April Fool's Day Joke,
and you can take a picture of her doing it!
#13 Homeless Again
Activity: Knit or crochet a sweater for Miss Hickory
Free Pattern Found Here courtesy The Wiregrass Hitty
#14 Squirrel Takes Revenge
Activity: Let Miss Hickory plant some seeds.
#15 Anything Can Happen
Activity: Give Miss Hickory a big, red apple.