The Dollshop Downstairs
Written By Yona Zeldis McDonough
Illustrated by
Heather Maione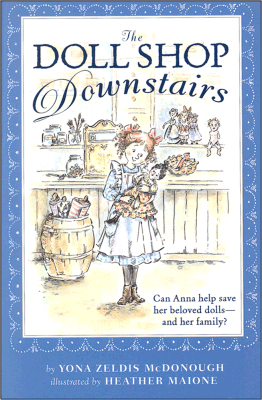 Start Date: March 23, 2015

Chapter by chapter discussions, crafts, activities, challenges.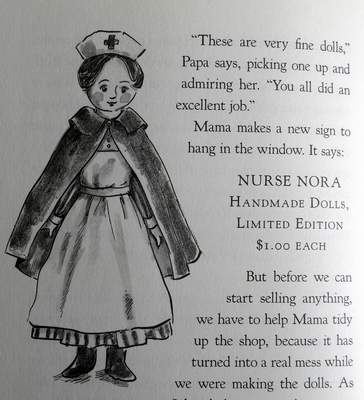 Nurse Doll Picture from the book.
For the Photo Challenges, please add your picture to the
Doll Shop Downstairs Challenges Album at our yahoogroups.

Discussion begins on Monday, March 23.



Chapter One: Meet the Dolls--March 23
Photo Challenge: Make a Doll Bed from a Box
Comments
Chapter Two: School Days--March 30
Photo Challenge: Have a Tea Party like Trudie, Sophie, and Anna
Comments
Chapter Three: Happy Birthday--April 6
Photo Challenge: The New Doll Dishes--buying, using, etc.

Comments
Chapter Four: Bad News
--April 13

Photo Challenge: "...big soft feather beds she (Mama)had when she was a girl in Russia." Make a soft mattress for Hitty to sleep on the roof, when the weather gets too hot. Need some help? Check out Kjerstin's tutorial.

Comments



Chapter Five: Pitching In
--April 20
Photo Challenge: Your Hittys creating doll pictures to be made into dolls.

Comments




Chapter Six: Doll Factory
--April 27
Swap: Nurse Doll Outfit Swap for Hitty. Must include white cap, navy blue cape, red and white striped dress and white apron, as told in the book.
Comments
Chapter Seven: The Ones Who Stayed--May 4
Photo Challenge: A Doll Factory

Comments




Chapter Eight: Gone
--May11

Photo Challenge:
using 3 dolls, (each representing the main characters in that chapter) have Miss McKay (biggest doll), Anna (a smaller doll) and Bernadette Louise (a Hitty) as Anna is having to give Miss McKay her beloved doll.


Photo Challenge: Show off on a new black and white polka dot dress or a white bakery box of cookies.

Comments




Chapter Nine: The Letter
--May18

Swap: Make a Notebook like Anna's notebook

Comments




Author's Note: May 25


Read and Discuss. If you have any Madame Alexander Dolls, please feel free to show them!

Final Comments