Welcome to Hittygirls' Hitty Photo Challenge. 
This Challenge is open to members of hittygirls@yahoogroups.com 
discussion group only (including moderators).
If you are not a member, please join before sending your submission. 
You may join by using the box provided below.
RULES
Take a picture of your Hitty enjoying her summer, and make sure to label it with her name.
Send it via email to Julie at Hittygirls Headquarters. Or you can send it via snailmail and we can scan it. Make sure that you keep your copy until the contest has ended. (Ask for an address here, if snailmailing.)
Send your name and address along with the photo (email or snailmail) to be notified for door-prize drawings--and watch the Hittygirls list for updates.
Want to donate a small door-prize? (Ask for an address here.)

Challenge begins: NOW! 
Challenge ends: June 30, 2004

CLOSED
FAQ
If you have any questions, or if anything is unclear, please feel free to contact us for clarification.
I can't donate a door-prize right now. Can I still win one? Yes! All entrants are eligible for a door-prize even if they didn't donate one. This is just for fun!


But more than one of my Hittys has a lot of summer-type fun! Can't I send pictures of each one? Yes! Go right ahead and we'll put up a picture for every Hitty you sewnd. But you will only be eligible for one doorprize, regardless of the number of pictures.


What exactly do you mean by 'summer'? For the purposes of this challenge, summer fun means anything they do for fun in the summer, such as a 4th of July party, swimming, boating, and anything you can think of!
1.Missing picture--if you have it, please send it to me!
Hitty and Teddy Bear picnic.
2.

Hitty Ginger and Hitty Bea, were really feeling adventuresome and decided to go for a balloon ride.
3.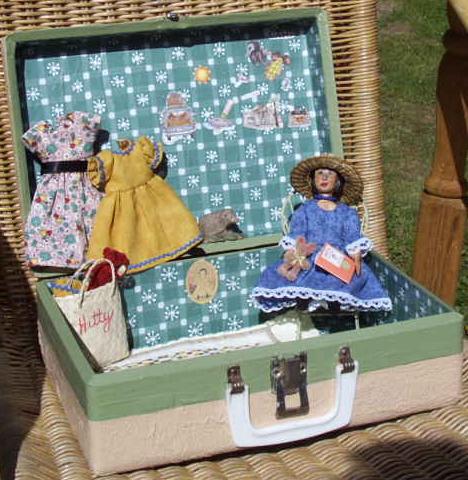 Hitty Pat takes a moment from reading her favorite book to sunbathe on the new deck.
4.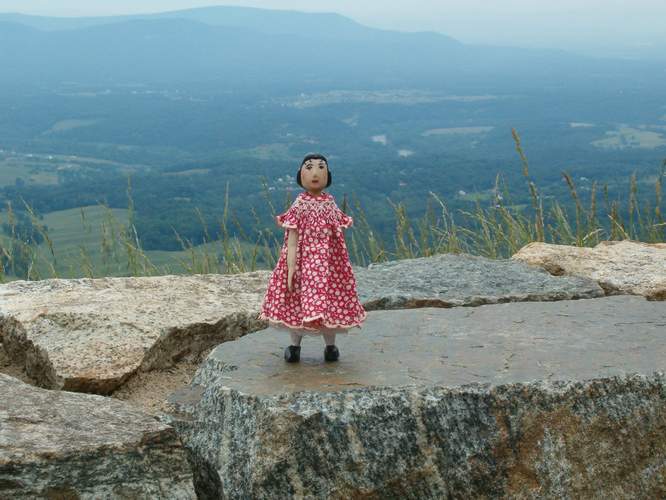 Hiking in Shenandoah National Park in Virginia.
5. Missing picture--if you have it, please send it to me!
Here's Hitty Tessa, conducting a briefing of her future sisters in Summer School.
6.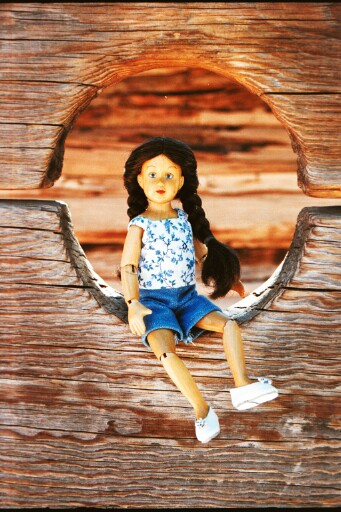 Hope visits a living history museum and ends up in the stockade!
7. Missing picture--if you have it, please send it to me!
Hittys over Gatlingburg-- Seeing it from the sky
8.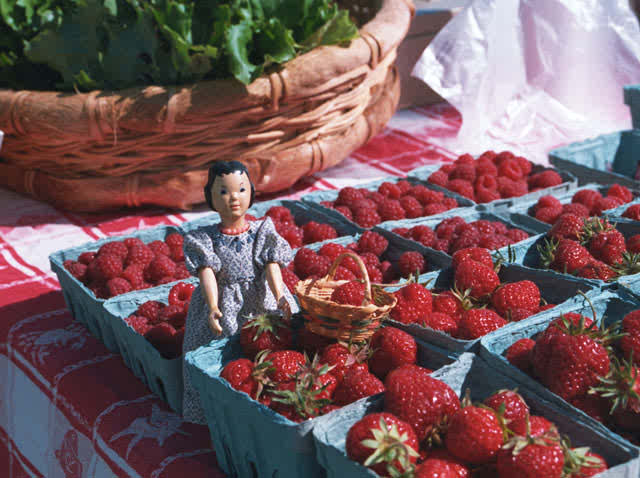 "I think I'll make some shortcake. l'll take two strawberries please."
Hitty Beathas believes in supporting her community at the local Summer Farmers' Market.
9.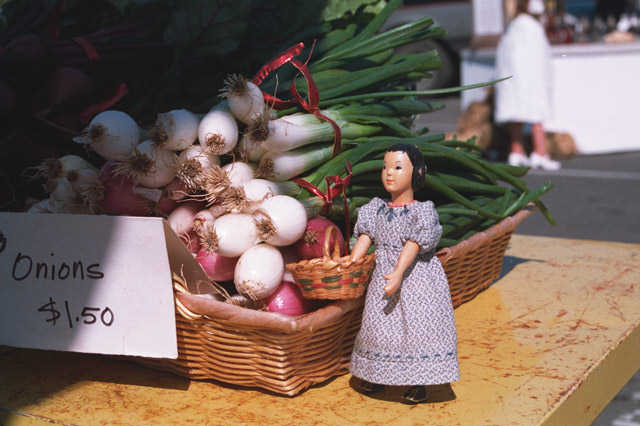 "These onions look good, I'd like half of one please." Hitty Beathas
thinks one of the best things about Summer is going to the Farmers' Market.
10.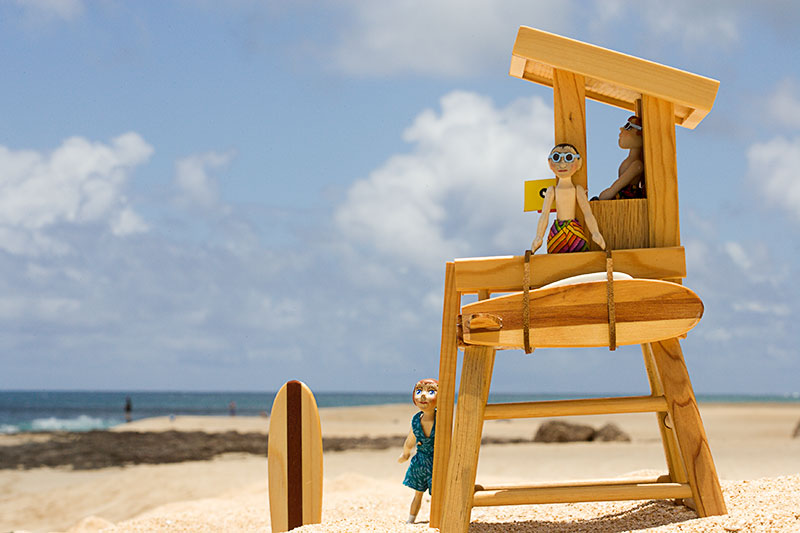 Lifeguards
11.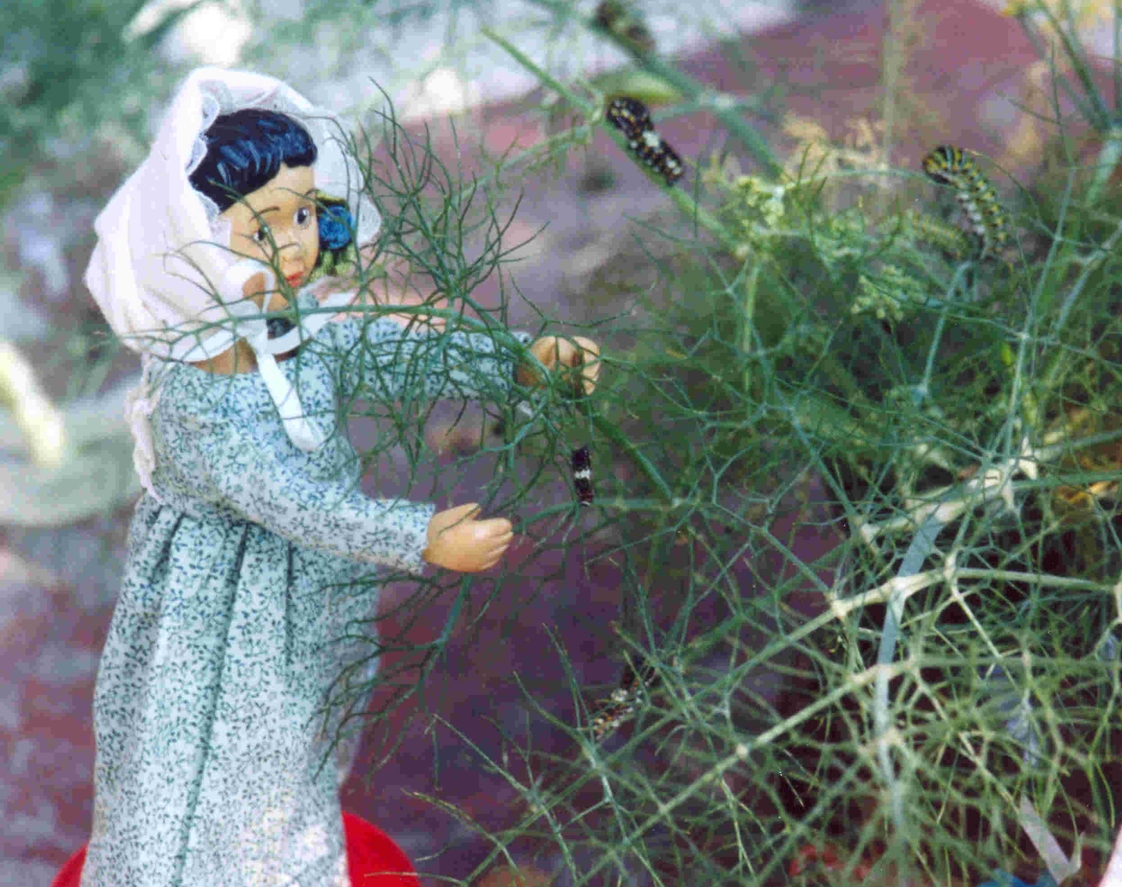 HittyB loves to raise caterpillars (Anise Swallowtails)
12.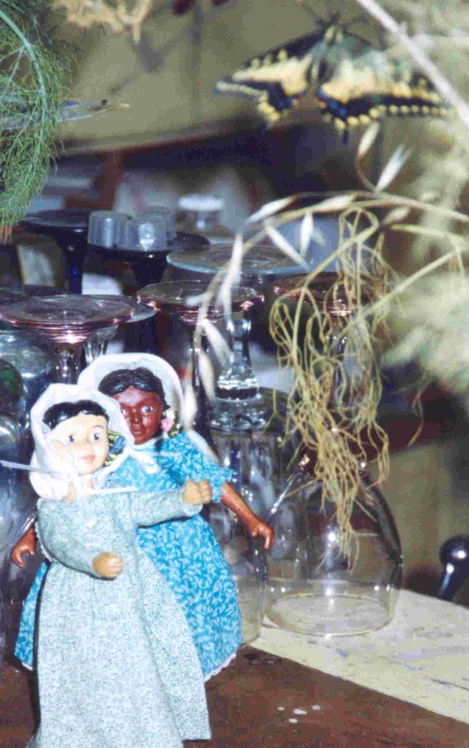 MagnoliaB gets so excited when the butterflies hatch
13.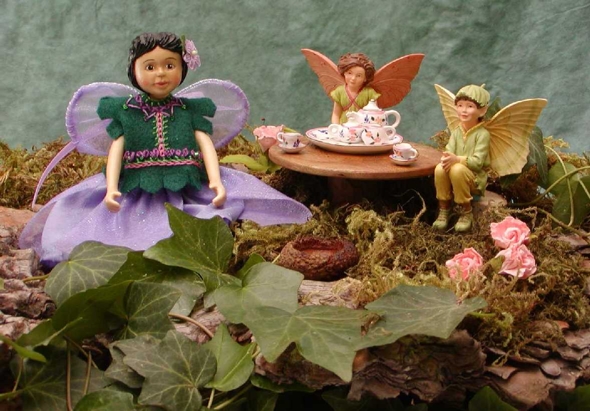 The Flower Fairies invited Hitty-Ann Grace to tea. Of
course she had to have a fairy dress to wear for such
a special occasion. What a lovely way to spend a
summer day!
14.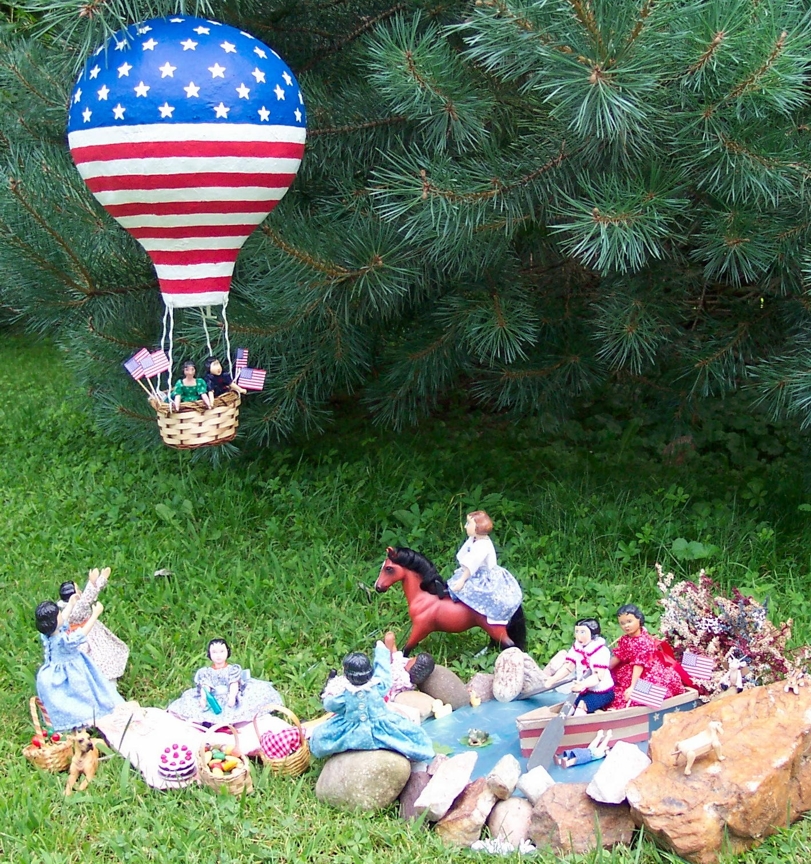 Up, up and away!

15.