Hitty--The Adventures Continue!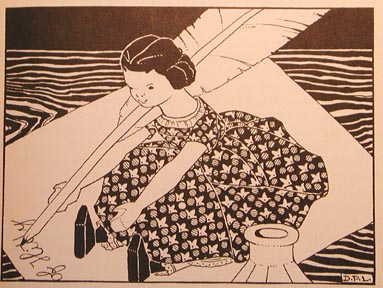 page 3, "I begin my memoirs"
Hitty: Her First Hundred Years by Rachel Field, illustrated by Dorothy P. Lathrop
©1929 Macmillian Company
You do not have to write with a quill pen. ;)
First Set officially begins May 1st--July 31st, with voting the first part of August.
(But you may send in your chapter at any time!)
Hittygirls is inviting every Hitty Person to write a new chapter in your Hitty's ongoing adventures.
This challenge is open to anyone who would like to enter.
All entries become the copyrighted intellectual property of Hittygirls.com, and may be edited for content and length.
All North American rights remain with the author. Pictures are welcome!

1. Create a chapter describing one experience involving your Hittys.
2. Your chapter should be sent to us here, and it will be posted it on these pages. A Reader's Choice chapter will be chosen by poll of the hittygirls list members.
What to include in your entry:
FOREWORD:
Introduce yourself, giving a brief history of how you came to know about Hitty and how you came to acquire your first Hitty. Introduce the character(s) in your chapter and a little about her/them. This should be about one paragraph, and does not affect your word count.
YOUR CHAPTER:
(No chapter number necessary, title optional) Either real or imagined, the story should be narrated in the voice of your Hitty(s) herself. Use photos or illustrations as much as you like. Be sure to include all the `W's', who, what, where, when and why. Try to keep your chapter to two 8-1/2 x 11" typed pages (About 500-750 words). Some minor editing for content or length may occur, before our publication.
Most important - (computers ready)...... HAVE FUN!