Hittygirls December Holiday Photo Challenge


CLOSED
All entries will be eligible for the doorprize drawing.
If you want to be included in the drawing,
please add your name and address with the entry.
We will not put your picture in the drawing without this info
as it makes us a lot more work trying to try to track people down
once the challenge has ended.
The photo should be Hittys in a Holiday setting--think traditional Holiday activities--or maybe your Hittys have some new ones to add! Are they getting a new dress for the festivities? Putting up lights? Celebrating in a different way?
Holidays can include but are not limited to your special holiday for this time of year.
Kwanzaa
Christmas
Hanukkah
Boxing Day
Eid al-Adha
or whatever other holiday you want to include that occurs in December
You may submit more than one entry. You will only be entered into the drawing once.
Deadline: December 20th--NOW CLOSED
doorprizes will be drawn and awarded after my holiday of Christmas has ended.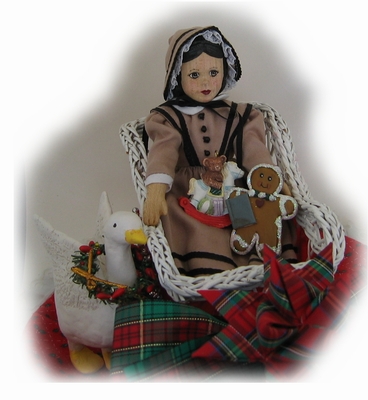 "Hitty Honor Grace having her annual Christmas portrait taken at the studio.
She is wearing her brand new silk visiting dress."--Gale L.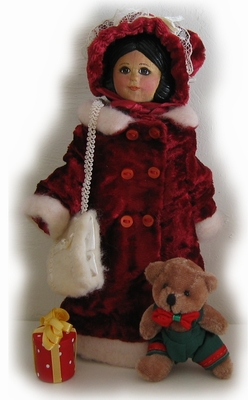 Hitty Stella Grace Goes Visiting--Gale L.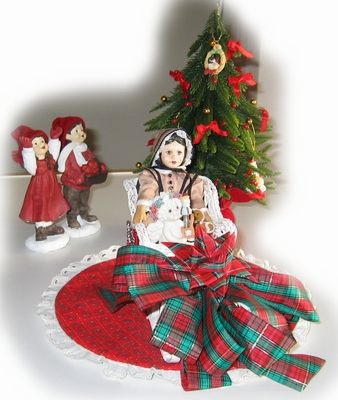 Hitty is attending the community tree decorating ceremony in the village square.--Gale L.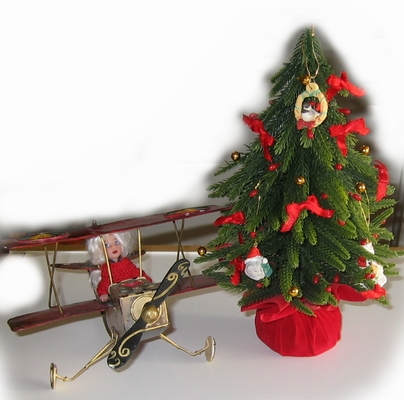 Bitty Pilot Peggy flies in to join in on the fun.---Gale L.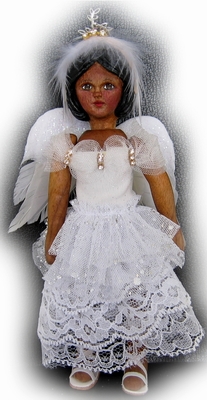 Hitty Friend Teya dressed as an angel.--Gale L.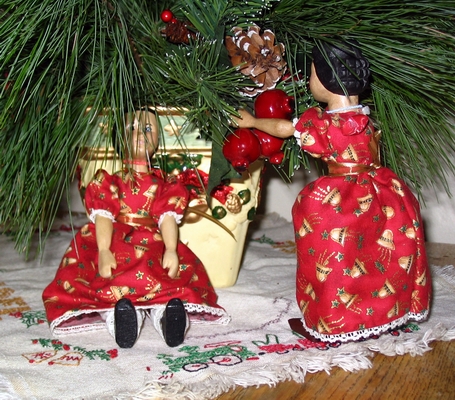 Swap Hitty and Hitty Petal, decorating for Christmas.--Julie D.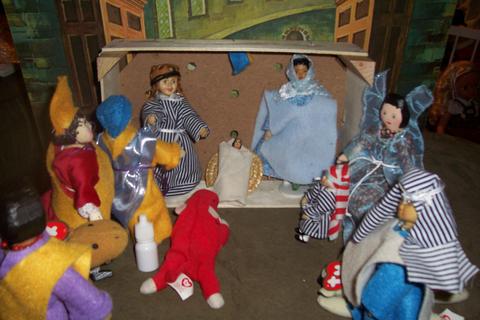 Away in a Manger--Pauline N.

Hitties Annie Sarah and Purl are shopping at Mr. Lacey's Pet Store for a puppy for Hitty Kabins.
It will be quite the Christmas morning surprise. Although there are some lovely dogs in the shop,
they have decided on little Oliver who is ready to spring up into Hitty Annie Sarah's arms at any moment!!!--Dawn S.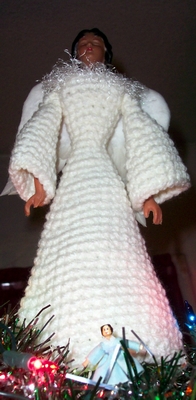 Itsy Bitsy in training to
be a Christmas Tree Angel. The angel behind her is
her training angel--MIchelle K.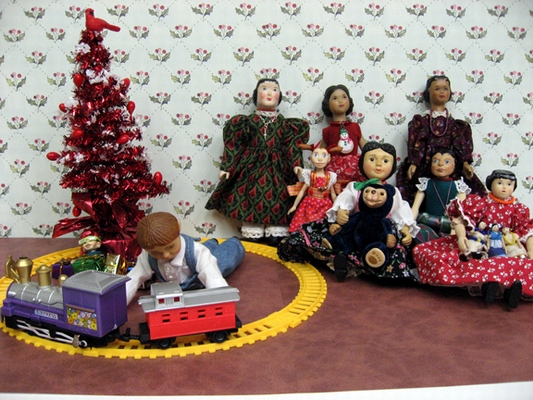 Joey plays with the train while little Aloha hides among the boxes under
the tree. Hitty Esther Edelweiss, Hitty Viola, and M.S. Dort stand in the
back. Bitty Ginger is next to Hitty Hattie who holds her new teddy bear.
Moxie is next to Hitty Lara who is in charge of the three Ittys.--Ann S.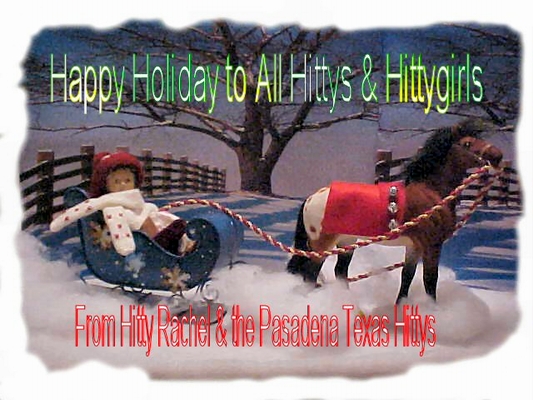 Hitty Rachel--Sylvia Y.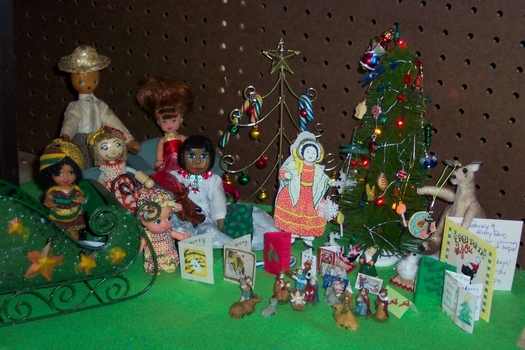 This is Hitty Bee and her entourage. She is wearing her Christmas necklace and all her
Ornaments and Cards decorate her tree and the surrounding area. And Fido her pet kangaroo
heard the preparations for our first family Christmas, found his cage key and jumped in the photo.
Hitty Bee said later he should have been hooked up to the sleigh with antlers. Maybe next year.--Becky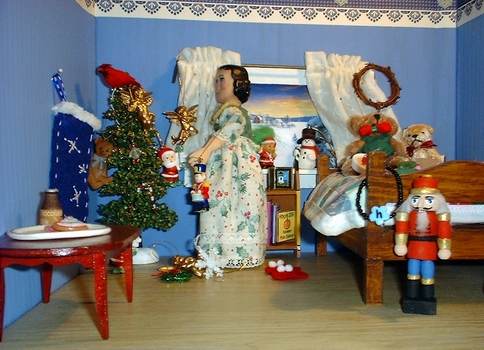 Hitty Wendy is wondering where to add the next ornament. --Carol Moseley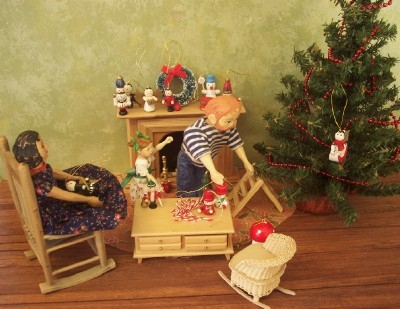 This is the Aries Gator family decorating for Christmas. Aries is hanging the ornaments
where dear little Anna Miele tells him and Chimera looks on.--Elise B.

Merry Christmas to all--Fung and the Canton Hittys & Bittys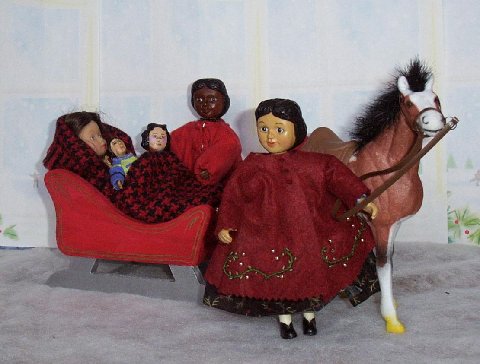 Hitty Ruth of Plymouth, Maine takes her Hitty sisters and Nurse Doll for a ride in their new sleigh pulled by Star.--Trudy G.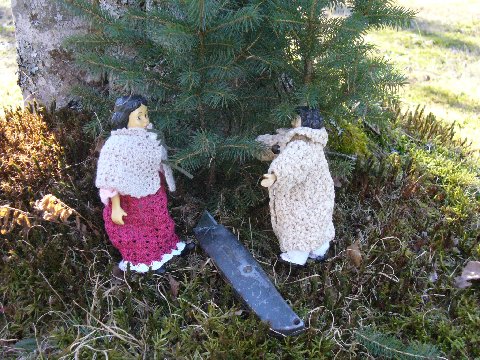 Hitty-Sue and Hitty Ali decided to surprise Hitty Mom and the girls with a real Christmas tree this year.
Mr. Tom told them they could cut down the little trees that were growing against the Maples so they
borrowed one of his tools and chose their tree while Hitty Mom was walking Saige.--
Sue G.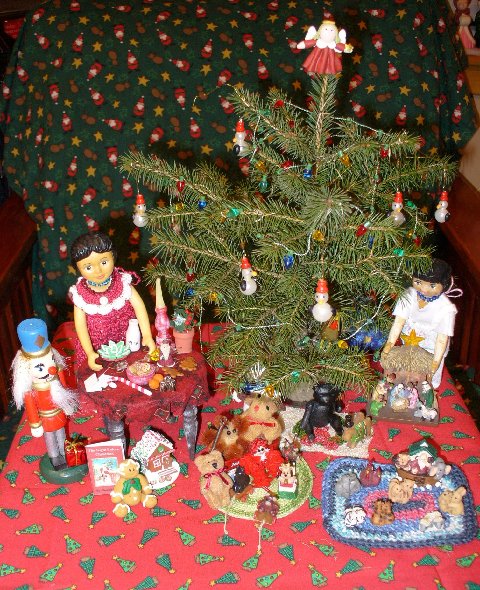 Hitty-Sue and Hitty Ali put the finishing touches on their Christmas surprise for Hitty Mom and the other Hittys in Northeast Maine, --Sue G.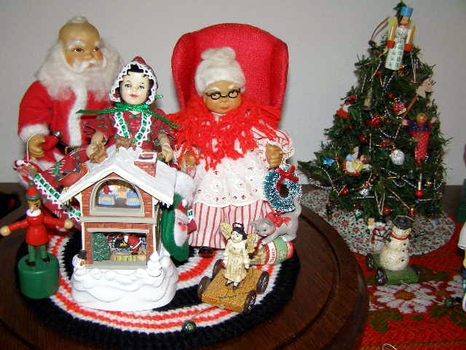 Merry Christmas from Hitty Len--Margie S.