On April 8, people all over the world will celebrate Romani Culture,
and participate in events to raise awareness of the issues faced by the Romani people.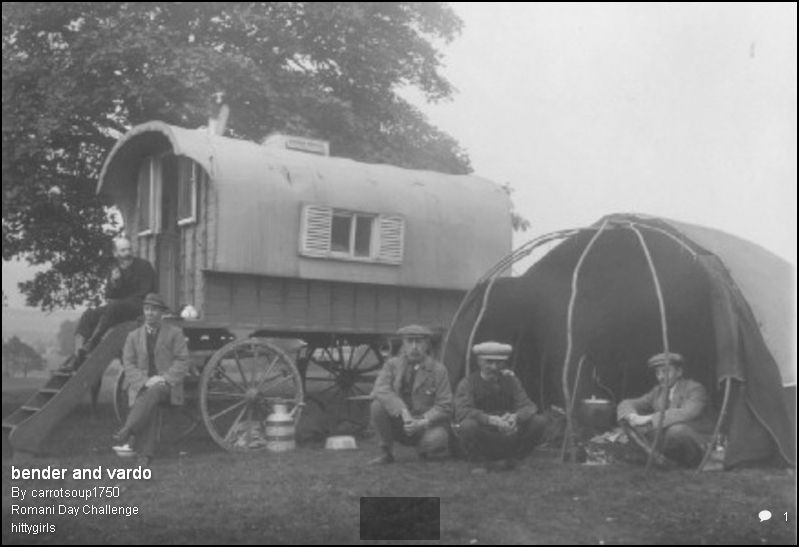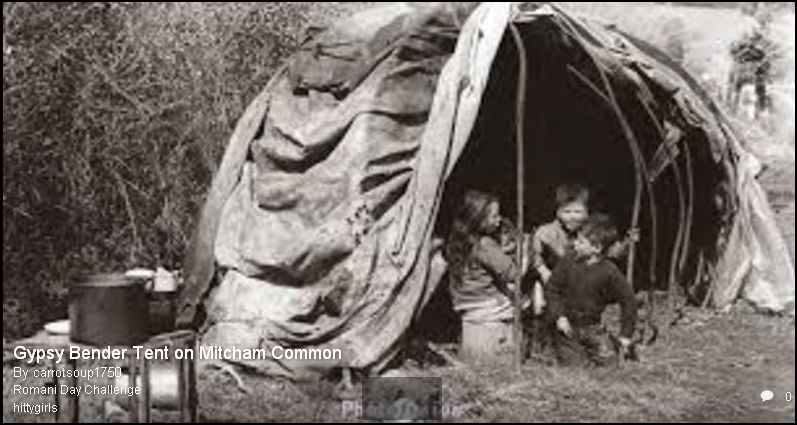 Wouldn't your Hittys like to try on a gypsy costume, or learn about the Travelers life? The Book Hitty led a peripatetic life, and even spent some time in India, where the Romani people are thought to have originated some 1500 years ago. If you'd like information about the history and customs of this unique group of people,
Wikipedia is a good place to start.

The Random Number generator has picked.....drum roll..... *** Nat ***
Congratulations Nat and Hitty Caitlin, who will soon be able to invite a friend to dance about to Django Reinhardt's tunes!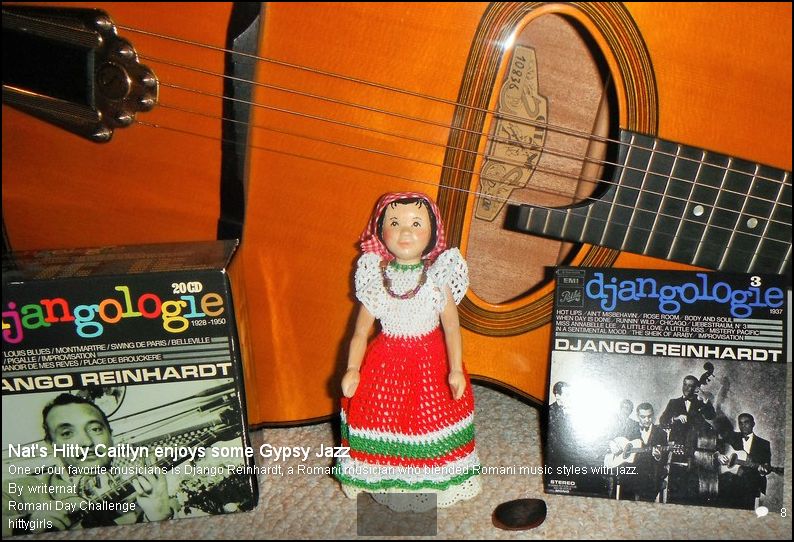 My husband was surprised when I told him I needed to use his gypsy jazz guitar for a Hitty photo challenge, but when I explained, he was into it and even helped me set the scene! (He apologizes that the guitar is missing a string -- he popped one recently and has yet to replace it.) So here is our entry:

https://groups.yahoo.com/neo/groups/hittygirls/photos/photostream/lightbox/186191004?orderBy=mtime&sortOrder=desc&photoFilter=ALL#zax/186191004
And the explanation: One of my family's favorite jazz musicians was the great French Romani guitarist Django Reinhardt. Actually, as I just found out, his birth name was Jean Reinhardt -- "Django" is a nickname meaning "I awake" in Romani!
When Django was 18, his caravan (which I now know is called a vardo -- thanks ladies!) burned because the celluloid flowers his wife made caught fire. Django suffered burns on his right leg and left hand, and his ring finger and pinky on that hand -- his chord-making hand -- were permanently paralyzed. Within the next two years, he recovered and re-taught himself to play guitar using only his thumb, index finger and middle finger.
He went on to be one of the pioneers of what is called "gypsy jazz," "hot jazz" or "hot club jazz" -- a type of jazz that uses guitars as percussion instruments as well as lead instruments. And though Django was basically illiterate and never learned to read music, he composed amazing pieces like "Nuages" (composed during WWII, when the Nazis killed thousands of his fellow Roma but allowed him to keep playing in Paris for their entertainment) and this toe-tapping number, "Minor Swing":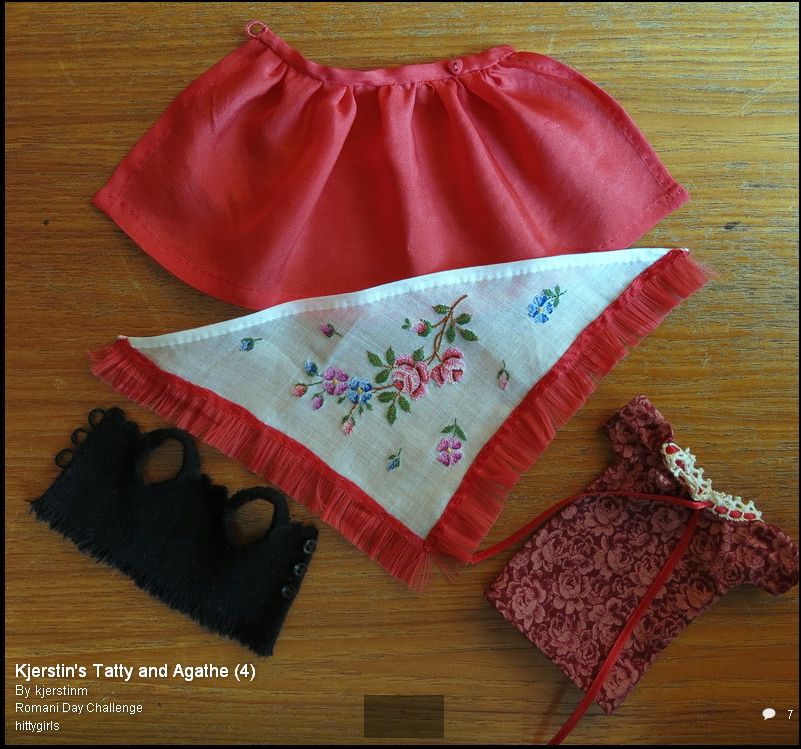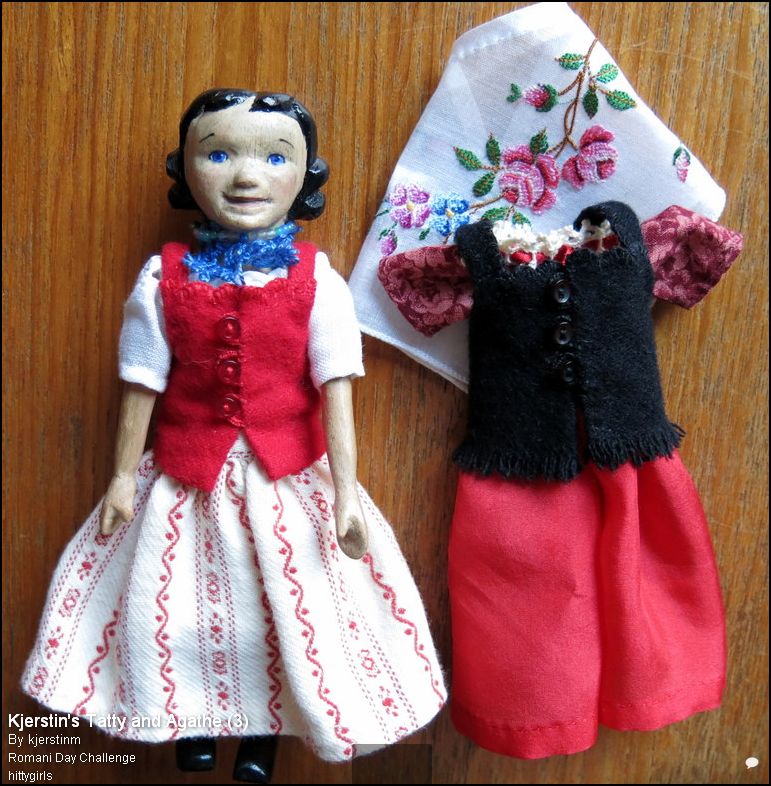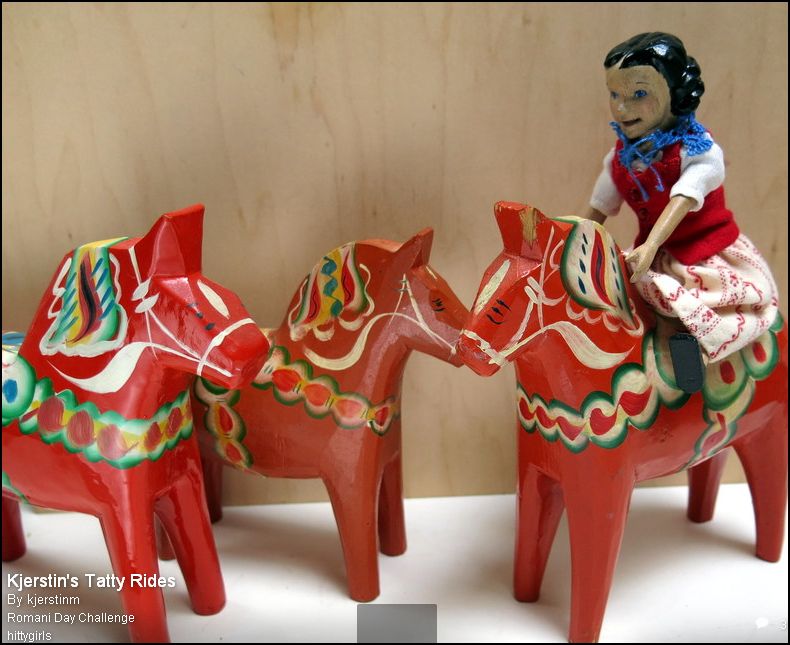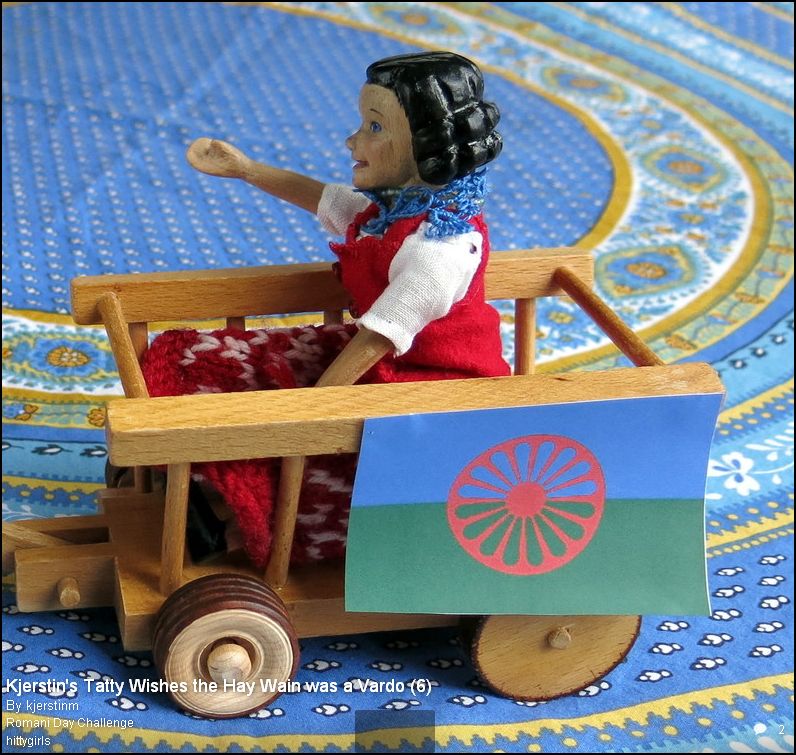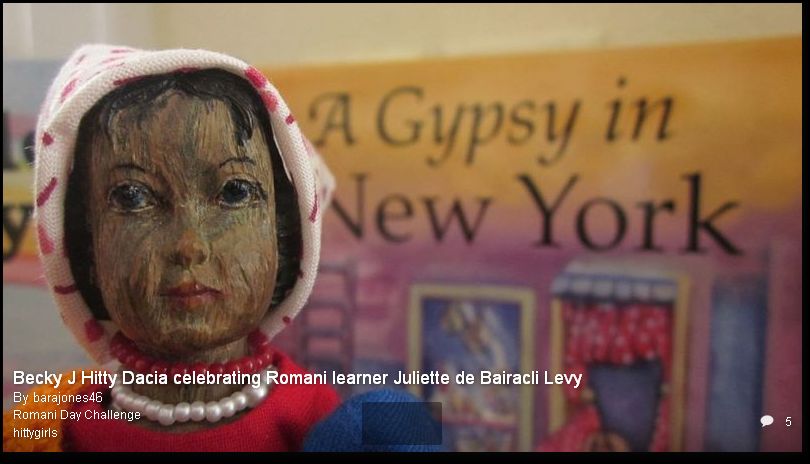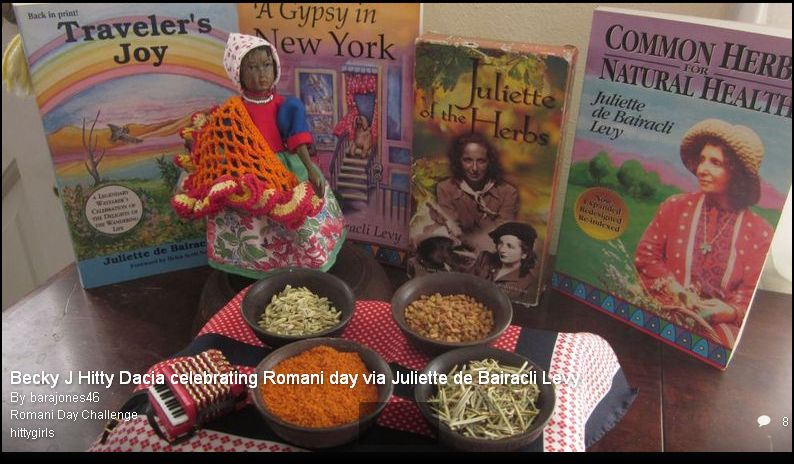 The photos I'm submitting honor a main heroine in my life, Juliette de Bairacli Levy. Hitty Dacia is dressed as a gypsy with her colorful clothing, practicing some herbalism. Juliette lived from 1912-2009, grew up under English influence and schools, studying veterinary medicine but ended up traveling with the Roma/Romani folk to learn their ways of healing with herbs. Her work is well known amongst herbalists and her methods used to this day. Thanks for hosting this interesting and heart rending story of these folks, Kjerstin.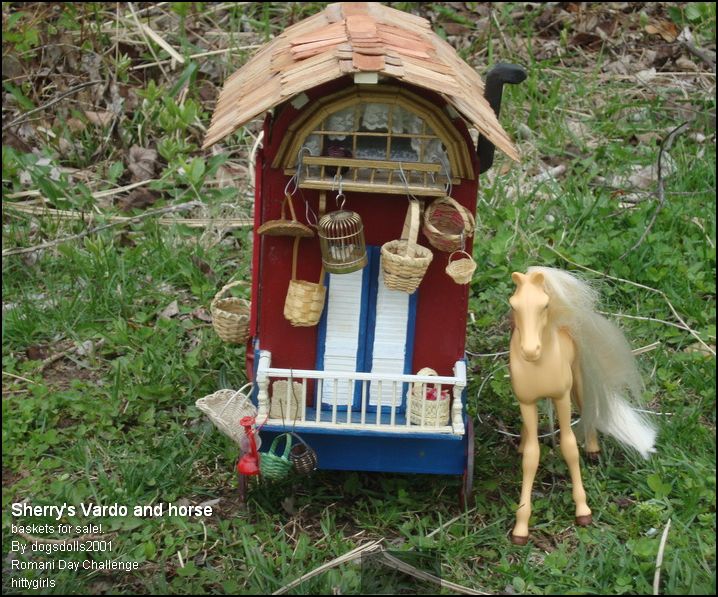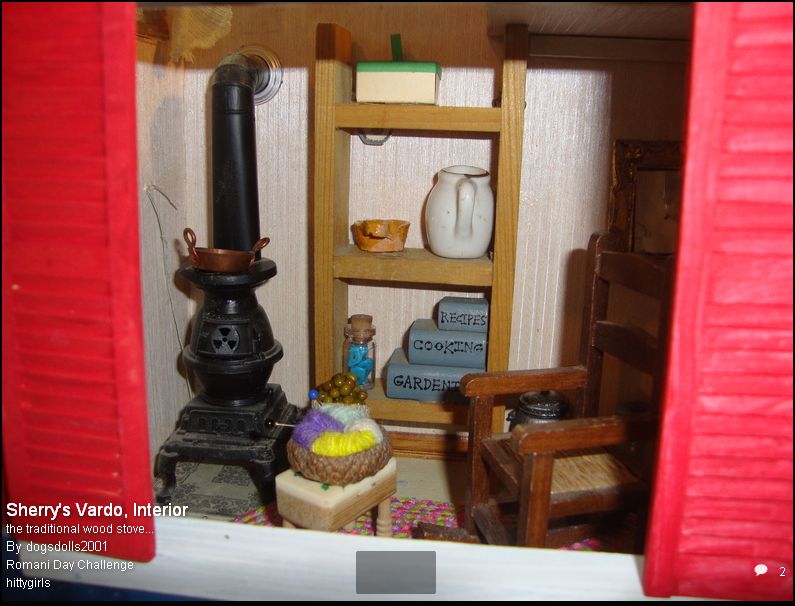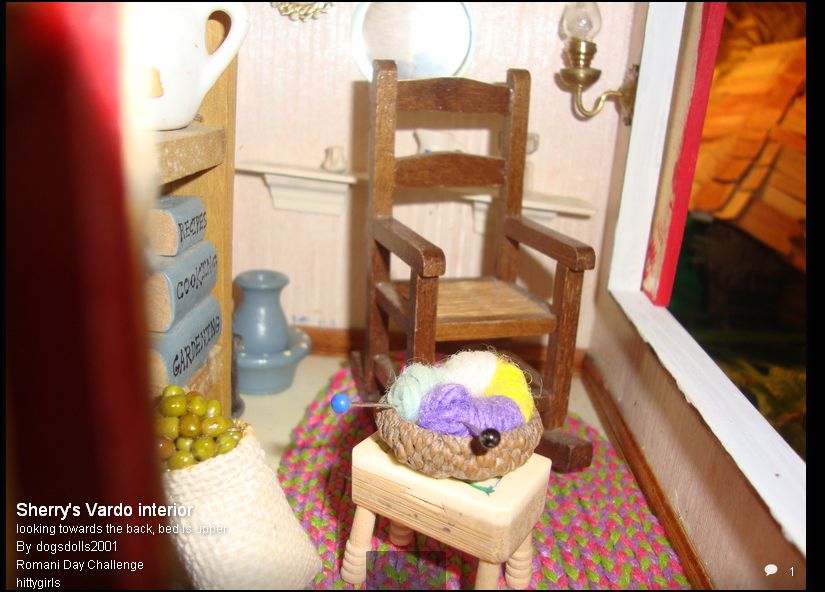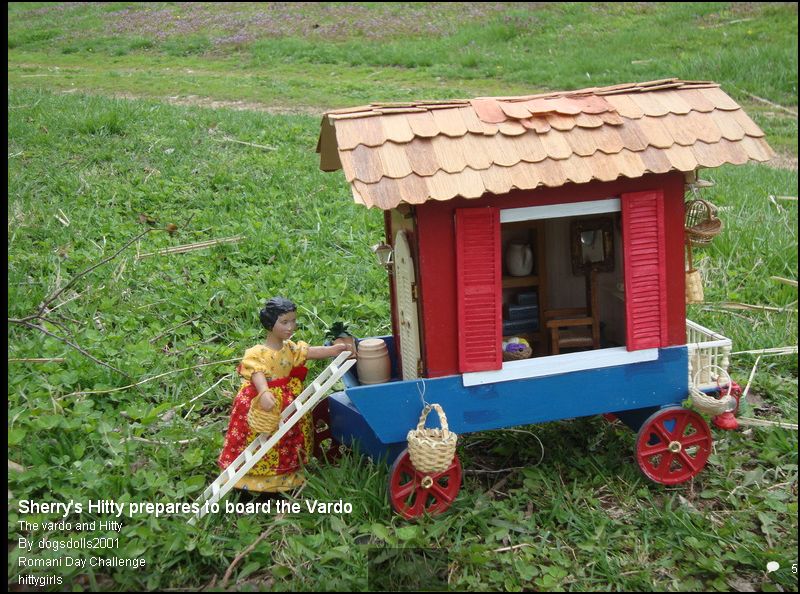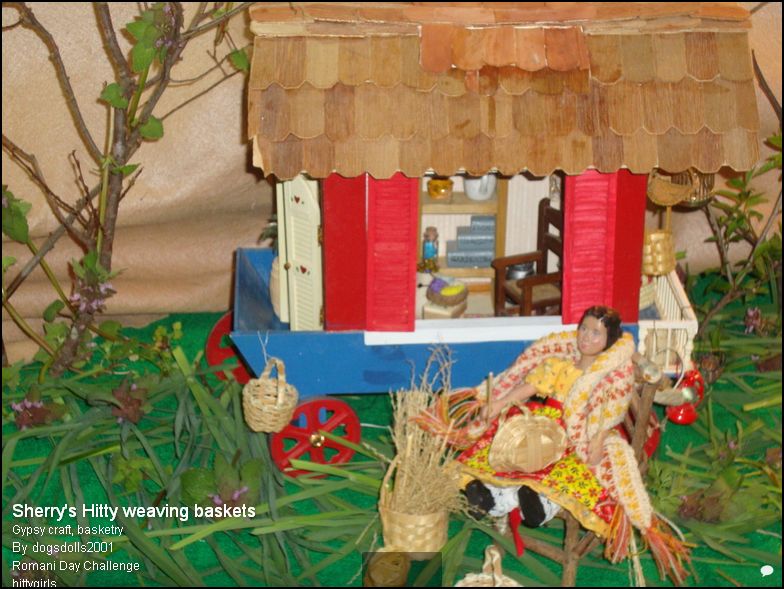 We are celebrating International Romani Day by refurbishing a Gypsy Vardo for the Country Hittys. In addition one of the girls has taken up a traditional Gypsy craft..basketry. She has hung her wares on her Vardo and taken to the road to sell them. The vardo has the traditional stove pipe and inside a wood burning stove. The bed is a built in. Even has removable shutters (we are still working on getting them properly hinged). Hitty does not own a traditional Gypsy Vanner horse (showy black and white)
but makes do with her gently buckskin mare. Hope you enjoy the photos. I have some of the interior if anyone is interested but did not want to download too many into the album. Thanks for a fun challenge! Sherry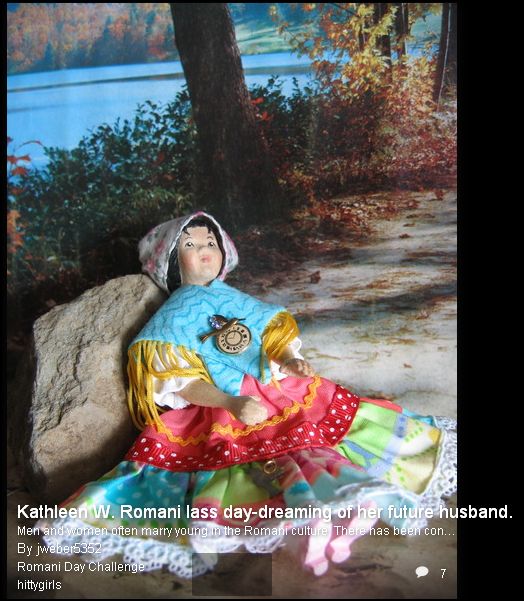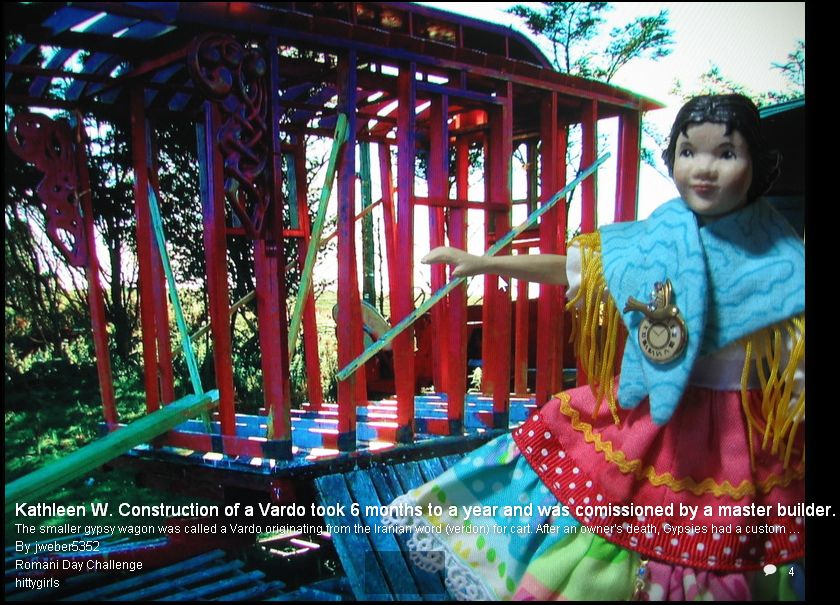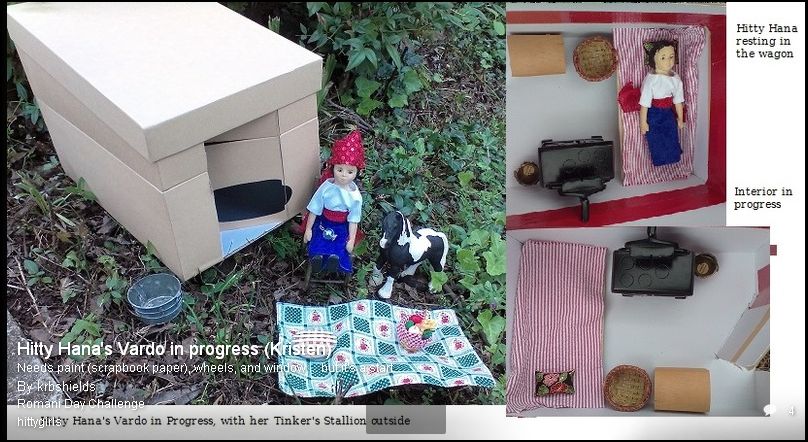 Hitty Hana is a little peeved with me that Romani Day has rolled around and her Vardo is not finished. (Though she didn't complain when she tagged along to all the events that got in the way of my finishing it...)
Hers is a cardboard creation, clearly unfinished, made from two photo storage boxes. One was trimmed down to make it about the right height, and swinging doors were cut into one end. I plan to use scrapbook papers to finish the inside, when I find some good ones. And maybe paper or paint the outside. The top is still the lid of the box, for easy access. I need to carve in a few windows, and a hole for the stovepipe. The interior is still fairly empty, but you can get the general idea of how we want to lay it out. And we need wheels and a larger horse.
Her horse is a Schleich figurine, the Tinker Stallion. I could swear we have their Gypsy Vanner model somewhere, but he's hiding. Hana is wearing her old Halloween costume of the Gypsy fortuneteller. The best thing about it is that my sewing has vastly improved since then. That, and I still really like the hoop earrings I sewed to the kerchief so it looks as if Hitty has earrings. There's a bit of a picnic laid out in case the Doll Shop girls come wandering by.
I promised the family I would pack up the Vardo on the 19th, finished or not, to clear out some space in the family room, so this was my last chance to at least show my progress and remind myself what my plans are for finishing it. I was hoping to come up with a simple design that anybody could copy. I still like the box idea, but it definitely needs polish.
I have LOVED seeing what everyone came up with, and learning more about the ways and customs of this people group. Hittys always do the coolest things!
I'm thinking Hana may be the gypsy fortune-teller in the Betsy-Tacy books; didn't Betsy meet one?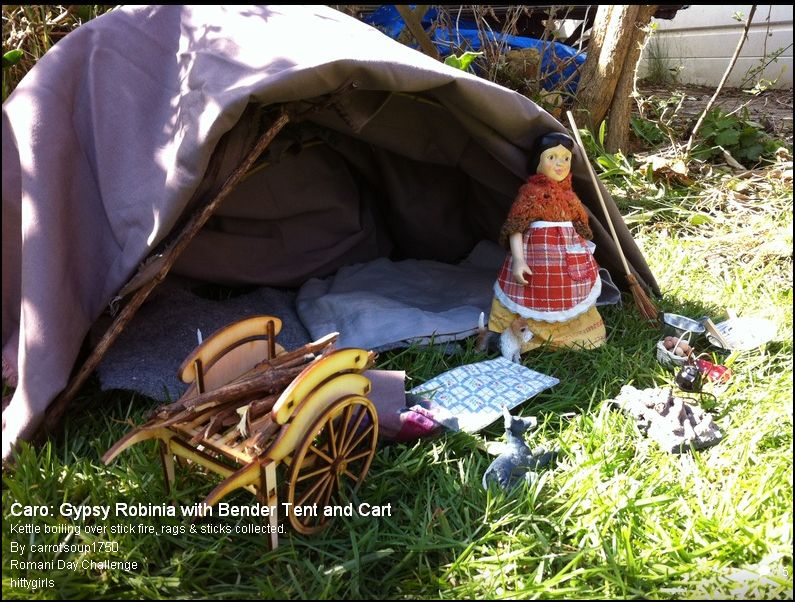 Gypsy Robinia has been left at the encampment to look over the tents whilst the others are out hawking the pegs and wooden flowers they have made, and the men are collecting rags. She has a kettle over the stick fire ready to make some hot sweet tea for their return, and is going to make a rabbit stew with potatoes, carrots and herbs over the fire. The 'tinker's cart' is a new one, and needs a coat of paint - perhaps we might hope the men will get to it when they are back, just as long as they haven't found a pub that will admit gypsies on the way home. With any luck, these are few and far between, so they might be able to work.

If you google bender tent and go to images, there's a good diagram showing the bent young hazel branches that form the framework for the bender tents, which can be covered with any number of coverings to hand - preferably with a waterproof one on top. Many Romani didn't sleep in the vardo, especially in summer - and preferred to sleep outside in the tents. In fact, in general, they preferred to live most of their lives outside the caravans, whatever the weather - eating outside in cold weather and spending the evenings outside. They were a hardy lot! In the census returns the tents predominate over the vardos in general. The vardo cost a great deal because they were so beautifully made. Families would have a caravan and supplementary tents as well.

I'm not sure where the lovely vanner horses are, I think tethered a little way away where there is some grass for them to graze. We have to hope these aren't the sort of gypsies who pasture their horses at night, in the farmer's field. Mind you, they have to be moved off very early - otherwise the farmer may impound the horses and demand a pound to give them back! Or call the police and have the gypsies moved on at first light.

Caro
I have been a thinking of the very strong links to horses in the Romani culture - in the UK this is identified in many Romani minds as central to the travelling life before the advent of the motor - and which the motor effectively destroyed, plus the harassment of xenophobic people (which would be large numbers, since it's part of the human psyche to cast other groups outside their circle in order to deal with their own natural existential angst). (See Dorothy Rowe 'Beyond Fear' for an effective cure). In the UK piebald and skewbald horses are very much in favour - their treatment followed that of the general population from horse whispering love and ability right through to neglect and cruelty.

These days, with so many restrictions placed on stopping and overnighting that developed since the war, the old natural places where you can see groups of Romani meeting up on the old census returns have been fenced in most cases, so the old fairs which they always patronised have taken on a much greater social significance for them, as well as places to trade horses. The same people who complain that the gypsies have taken over many of the fairs eg google Appleby Horse Fair - are amongst those who fenced off the verges and wastelands which had traditionally always provided the Romani with a place to rest. Appleby is a great spectacle and very well patronised by travelling families - the horses they are about to show through their paces are ridden into and washed in the river.

The same cooking over a wood fire, sleeping nearly en plein air, outside and unconstrained by the artificial flat walls that we normally live in. The same appreciation and use of wild foods garnered from field and hedgerow, where nature's bounty is not wasted on twig and stem. Rabbit stew flavoured with wild herbs ... the deep knowledge about nature, wild animals, birdsong ...

And music ... song, gypsy music, the Romani language ... and how to translate this into a Hitty scenario. Maybe, just as for me, getting to know someone with Romani heritage (I have been researching her family tree for a neighbour) ...

There's a flat pack Vardo kit for £129 which is quite a lot, and I certainly wouldn't have time to put it together before April 8th if ever (!) but the Hittys are on at me. It has been pointed out that the travelling life isn't unlike the sort of life we lived in the Camp North Piney Woods last year, only on the move, and with horses instead of sailing boats!

I recently read a really charming children's story about a farm in Scotland and a gipsy boy - called Kelpie the Gipsy's Pony by Ursula Moray Williams. I have also read some autobiographical books by Romany people. I got started on this because I'm doing family history research for a neighbour who has a Romany line in her family.

What interesting pictures, I've really enjoyed looking all around your vardo - the refurbishment is going apace, and what a pretty and colourful living space! Small ...... but they were!

One small technical point ... most gypsies/Roma were illiterate, very few attended school other than those that had 'settled' ... most of the marriages through the nineteenth century are signed by a cross and certified 'the mark of Delinda Lee'* or whatever. The high level of illiteracy persisted into the fifties but has declined thereafter with a much higher proportion of Roma attending school, even for short periods, or settling in the winter so that the children could be schooled.

However many of the women loved to collect fine china - and still do - Royal Doulton being much favoured. These were/are displayed often in glass fronted cabinets and were generally worth a lot of money - another way of having a portable bank, further to the riches in gold jewellery. This wealth though is confined to a relatively small percentage - most travelling Roma lived in a hand to mouth existence right on the poverty line with many being admitted to the Workhouse.

Many suffer from mental health issues partly due to a high degree of inbreeding, but also from the stress of being constantly 'moved on' (c20th), sometimes several times in a day / evening.

*I ought to make a list of the fantastical and even evolving names I have come across in my researches!

Just from the Smiths:

Agrippina (Gripy), Alithea, Alverdine, Amboretta, Aquilla, Argetta, Avenay, Beechenny, Bethiah, Centenia, Cinamenta, Colliberry, Coralina, Councelettie, Deloraifi, Diverus, Duranda, Ebonni, Echo, Edingale, Eldorai, Emmenia, Eldred, Elderia, Freedom, Genty, Gilderoy, Gonzaletta, Hawthorn, Henty, Ipsiba, Ancorn, Leanabel, Lementina, Lilburn, Lunnah, Mazelly, Mizella, Miziporeth, No Name*, Olney Cyprus, Palister, Particker, Perly, Phinial, Pharoah, Rainie, Salavino, Reservoir, Sentenia, Shandrus, Sibarini, Siberina, Sinfy, Teana, Tileni, Trezian, Umperella, Vidance, Vashti, Woodbine & Xantippe.

*The story goes that his parents turned up for his baptism and asked him to be called Jehovah. The minister said that he couldn't name him that - so they stomped out of the church declaring that he would be called 'No Name'. He appears in census returns as 'No Name' - but was baptised as an adult when he took the name Edward!

This was just the Smiths - most of the families had their own names that appear through the generations, sometimes confirming their identiy or clarifying between similar baptisms - they often baptised children in their own favoured churches on their accustomed travelling patch (many people kept the same travelling areas even throughout their lives) and you can identify relatives in this way.

I know that more Americans are generally more imaginative when it comes to naming, so I didn't include any of the many Old Testament used.

Frequent occupations given are - General Dealer, Horse Dealer, Tinman, Brazier (dealt with bronze & copper), Chair Caner/Maker/Bottomer, Hawker often for women, or 'Licensed Hawker' -

I am working on something, against the clock which isn't being kind to me or the Hittys helping me. And the puppy 'helping' me ;-)

Caro
--------------------------------