Ahoy, Mateys!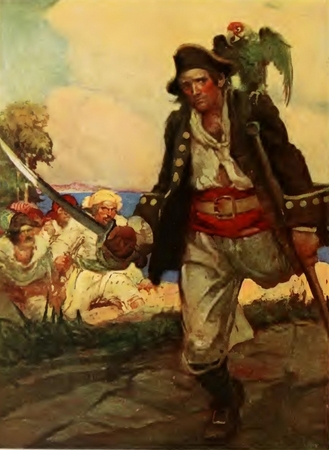 Talk Like a Pirate Day be coming very soon.
Just 2 weeks from today! September 19th. Arrrr!
Round up your Hitty families and plan your exciting pirate adventure!
Please upload 3 photos of Hitty as detailed below, in the photo album designated for the challenge,
including your name in the title.

If you do NOT put your name on the photo in the yahoogroups site,
I can NOT label it here,
and you will NOT be eligible to win.
The easiest way to include your name
is to rename your photo with your name before uploading it to yahoo.
All photos will be added to our www.hittygirls.com website at a later date.
Round up your Hitty families and plan your exciting pirate adventure!
Deadline: September 19th
Maybe they will be hosting a pirate themed birthday party, or performing in a Treasure Island Community Play; pretending to be Jack Sparrow; researching famous woman pirates; or planning pirate costumes for Halloween. Maybe the Hitty kids are playing pirates in the back yard or at the beach, or 'walking the plank' at the local pool. Or you may use any other pirate-related topic of your choice.
(Hitty Hana will likely be visiting Krispy Kreme for the traditional free doughnut ... sugary loot is good loot!)
Round up your camera and props, set up a simple background, And prepare to save their escapades for posterity.
This photo challenge is for a set of 3 photos that tell a story.
The 3 photos must be different, not 3 versions of the same scene with distant, medium and close-up views. Include a caption in the comments (not on the photo) explaining what is happening, and a number indicating the sequence.
You may use one suitable backdrop for all 3 photos, or change the backdrop according to what is happening. You might find a suitable printable backdrop by googling coloring pages. Or maybe you already have a piece of fabric, or wall paper, etc…. Or a photo of the beach, or a tropical island…. lots of possibilities!
Your name must be included in the photo name or in the top space under the photo in the album. You can add the captions and your name by using the edit button.
Entries due on or before the 19th (just to give you time to include any awesome outings for Talk Like a Pirate Day in your area).
Prizes will be awarded in at least two ways: The good ol' stand-by of Random Number, and also by popular vote, via a poll which will be posted on Sunday, the 20th. And, since these be pirates, other chances at loot may crop up between now and then, as well...
Please be sure your name is in the database just in case you are a winner!