Hitty's Black History Month Photo Challenge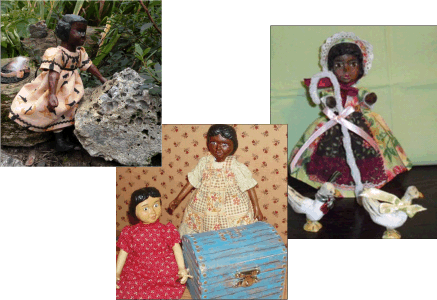 Black History Month, also known as African-American History Month in America,
is an annual observance in the United States, Canada, and the United Kingdom
for remembrance of important people and events in the history of the African diaspora
(people of African origin living outside the continent)
It is celebrated annually in the United States and Canada in February
and in the United Kingdom in October.
Your challenge, if you wish to accept it, is:
Illustrate a scene or character celebrating black history month.
Upload your photo to the Black History Challenge folder.
Hitty may wish to portray a famous person such as Harriet Tubman, Sojourner Truth,
Mary Mahoney, Bessie Coleman, Rosa Parks, Mahalia Jackson, Maya Angelou etc.
She may wish to illustrate a scene from the Underground Railway,
or a childen's book such as Follow the Drinking Gourd.
Hitty may wish to be telling a story…
Include a caption or quotation to explain your scene,
And tell why it is important,
And be sure to include your name.
--------------------------------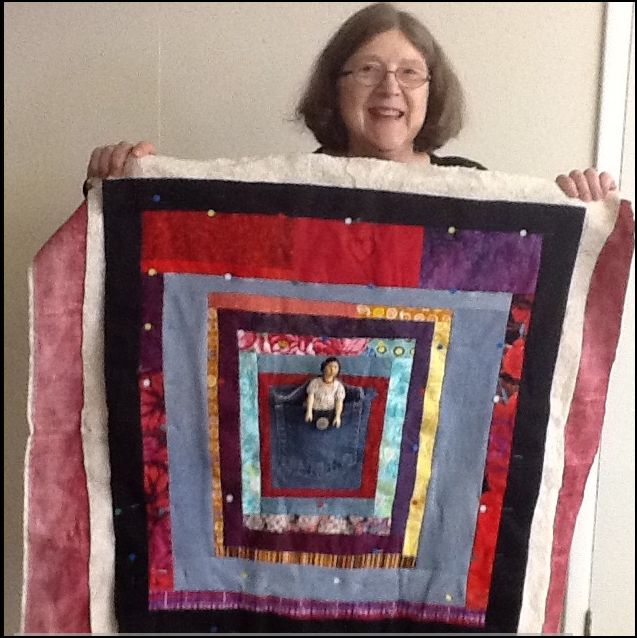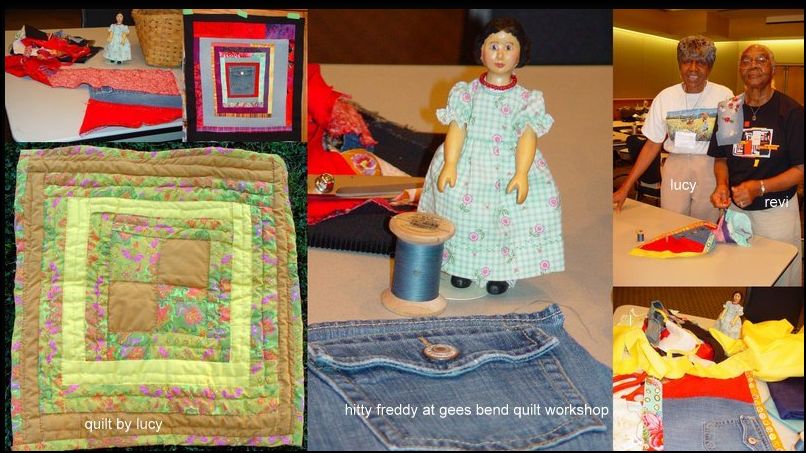 Susan K.
***********************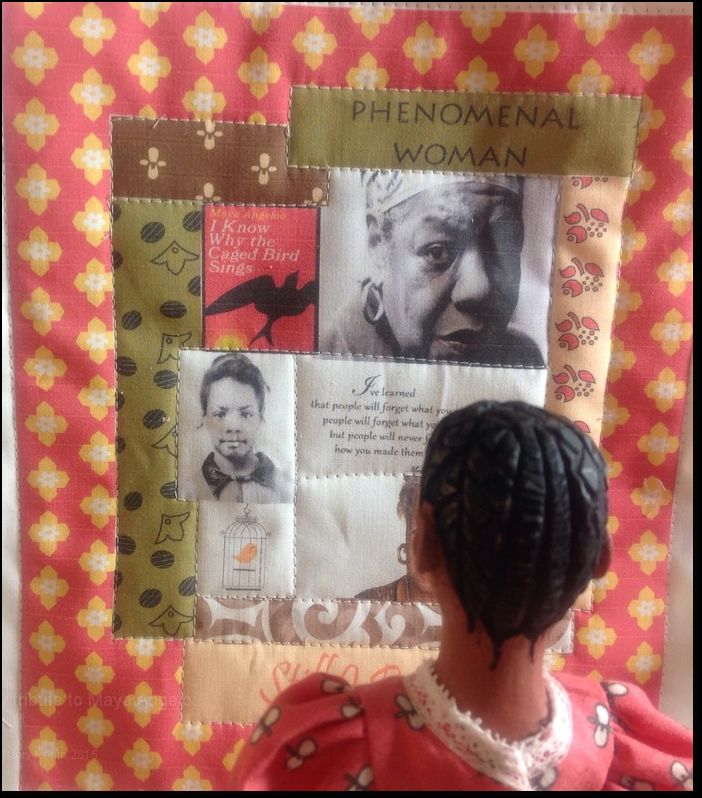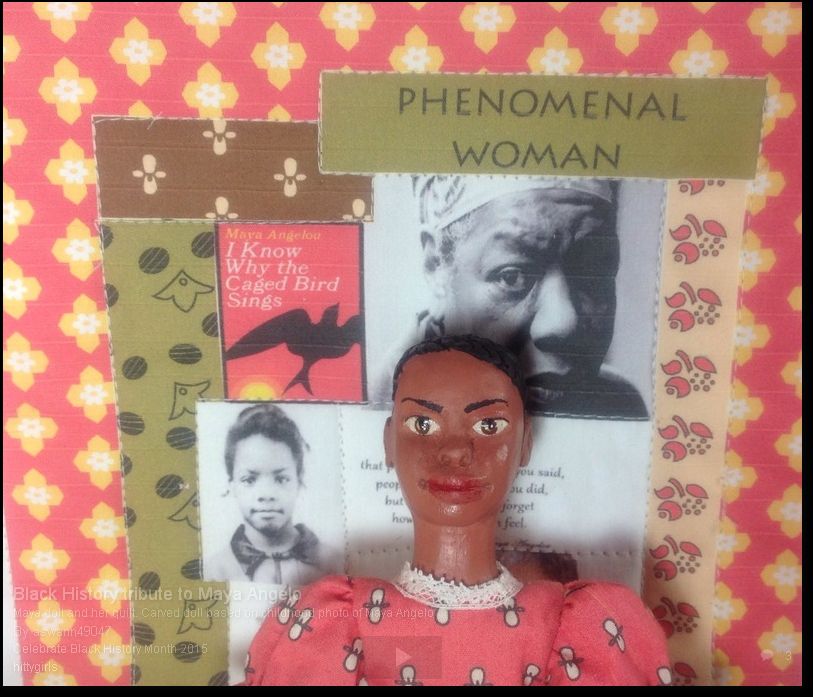 I carved a Hitty size of based on a childhood photo of Dr. Maya Angelo. I made the doll a quilt reflecting on highlights
of the life of Dr. Angelo. Using various Hitty prints an a quote from Maya: " I've learned that people will forget what you said, people will
forget what you did, but people will never forget how you made them "feel". A lady who surmounted tremendous adversity to be a phenomenal
woman indeed. Dr Maya Angelo was an author, poet, actress, artist and teacher who's personal journey still touchs our lives through the pages
of her many books, I Know Why the Cages Bird Sings, Still I Rise, Phenomenal Women, Wouldn't Take Nothing For My Journey Now ......to name a few.
We can transform our suffering into strength, love and healing not only as women of all races & cultures. Obviously Hitty is a
Phenomenal Woman has survived tremendous odds to a inspire a writer to write a children's story that gives hope and a smile in a world filled with adversity.

Alice S.
***********************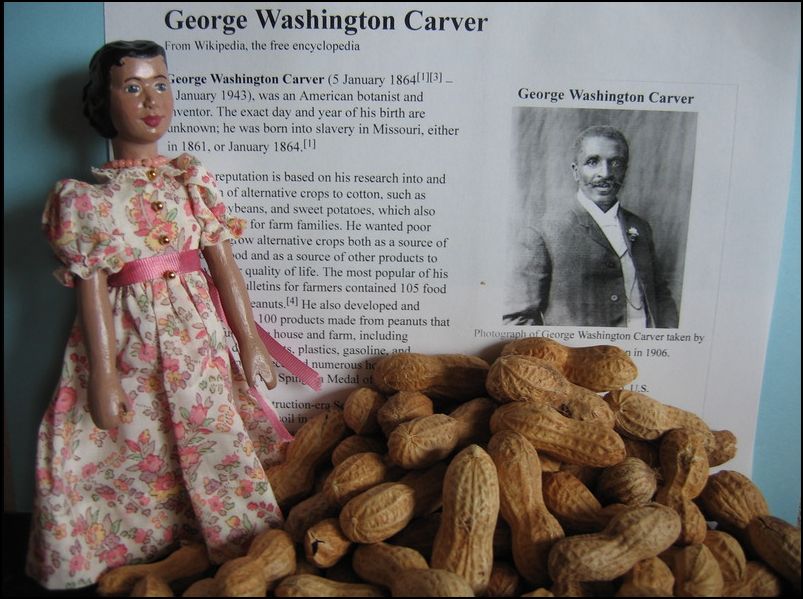 ***********************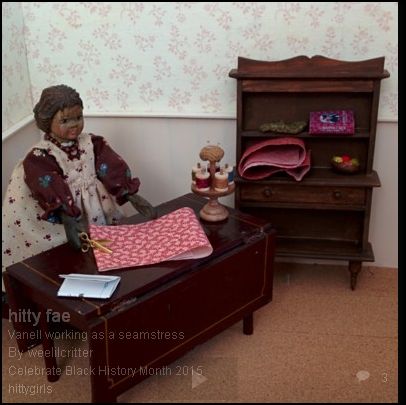 Massachusetts did not pass a law abolishing slavery until well after the Civil War. However, the colonist
by 1790 were opposed to slavery and there are no slaves listed in that census of 1790.
My great great great grandparents, Charles and Betsy, lived in the small town of Athol, Ma. Charles is listed as a merchant/tailor.
He kept a journal, which has been passed down to me, about his business. There are a few entries in it about things that affected his personal life.
In 1861 he writes "the negroe family down the road hath succumed to the winter illness save for the daughter of about 16 years.
My wife didst greatly implore me to give shelter to her, as she is but too young to be on her own".
Two weeks later he writes " Vernell is an amiable spirit with an eagerness to learn the trade of
eamstress which will hold her in good stead for her future".
Then in another two months he writes that Vernell is working three hours per day in his shop, and Betsy is working on her schooling for
reading, penmanship, and arithmetic. He has a separate page with Vernell's hours listed and writes that "monies to be paid upon maturity".
A little over a year and a half later he writes that the local cooper has asked to court Vernell. He gives his permission, but states she
is not to marry until her 18th year and that a "chaperone be e're present". In this same paragraph he says that he has bought a cedar chest for $6.
About seven months later he writes that Vernell has "wedded on this day. It is with great joy and some sorrow of heart that we send her
on her way. All monies have been paid to her and a cedar chest laden with enough yardage to make dresses, coats, trousers and shirts are also given".
While I am glad that Vernell was given a chance after being orphaned, it does make me wonder about other children that may have found themselves in a similar plight.
I have tried to find Vernell, but with no last name or the name of her husband I have not been successful.
There is a picture in the challenge folder of Hitty Fae portraying Vernell working as a seamstress.
weelittlecritter
***********************
***********************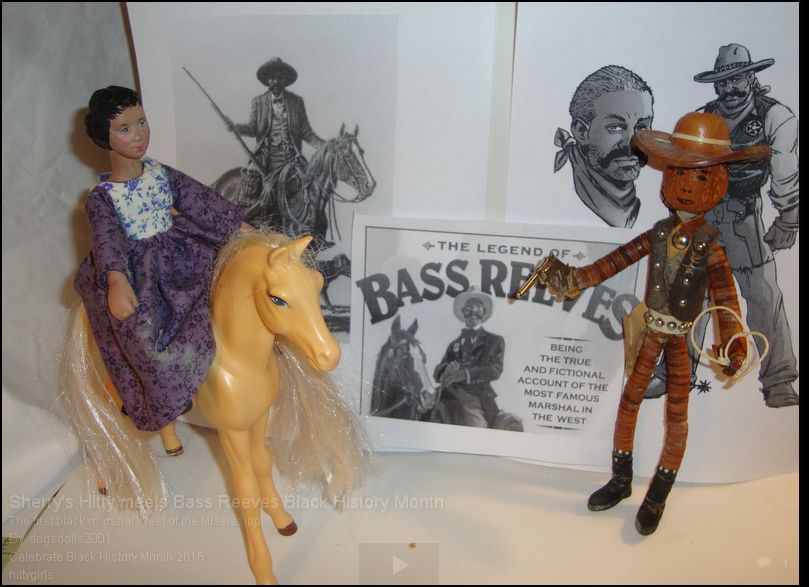 HItty Clemantine was recently introduced to Bass Reeves...
the first black marshal West of the Mississippi. Hewas a lawman in the wild west territories .
Over the course of his 30 year career he arrested
more then 3000 bad guys. He was famed for how cleverly he tracked and captured the
bad guys. He often traveled with an Indian side kick. Many historians feel that Bass
Reeves was the inspiration for the Lone Ranger!
Sherry St.
***********************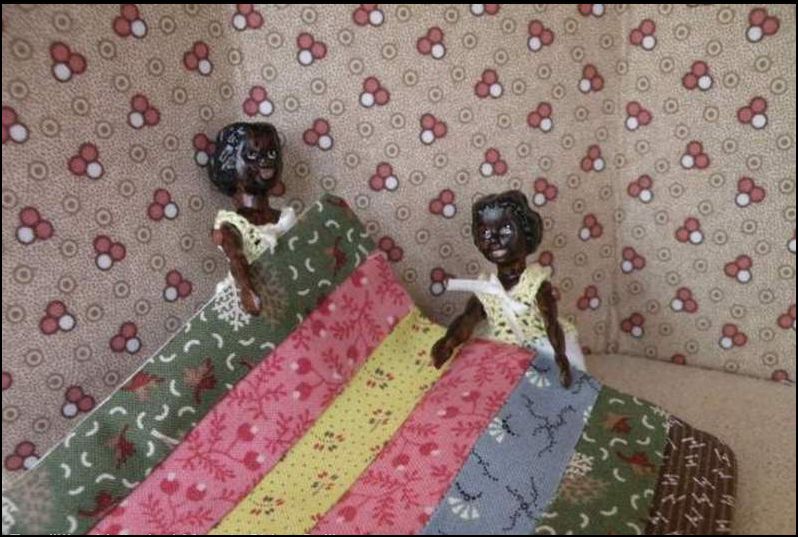 ***********************
***********************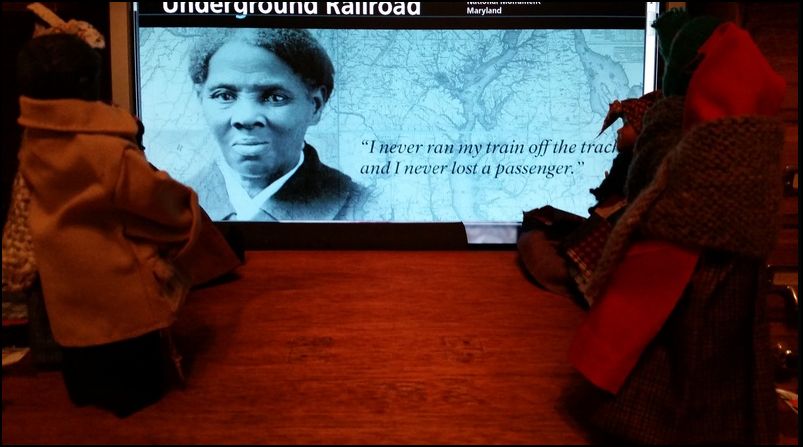 Harriet Tubman.
She is remembered as the Moses of her people for leading them to freedom through the Underground Railroad.
She was born and raised on the Eastern Shore of MD and worked in the swamps and fields most of her life, learning about nature and it's ways.
She had a severe head injury as a young girl and often had seizures and disorientation. Many thought she was possessed or possibly gifted by God as she talked to
Him frequently. She desired freedom more than anything, and made several attempts to escape.
When she finally did, she returned many times over 11 years to help family
and friends escape during the winter nights when there was more privacy and time, and they could follow the North Star in the skies.
The Quakers of the area often helped lodge and feed the runaways.
Later she worked with the Union troops to free plantation slaves and overcome the southern troops.
She advised and led many regiments. She also worked many years for women's suffrage to allow women to vote and have the same rights as men.
She built the first safe home for the elderly who had no money or family to care for them. Her name was often there with
Susan B. Anthony, Frederick Douglas, General Grant, and many others, but she was not given credit or payment for any of her work.
Everything she did she financed herself through working to save the money.
My photo depicts the cold winter nights with the runaway Hittys dressed as warmly as possible and traveling
by the light of the night sky, but stopping to pay homage to a very special woman.
Wanda W.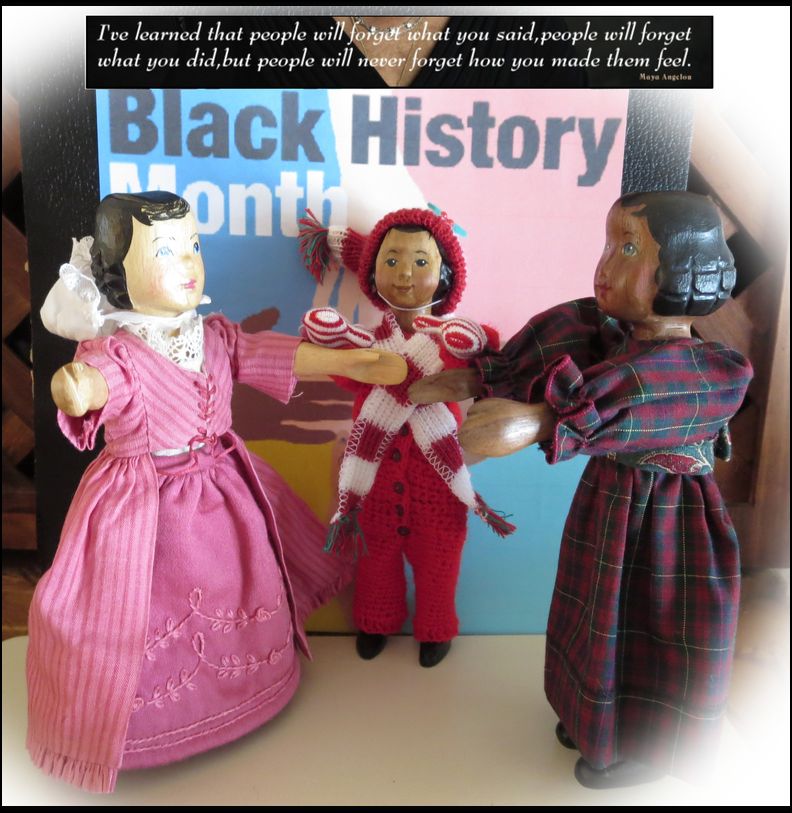 Gale
***********************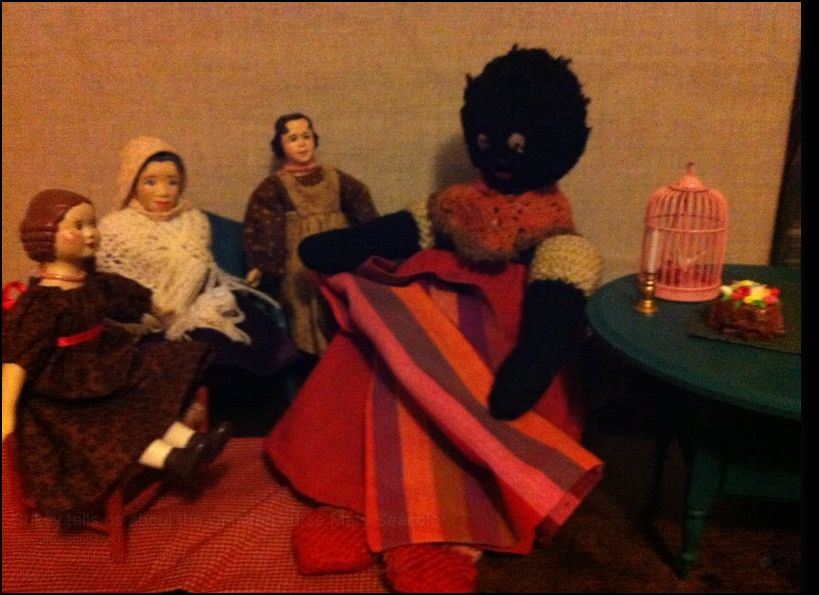 Mrs Sukey has dropped in for an evening's conversation with the Wren Cottage Hittys and mrs Beauchamp -
she has brought her new quilt which she has pieced but not quilted yet.
She has been telling Rosina, Sarah and Mrs B about Mary Seacole, who had a fascinating life in the nineteenth century and
made inroads first into nursing in the Crimea War, and to the end of her life she was fêted by the upper echelons of London Society including royal circles.
She was born in Jamaica in 1805, daughter of a Creole healer and a Scottish soldier. Her mother ran a very successful
hotel/boarding house and also practised herbal medicine and healing, and taught Mary her knowledge. After a brief marriage to a sickly soldier,
her mother's death and the burning down of their hotel, she went out to help her brother run a hotel in Panama, where she also took patients.
When the Crimean war broke out she went over to England and narrowly missed Florence Nightingale's party leaving to set up nursing in the Crimea.
The establishment then rejected her application to nurse, so she travelled their separately afterwards, and set up a hotel where she
nursed wounded soldiers, and ran a sutler's, and was known for her knowledge and compassion and hard work. Thus her determination overcame prejudice.
In a dispatch written on 14 September 1855, William Howard Russell special correspondent of The Times, wrote that she was
a "warm and successful physician, who doctors and cures all manner of men with extraordinary success. She is always in attendance near the battle-field
to aid the wounded and has earned many a poor fellow's blessing." Russell also wrote that she "redeemed the name of sutler", and another
that she was "both a Miss Nightingale and a [chef]". Seacole made a point of wearing brightly coloured, and highly conspicuous, clothing—often
bright blue, or yellow, with ribbons in contrasting colours. While Lady Alicia Blackwood later recalled that Seacole had "... personally
spared no pains and no exertion to visit the field of woe, and minister with her own hands such things as could comfort or alleviate the suffering
of those around her; freely giving to such as could not pay ...".
After her death, she was forgotten for almost a century, but today is celebrated as a woman
who successfully combatted racial prejudice.[4] Her autobiography, Wonderful Adventures of Mrs. Seacole in Many Lands (1857),
is one of the earliest autobiographies of a mixed-race woman, although some aspects of its accuracy have been questioned.
Her story is still taught in the British national curriculum.
Caro



***********************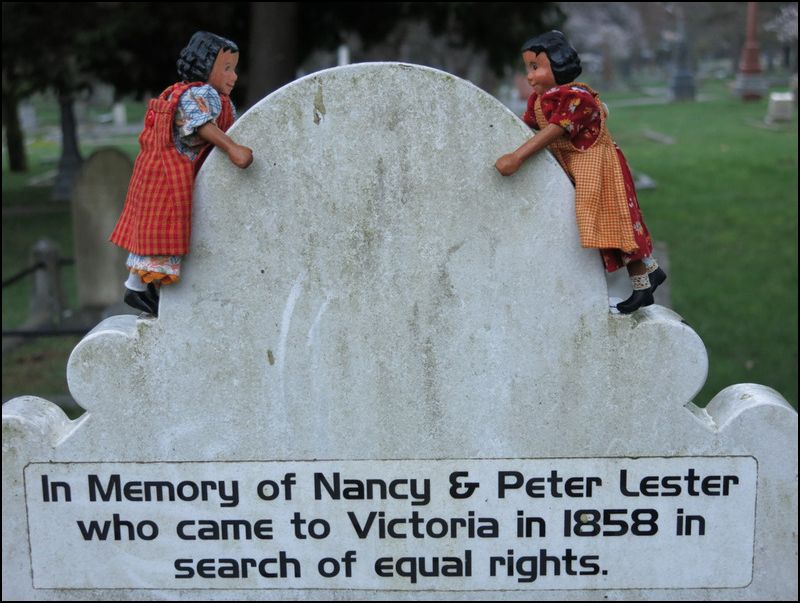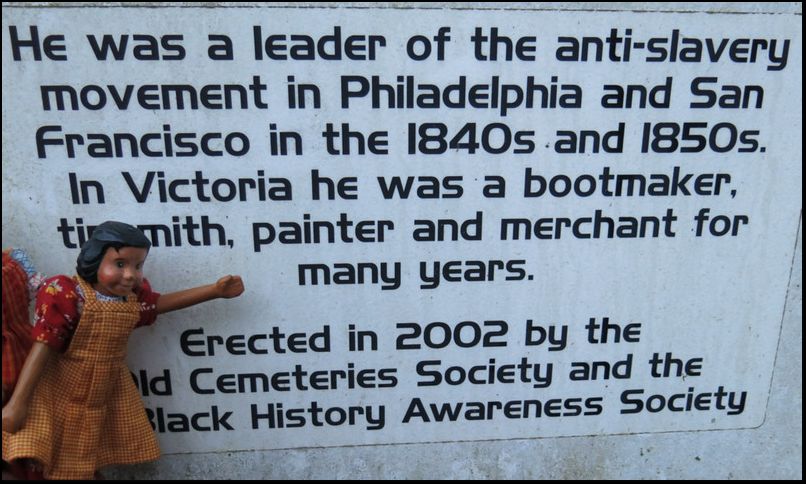 Kjerstin
***********************
***********************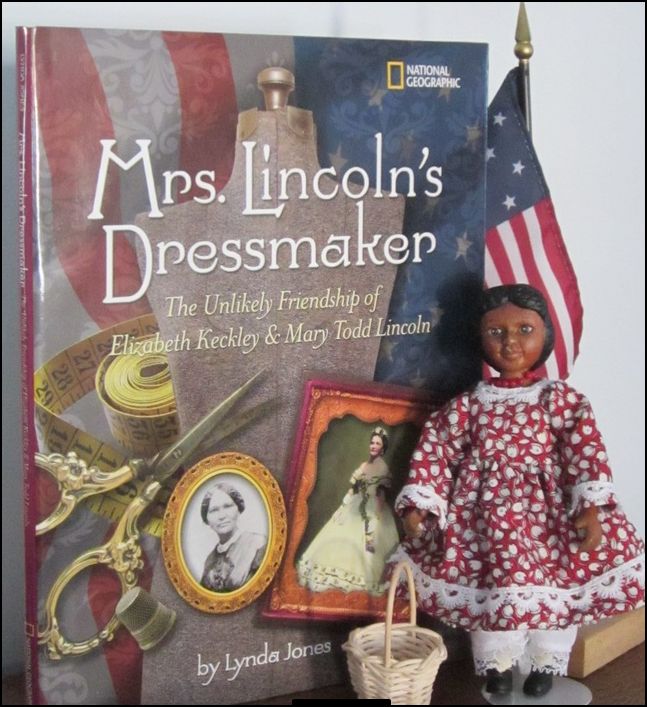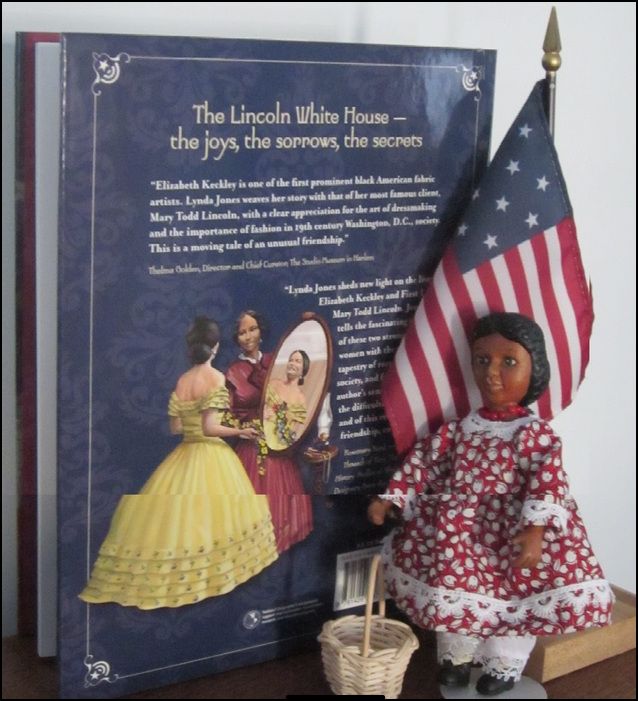 Hitty Agnes with the book "Mrs Lincoln's Dressmaker". She is posing as Elizabeth Keckley, the freed slave, that became Mrs Lincoln's
actual dressmaker and confidant during the Civil War. My Hitty Agnes is posing complete with her sewing basket next to the children's book version.
he adult version of this book is by Jennifer Chivarini and has the same name. I am part way through the adult version but the children's version is also well written.
Sharron
***********************
--------------------------------
***********************