Hittygirls 13th Anniversary Blow-Out!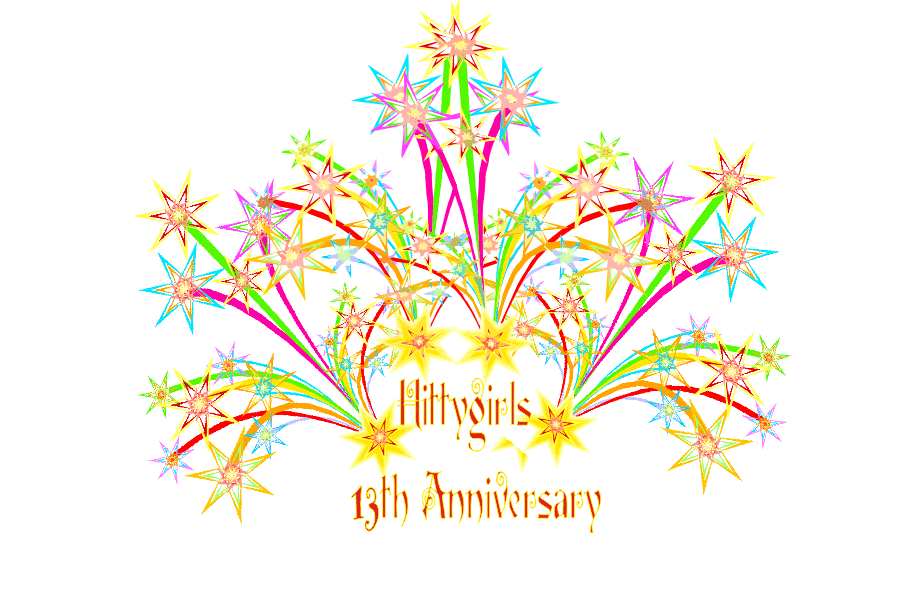 July 30, 2001--July 30, 2014
And we have easily maintained the title of 'Most Active Hitty Group'
for every single one of those years. (Not bragging, just saying....!)

We have had 13 Fun-filled years--and here's to many more!

And to start you off on some fun, here's the Crow's Present to the list!

To celebrate this momentous anniversary, we are going to have
one heck of a fun-filled blow-out no-holds-barred prize-getting extravaganza!
For the first time ever, you are encouraged to be generous with your entry.
Please join us in the fun and celebration.
Here's what we have planned.
You would make a hand-crafted set of items in the theme of your choice.
For instance, if you like to sew, you might make a dress, hat,
cloak, petticoat, and pantalettes (or whatever). If you like to work with
wood you might make a table and two chairs, with cushions.
See where I'm going? The more you add to your theme, the better!
There is NO LIMIT on what you can include. Please hand-craft
as much as possible; some store-bought items are
allowed as only extras. Please do the best work you can!
But...what are we going to do with all of the riches?
You hold on to the items you have created, and
send me a picture
!
Or, you may submit a picture into the proper Yahoogroups folder.
I will number it and put it on this page. On July 30th, I will
use the RNG (random number generator) to pick the winner of your set.
You will mail the item to the winner.
Of course, if you send a picture, you will get a prize too!
So
--take your time,
all pictures need to be in by July 28th,
which leaves us tons of creation time.
No need to sign up for this challenge.
We are looking for cool handcrafted items, done in your very best work.
This is a celebration not to be missed!



#1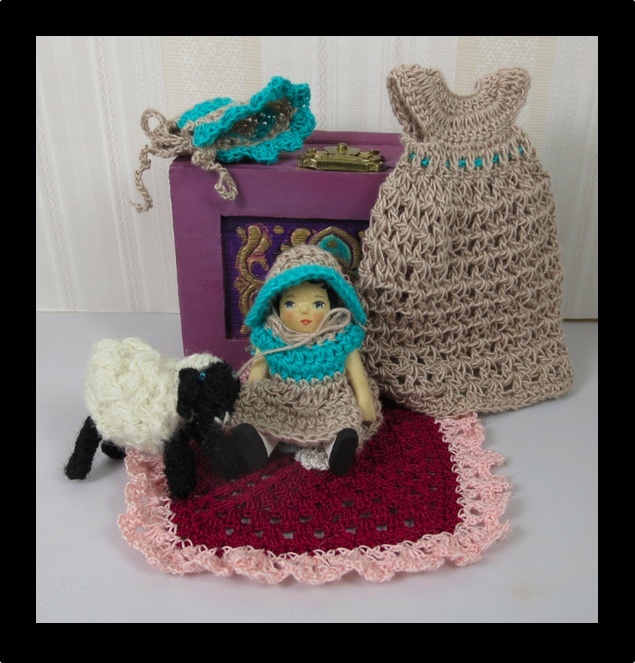 I really enjoyed creating a little set for this challenge: handcarved dolly + dress,
bonnet, panties, decorated toy chest, handmade lamb, and a purchased afghan.
Then I added a matching dress and bonnet for one of the recipient's Hittys.
So the prize winner can dress one of her Hittys and the new dolly in matching outfits!
Gale L.
WON BY: Beth Ann
#2
Dinner for Two: Beef pot Pie, Peach/Blueberry Pie, Apple Pie
Stew, Corn Muffin, Strawberry Shortcake, Peach Cobbler, Cheese, Crackers and Peach, with a hot cup of tea.
Plus--a handcrafted basket full of vegetables to make more stew.
Everything is laid out on a Lawn tablecloth with matching Lawn napkins.
JOC
WON BY: Ann B.
#3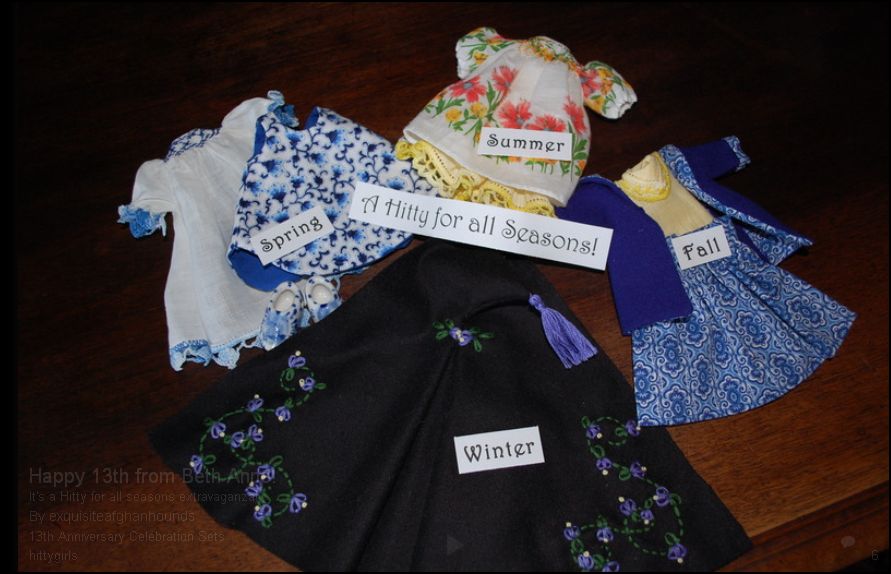 Spring- It's tulip time with this smocked white dress, reversible pinny, and adorable dutch shoes
brought back from the Netherlands. Your Hitty will be ready to tend her gardens in this ensemble!
Summer- Say hello to sunshiny days with this cheerful smocked hanky dress featuring a floral print
in warm corals and lemon yellow. A matching slip/skirt allows you to lengthen the look
and add a flounce of lace at the hemline.
Fall- Warm wool in deep cobalt blue makes for a gorgeous jacket lined with a lovely print.
The full skirt is of the same blue print and the lemon yellow shirt makes the colors pop!
The shirt for this outfit is made from the same hanky as the slip/skirt for the summer outfit! Mix and match as you desire!
Winter- This buttery soft cashmere cloak is my own original design called the "Fairytale Cloak".
I named it so because it looks like the perfect outerwear in which Hitty can experience a happily-ever-after adventure!
It features hand embroidery along the front panels and a jaunty tassel dangling from the pointed hood!
Beth Ann


WON BY: Judy K.
#4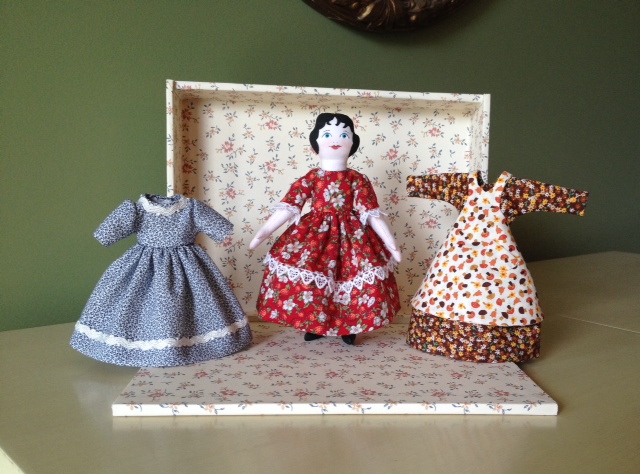 Hitty is cloth and comes with the dresses, pinny and traveling case shown.
It was so fun to make thus set but hard to part with! I hope whoever wins her will love her as much as I enjoyed making her!
Judy K.
WON BY: Linda T.
#5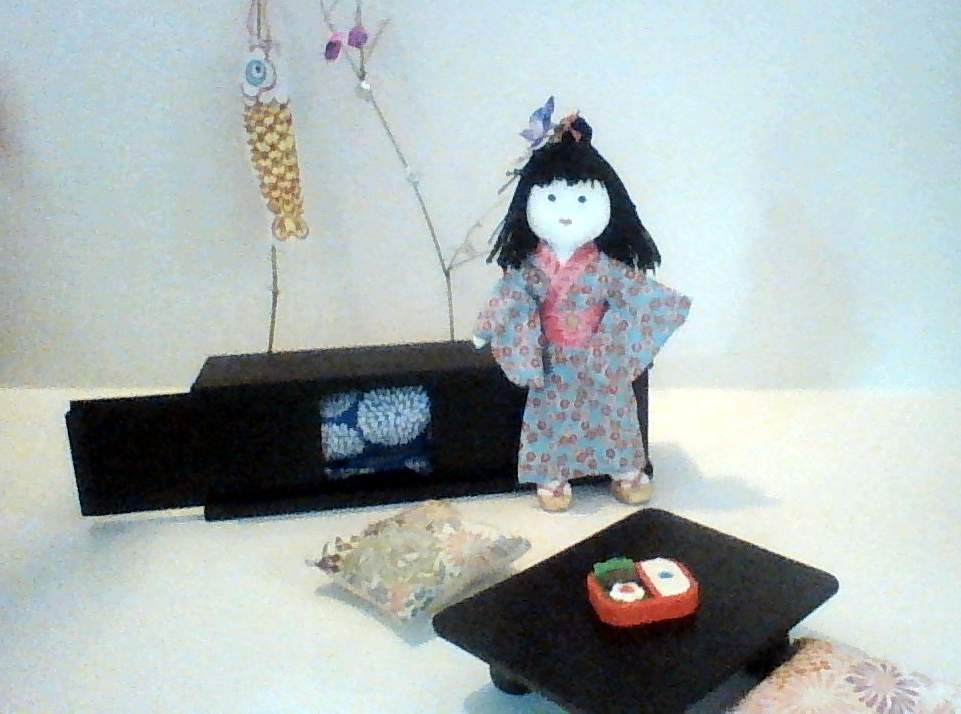 This Hitty celebration swap is Hitty visiting Miss Flower.
Linda T.
WON BY: Helen G.
#6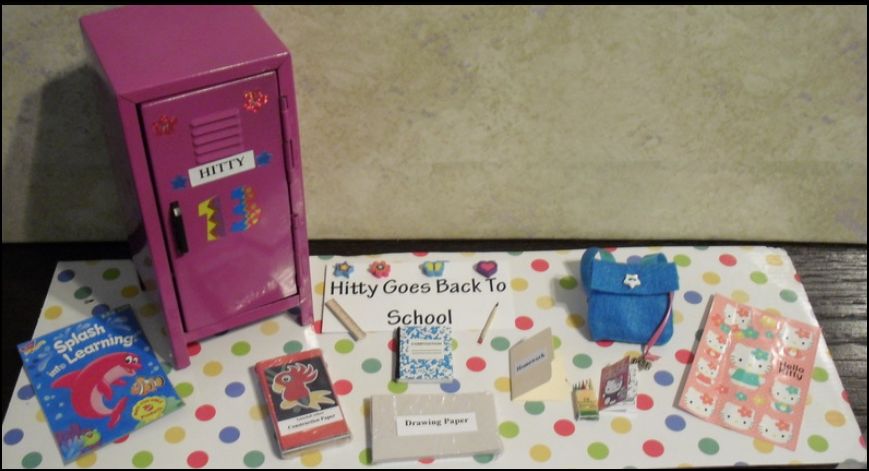 WON BY: JOC
#7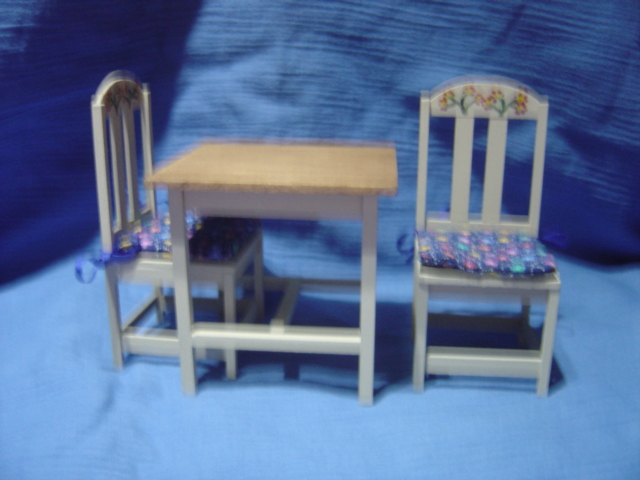 A darling dining table and two painted chairs--beautiful!
Ann B.
WON BY: Gale L.