Hitty's "There's No Place Like Home" Challenge

This photo challenge is open-ended. Submit any time!
I would like to sumbit a photo for Hitty's No Place Like Home' Challenge.
Hittys, by nature and relationship to their illustrious Ancestor, are a globe-trotting bunch. Even if they never venture any further than their front door, they can be adventurous arm-chair travelers. Don't we all enjoy viewing the photographs and hearing the tales of our wayfaring Hittys' exploits in the wide world?
This summer's challenge, however, invites Hittys and their people to discover the simple and remarkable in their own home town. With your Hitty, take a fresh look at where you live. Whether town or country, village or metropolis, there's something there we'd all love to see. Does your town have a monument to a local hero? Snap a picture with your Hitty and relate the story! Who bakes the pie with the tallest meringue in town? Well, my Hitty would love to meet her/him, and that pie, if only through photos. There's a blossom on your rose bush that defies description, a neighbor's zucchini that could feed a small army, a favorite corner of your library; our Hittys want to celebrate the commonplace and discover more about whom they are when they're at home.
1. As you enjoy the summer, look a-fresh at where you live, work and play.
2. Photograph your Hitty or Hittys with your "re-discovery".
3. Write a short paragraph sharing the details about your subject, and please include the city, state, region or country.
4. Enter often – we really want you share the blooms where you've been planted!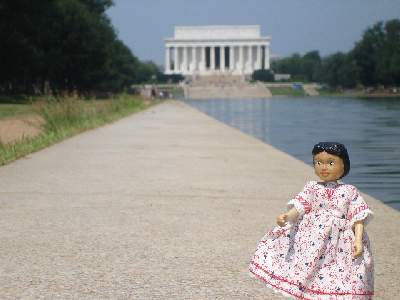 Hitty-Bridget's home is in Washington,DC. She
chose to have her picture made in front of the Lincoln
Memorial because our sixteenth President continues to
serve as a source of inspiration and hope to millions
of people. This memorial sits on the National Mall at
900 Ohio Drive SW in downtown Washington, DC. This
tribute to the Great Emancipator was completed in 1922
and dedicated on May 30th of that year. It was
designed as a Greek Doric Temple containing a large
sculpture of Lincoln and inscribed with two of his
well-known speeches. It continues to be a fitting
tribute to the preserver of our nation during the
Civil War. She was very proud to pose in front of
such an important symbol of our nation! --Becca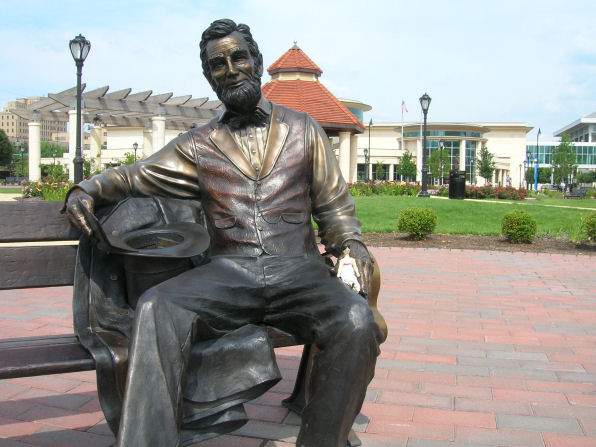 Springfield IL #1
Penny-Hitty loves to welcome visitors to her hometown of Springfield IL, located 100 miles (1.5 hours driving time)
from St Louis and 200 miles (3.5 hours driving time) from Chicago.
Nearly all visitors go first to the Abraham Lincoln Presidential Museum and Library that includes state-of-the art
immersive exhibits offering tribute to the man most people around the world consider America's greatest President.
This photo is taken at Union Park across from ALPML -- a park bench people can share with a statue of Abe,
where Penny curls up in his hand. The 200,000 square foot Museum is seen in the background and is the first major
Experience Museum. Fans of the Museum report that even 12 year old boys find the history "lessons" enjoyable.
The Library is to the right of the photo. This complex contains the largest Lincoln collection in the world, including
originals of the Gettysburg Address, the second inaugural address penned by Lincoln, and a signed copy of the Emancipation Proclamation.-- Hope W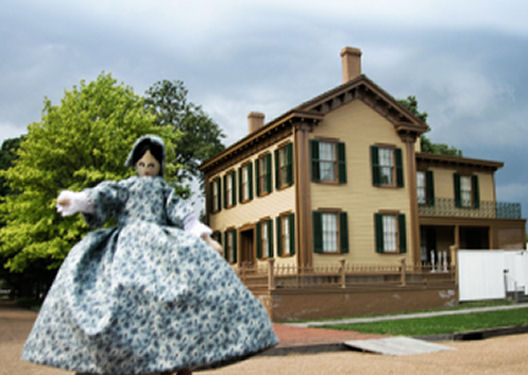 Springfield IL #2
Penny-Hitty dons her reproduction 1860 era gown and bonnet to tour the Lincoln Home,
the only home Abraham Lincoln ever owned. He purchased this home in 1844, and it has been restored
with Lincoln family furnishings, period artifacts, reproduced wallpapers and window hangings.
The Lincoln Home National Park includes the four block area surrounding the home and
is being restored to show the neighborhood as the Lincoln family knew it.-- Hope W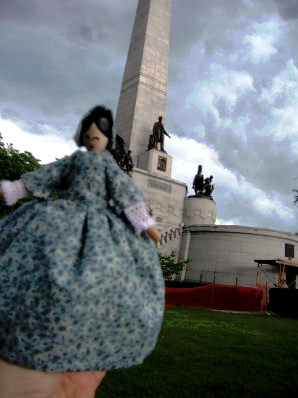 Springfield IL #3
Lincoln'sTomb, the final resting place of Abraham and Mary Lincoln, as well as 3 of their 4 sons, is a 117 foot monument.
It is located within Oak Ridge Cemetery, the second most visited cemetery is the US (surpassed only by Arlington National Cemetery).
Every Tuesday evening in the summer, the 114th Infantry Regiment Illinois Volunteers holds a flag retreat ceremony complete
with black powder gun salute and canon firing. This regiment is a living symbol of the Civil War heritage,
and has been in many movies, television programs and Civil War reenactments.-- Hope W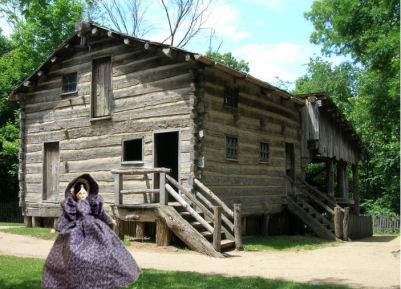 Springfield IL #4
Penny Hitty dons her reproduction 1830 era gown and poke bonnet to walk in the New Salem State Historic Site,
located 20 miles NW of Springfield IL. This is where Lincoln arrived at the age of 22, and the
village (buildings and landscape) has been restored to its 1830s appearance.
The Carding Mill is one of only two (worldwide) operating period carding mills that is animal powered.-- Hope W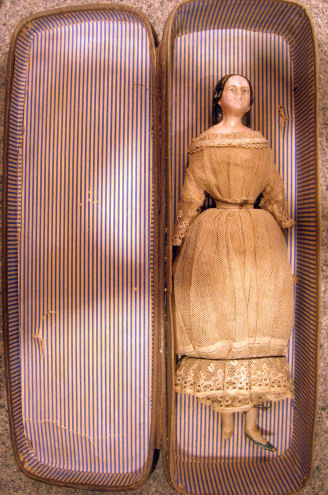 Springfield IL #5
This about 10 inch wooden doll is one of the least known Lincoln artifacts on display but Penny-Hitty's absolute favorite.
This doll was purchased by Lincoln during the 1830s for a child he knew, and has belonged to
the State of Illinois for many years. It is at the Visitors Center in New Salem State Park.
Penny wishes it was possible to get a photograph of her with this doll, but because of the glass case in which she is displayed it just isn't possible for them to appear together.
[Although not always on display, the Illinois State Museum in Springfield has been given a large doll collection that includes several wooden dolls of the 1830-40 time frame.]- Hope W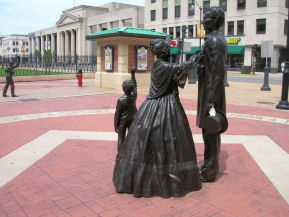 Springfield IL #6
Penny-Hitty decided it was much too warm to stay in her period garb, so continued the tour
of Springfield Il wearing her early 19th century chemise, which she decided looked like a 21st century sundress.
Penny-Hitty likes to pose for photos in Springfield IL at the group of statues on the corner of the Old Capitol Plaza.
The grouping shows Mary adjusting Abraham's clothing while their sons wave to each other.-- Hope W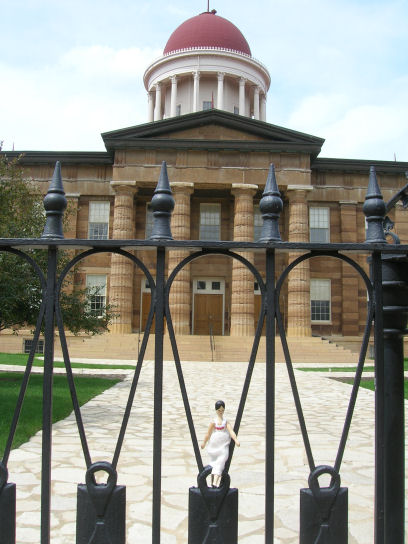 Springfield IL #7
The next stop for her visitors is the Old State Capitol building, used as the seat of Illinois government 1839-76.
It was restored in the 1960s to the appearance of the 1840s and 1850s, where Abraham Lincoln, Stephen A. Douglas, Ulysses S. Grant
and others served. Lincoln served a term in the House of Representative in 1840-41 and later argued several hundred cases before
the Illinois Supreme Court. This was the site of the famous "House Divided" speech. The traditional Mason-Dixon line
is just 5 miles south of this building, it is easy to understand the family conflicts within Mary Todd Lincoln's family!-- Hope W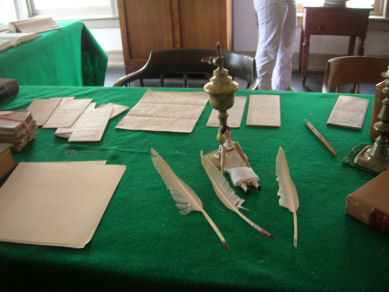 Springfield IL #8
Penny-Hitty encourages her visitors to Springfield IL to tour the Lincoln-Herndon Law Offices,
across the street from the Old State Capitol and just a few steps from the grouping of statues.
This is the only building still standing in which Lincoln had a law office (1843-52).
Penny is particularly fascinated with the quill pens, inkwells, papers and books scattered all over the offices.
[Just one block away is Chase Bank, which displays the original Lincoln family account with the Marine and Fire Insurance Co.]-- Hope W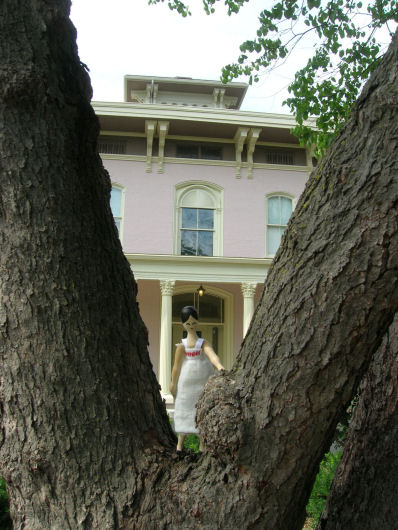 Springfield IL #9
Penny-Hitty visits Edwards Place, the oldest home in Springfield on its original foundation.
It was built in 1833 and was for many years the center of Springfield's social and political life.
There are many Victorian pieces in the building, but of special interest is the "Lincoln Courting Couch"
which has been moved into this building from the Ninian Edwards home.
This house is owned by and adjacent to the Springfield Art Association, which has frequent art shows and many art classes. Hope W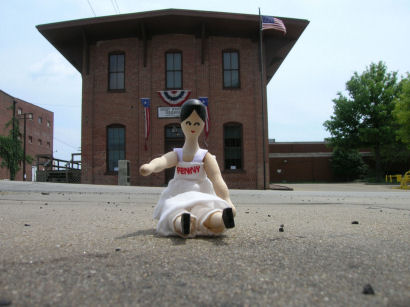 Springfield IL #10
Penny-Hitty stops at the "Lincoln Depot. This restored Great Western Railroad Depot is where the Lincoln family
left Springfield to go to the White House, and was the site of the famous Farewell Address.
It is owned and maintained by the local newspaper, and the displays inside include a video filled with anecdotes of the 12 day journey to the White House.
[There are several other museums throughout the city, with an eclectic variety including a collection of
Matthew Brady tintypes, a Museum of Funeral Customs, a medical history museum (from all cultures and eras),
and a 107 acre "living memorial" that contains plants from all three states Lincoln lived.]-- Hope W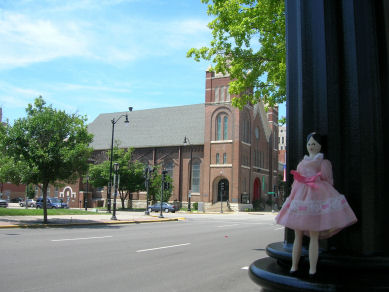 Springfield IL #11
Few people tour the First Presbyterian Church, just outside the Lincoln Home National Park,
which still contains the Lincoln Family pew, which they rented for 10 years. This church also contains 7 Tiffany windows. -- Hope W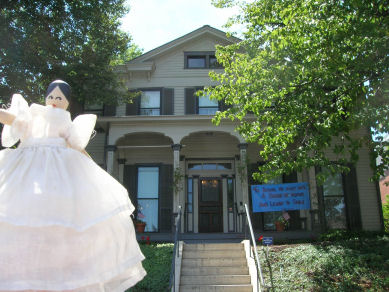 Springfield IL #12
The Vachel Lindsay Home is the birthplace and only home of internationally known poet Vachel Lindsay.
There is an extensive collection of late Victorian and Edwardian textiles owned by the home. Hope W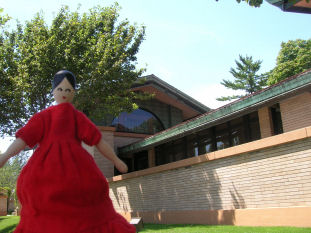 Springfield IL #13
Dana-Thomas House is one of Frank Lloyd Wright's early Prairie style designs, arguably the best preserved,
constructed 1902-04 for feminist socialite and heiress Susan Lawrence Dana.
The Thomas family purchased and maintained the home for about 50 years before the State purchased
and restored it to its 1904 appearance. The 15 rooms cover 12,600 square feet and contain more than 100 pieces
of original furniture, 250 art glass windows, and more than 100 art glass light fixtures. Hope W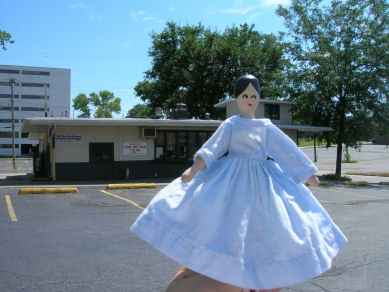 Springfield IL #14
The Maid-Rite Restaurant was recently named one of Travelocity's Local Secrets, Big Finds. It is on the
National Register of Historic Places as the first drive-thru restaurant in the country – 1926.
The décor retains much of its original Art Deco look, you can still order the original Maid-Rite sandwich and root beer float
made with homemade root beer. Even today there are no speakers, you just pull up to the window and the cook takes your order. Hope W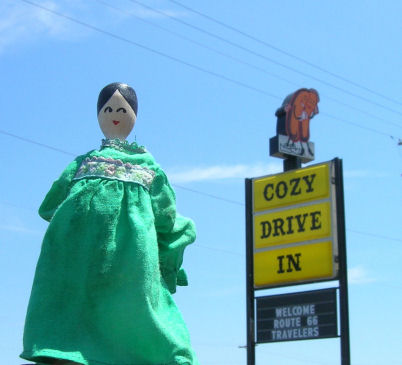 Springfield IL #15
Cozy (Dog) Drive In is the home of the original (1949) hot dog on a stick, now a staple at many county
and state fairs throughout the country. Inside is a collection of Route 66 memorabilia and souvenirs.
Not too far away is the restored Route 66 Twin Drive In Theater, one of the few places in the country
where you can still go to the movies in your car during the summer months. Across town is
Shea's Gas Station Museum, a favorite photo stop for Route 66 travelers, with a collection of half a century of gas station memorabilia. Hope W
Blue Heron Project in Winona, MN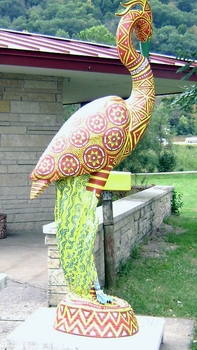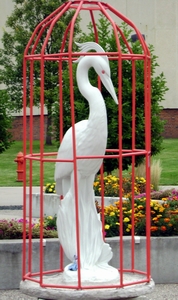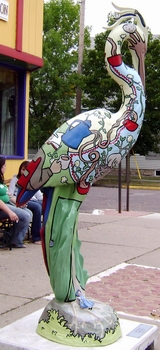 Since Earth Day our city has had on display fifteen 7 ft statues of the blue heron which frequents our Mississippi River valley.
Local artists were given titles such as" Heronimus" or"Winona Wings". Each one uniquely created with distinct artistic expression.
Hittyfifer and I went to see one at our local university where an artist expressed his displeasure at having been being told what he was to do.
We were delighted with his blue heron which was white unpainted plaster within a red cage! In the picture Hittyfifer is sitting at the feet.
Two other examples are pictured: "Lights, Camera, Heron" and "No rEgrets Only Heron Here On". Again , Hittyfifer is almost visable.
This month the statues will be auctioned off.